The Lumina Intelligence Food to Go Market Report 2021 is the definitive report on the sector, covering food to go sold in both retail and foodservice. This forward-looking report includes market forecasts out to 2024. Our predictions for the recovery of the sector are put into context with views from business leaders as well as validation from external performance barometers.
Critical reading for operators and suppliers alike, we unpick the effect of the pandemic, greater home working and reduced travel and consider what the impact will be once the industry re-opens. We will also consider the increased role of technology and delivery services and what this means for the future of food to go, as well as the opportunity for 'food to go home'.
The report includes consumer insight from Lumina Intelligence Eating and Drinking Out Panel. You'll also receive three further updates of this information included in the price of the report.
£3,250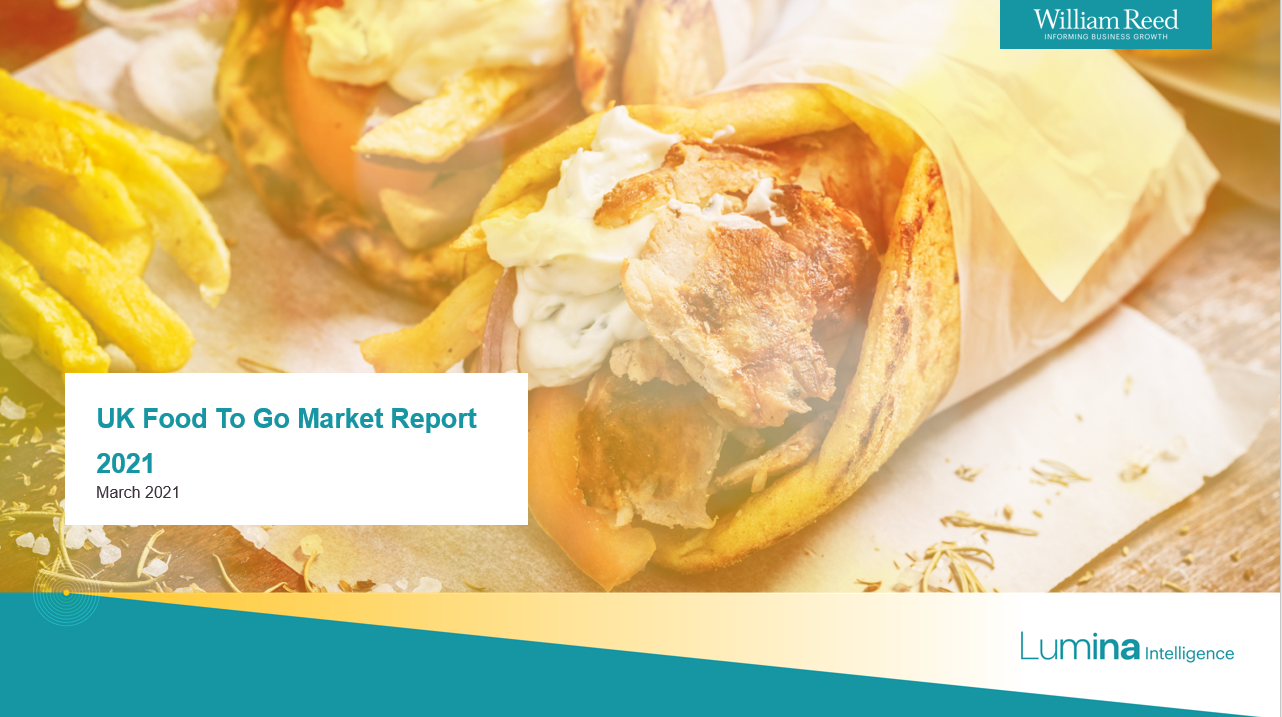 A one-stop comprehensive overview of the food to go sector in the UK
How will you benefit from access to this report?
Quantify the impact of the pandemic on the food to go market
Fully understand the competitive landscape – what can you learn and apply?
Align your channel strategy to the trends in the market
Understand how consumers have responded to coronavirus and the impact home working/staying closer to home has had on FTG habits
What will recovery of the sector look like? And who will be the winners? What will this mean for 2021?
Understand where you should invest your resources – and plan for the future
Identify opportunities for collaboration
This market is complex, this report breaks down what you need to know
Unparalleled source of intelligence on the food to go market
Consumer eating out behaviour: monitor consumer behaviour across all UK eating and drinking out channels with our continuous data platform, based on 78,000 surveys across the year from Lumina Intelligence's well established Eating & Drinking Out Panel, which now includes drinks-only as well as food-based occasions and channel coverage has been expanded to include delivery and click & collect.
Consumer attitudes and future intentions based on a bespoke survey (n=1000 nat rep)
Operator sales and outlet performance for leading food to go operators and detailed outlet analysis for operators in key food to go channels from Lumina Intelligence Operator Data Index
Business Leaders perspectives from Lumina Intelligence Top of Mind business leaders survey and Hospitality Leaders Poll, run in collaboration with MCA News, Morning Advertiser and Restaurant Magazine/Big Hospitality
Supported by commentary/soundbites from senior business leaders and journalists from within the sector
Eating and drinking out consumer surveys
Consumer attitudes and future intentions
Get more information about the report
Download the preview brochure to access sample slides and the full table of contents.