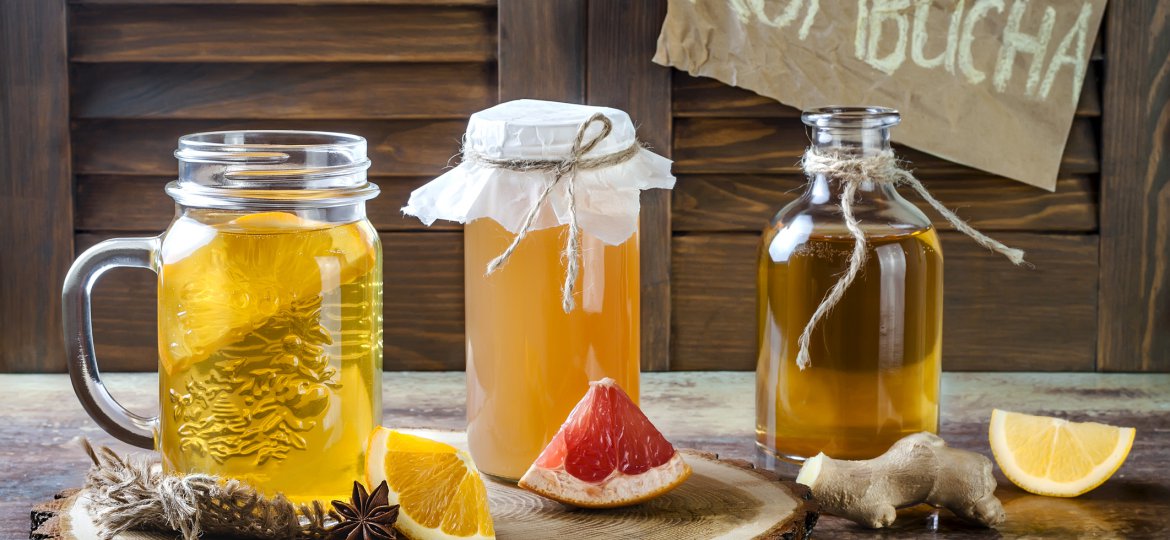 Nobody knows exactly where kombucha actually comes from. It's been consumed for at least two millennia, with China, Korea, Japan and Russia among the contenders for claiming it as their "invention." But although kombucha's origins may be disputed, its rampant rise in popularity around the globe most certainly isn't.
A decade ago, outside of Asia and Eastern Europe, where the drink was traditionally consumed, only self-professed health nuts would have tried this strange fermented cold tea beverage. Back then, consumers, by and large, still preferred to stick to safe ready-to-drink ('ice') tea, juices, functional waters and, of course, coconut water when searching for a healthy alternative to conventional carbonates. This article looks at some key aspects of today's global kombucha market, like which are the top brands, what types of claims are most important in different markets and also the need to address new target audiences.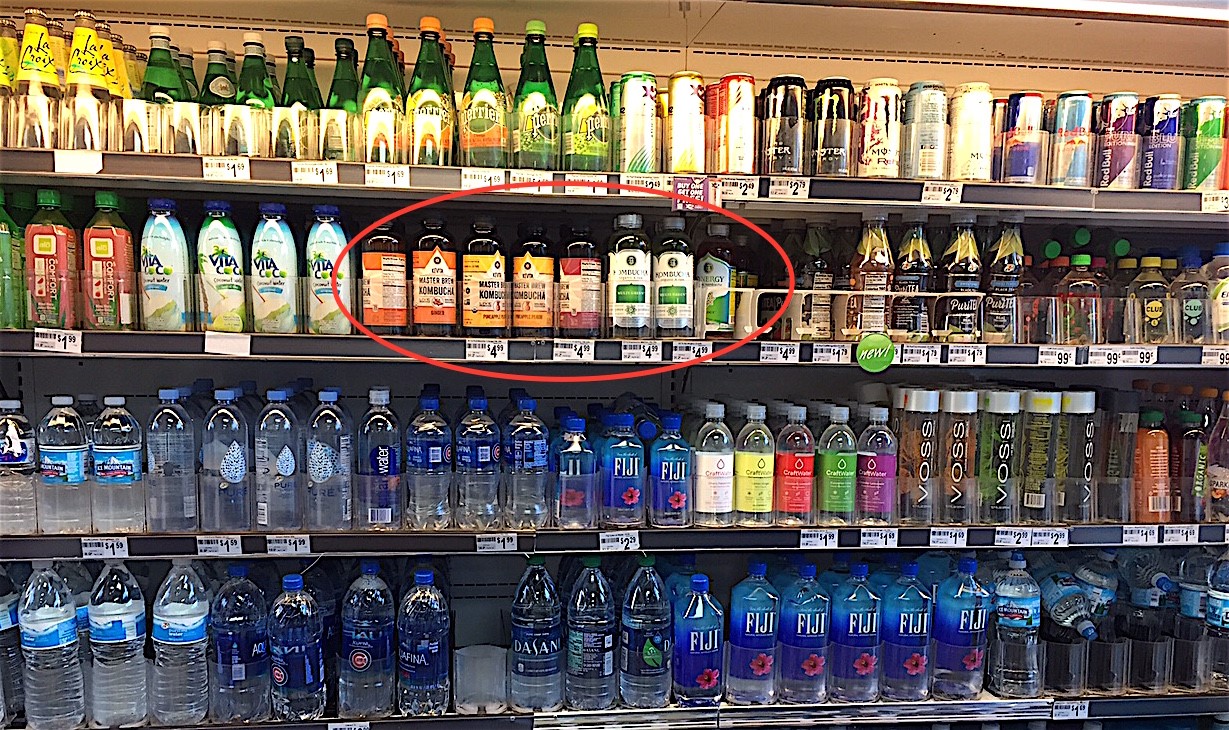 Kombucha – a growth market
According to Statistica, the global kombucha market was worth US$1.06 billion in 2016 and is expected to reach just under 2 billion by 2020. Data captured by Lumina Intelligence in 2018 on the kombucha market included 151 brand variants and 76 brand owners across 18 countries, as illustrated by the graph below.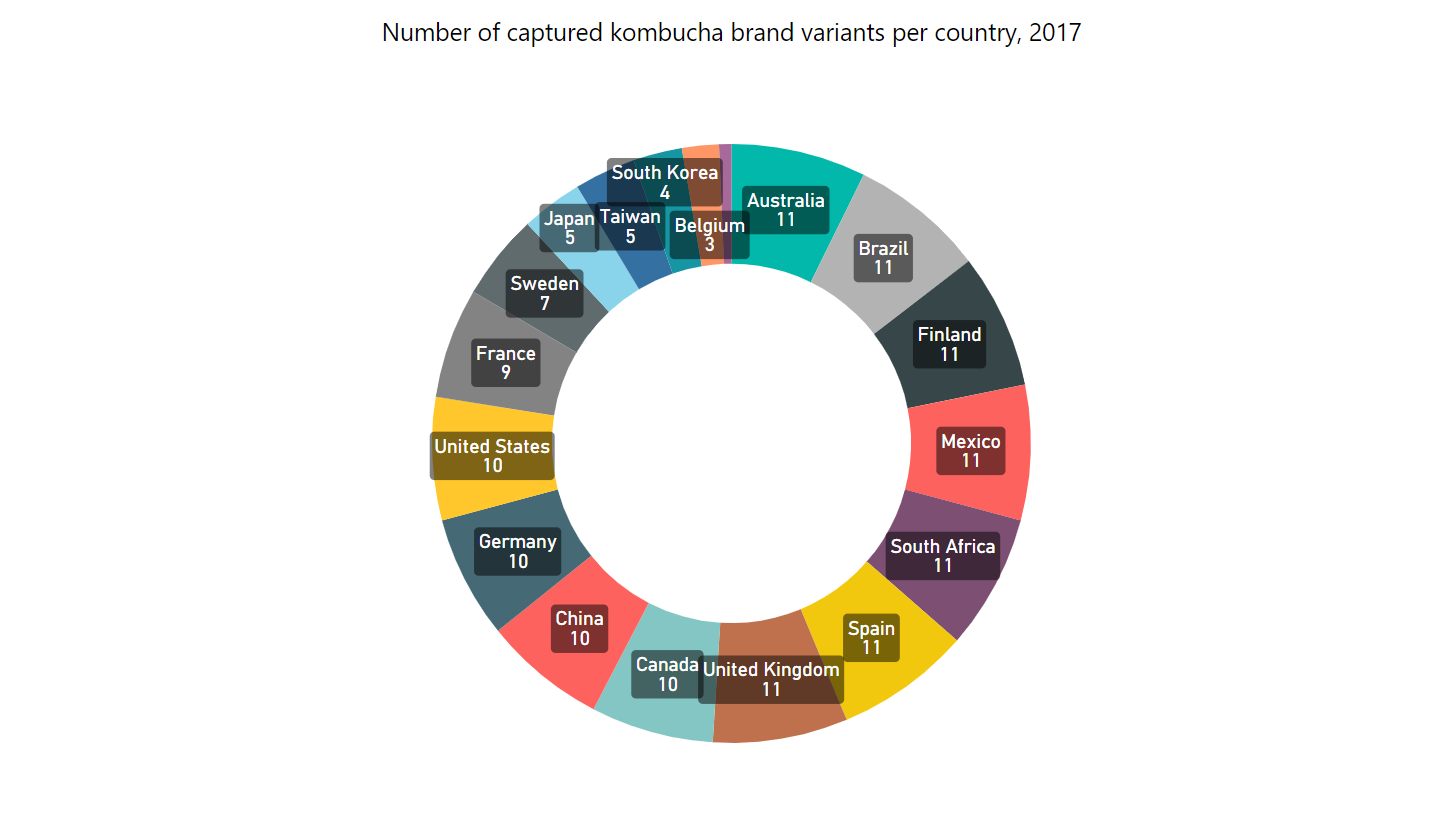 According to the data collected by Lumina, the top 10 manufacturers by number of brands are as follows:
Asteriscos e Reticencias SA (12 brands)
Kombucha Wonder Drink (8)
Pronatura, Inc (6)
Strappa (6)
Carpe Diem Premium Tea Drinks (5)

Kellaripanimo (5)

The Brew Crew (5)

B-Tea Beverage (4)

Equinox Kombucha (4)

GT's Living Foods (4)
Top 5 brands include
Europe:
Captain Kombucha

Notabeer Organic Kombutcha

Carpe Diem

Equinox Kombucha

Yogi Tea
North America:
Tealixir

Latta

GT's Enlightened

Yogi Tea

Kombucha Wonder Drink
Japan, China and South Korea:
Niangmeipu

Xushi Chunpin

Gyokuroen
What is so special about kombucha?
Before moving on to discuss why consumers are buying kombucha and how purchase motivation tends to differ between markets, let's first look at the basic characteristics, which give this beverage the edge.
Kombucha is made by fermenting a complex conglomerate of bacterial and yeast cultures, which coalesce into a disc-like shape often referred to as the "kombucha mushroom (scobe)" in a base of black or green tea mixed with sugar.
Once the fermentation process is completed, you end up with a liquid that is rich in vitamins, enzymes, amino acids, organic acids and other substances, which have barely been identified, never mind studied in detail. This is very much part of kombucha's mystique that gave rise to its reputation as a panacea for all kinds of ailments, e.g. allergies, chronic fatigue, digestive complaints, high blood pressure and even cancer.
At this point, it is probably worth mentioning that kombucha au naturel is somewhat of an acquired taste. However, manufacturers' efforts to create and bring to market a huge variety of great tasting offerings have converted kombucha from a niche medicinal brew of the ultra-health conscious to a well-established segment of health and wellness beverages aimed at the mass market.
It is common for kombucha products to be featuring health claims and Lumina Intelligence research shows that of those that do, 54% pertained to general wellness followed by digestion (23%) and immunity (17%). This roughly mirrors the health claims distribution across probiotic products, which is hardly surprising, since kombucha counts as a probiotic drink: as long as it has not been heated, the filtered product still contains live bacterial cultures.
Also, since these bacterial cultures are essential for making kombucha in the first place rather than being added at a later stage, as is the case for most probiotic food and beverage products, it makes kombucha a "natural" probiotic drink and this is something which appeals greatly to Millennials, who are increasingly suspicious of any kind of additive.
Kombucha – product positioning by top 3 health benefits, 2017
Wellbeing
Digestion
Immunity
Kombucha market trends: Clean label
This brings us to another one of today's top trends, namely clean label. Within the kombucha category, it is interesting to observe that there are significant disparities when it comes to the type and frequency with which clean label feature on products distributed in different markets and geographies.
Lumina Intelligence research reveals, for instance, that the country with the highest average number of clean label claims is the US with 3 per kombucha product, followed by Germany and France with 1.9 and 1.8, respectively. Germany also had the highest average of free-from claims with 1.8 per product. By contrast, there were no clean label claims on kombucha products sold in Taiwan, Mexico, Japan and Brazil.
In the US:
70% of kombucha products were labelled "no GMOs".
60% featured a "no preservatives" claim.
50% were organic.
In Australia, which has a very highly developed health and wellness market, 72% were labelled organic. China trailed behind on clean label claims, but the "no preservatives" claim still appeared on half of the kombucha products on sale, and 40% were certified organic.

The power of online reviews
Although, as already mentioned, clean label claims were sparse on kombucha products sold in the Chinese market, with just 1 per product and no free-from claims, it surpassed all other markets in one aspect: Chinese kombucha consumers were by far the most active in terms of bashing out online reviews (see chart below).
Online reviews are becoming increasingly important in consumers' purchase decision-making processes, especially in the realm of health-positioned products. After all, it's not just about taste – consumers want to know whether other people who purchased a product have experienced any health benefits or not. For this reason, online product reviews is a key focus in Lumina Intelligence's market research.
In the case of China, not only was it the market where consumer reviews of kombucha products were most prolific, but the average score was an extraordinarily high 5/5. This was certainly not the case for all markets, as evident from the chart below. (Note: China has been excluded in order to present the rest of the data more clearly.)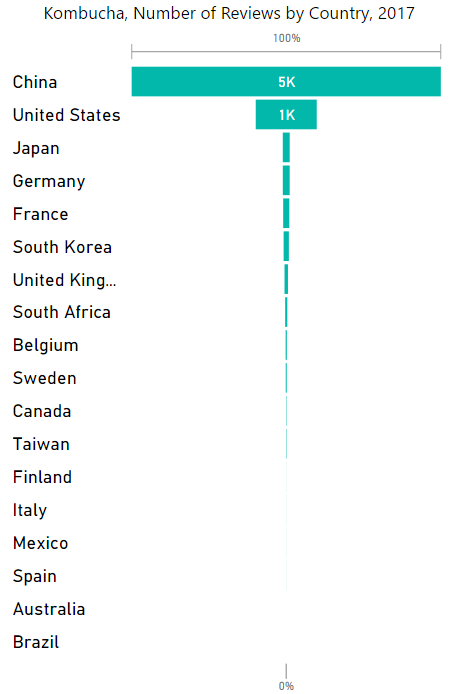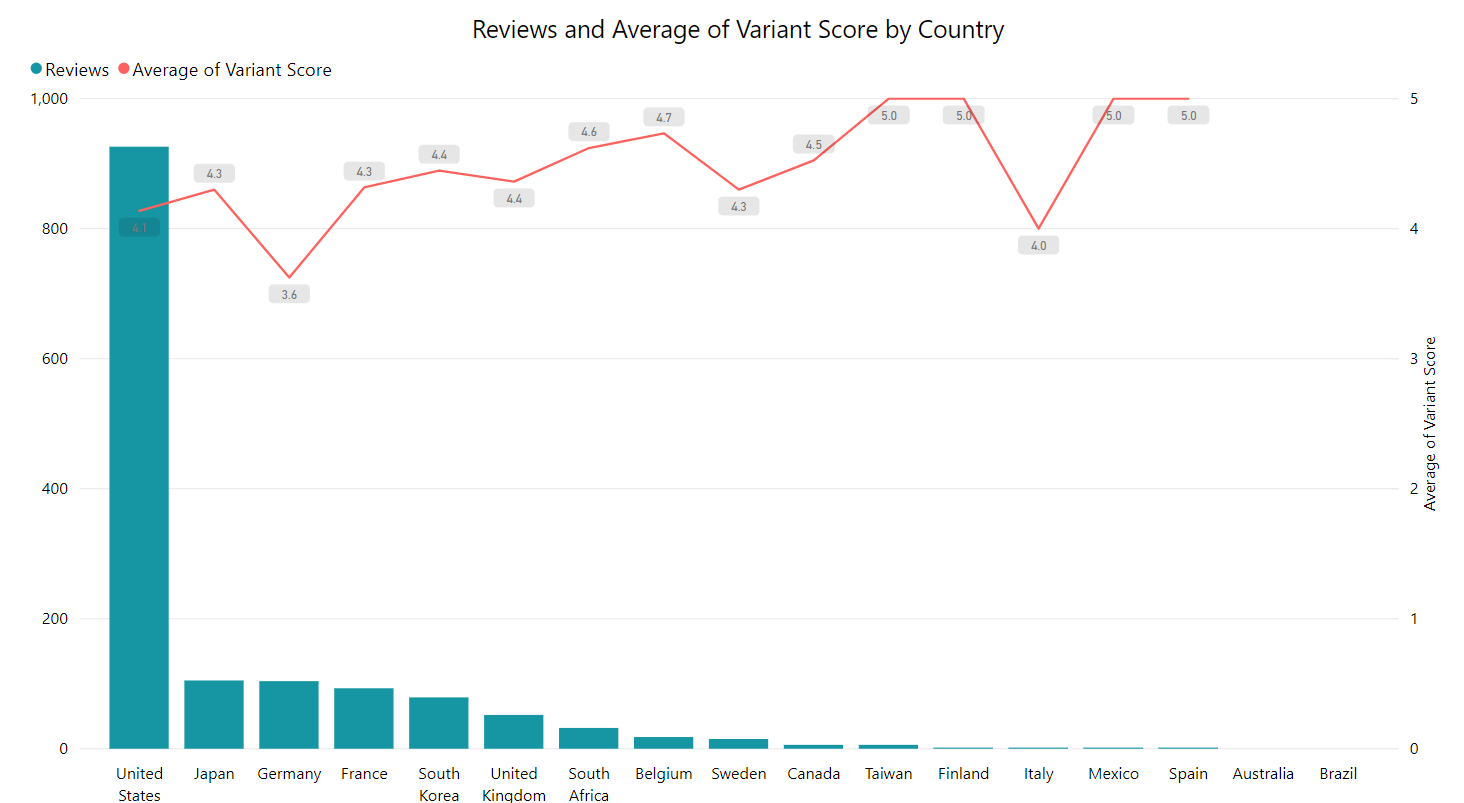 Kombucha in search of new target markets
There are a number of factors, which are set to boost the uptake of kombucha for the foreseeable future. First of all, fermented products are right on trend. Besides the health benefits associated with consuming fermented foods and beverages, Millennials, in particular, are known to favour traditional processing methods, and fermentation is probably as traditional as it gets. Also, Millennials are irredeemably attracted to everything "ethnic" and kombucha's long consumption history across Asia and eastern Europe affords lends credibility, which brand owners can tap into.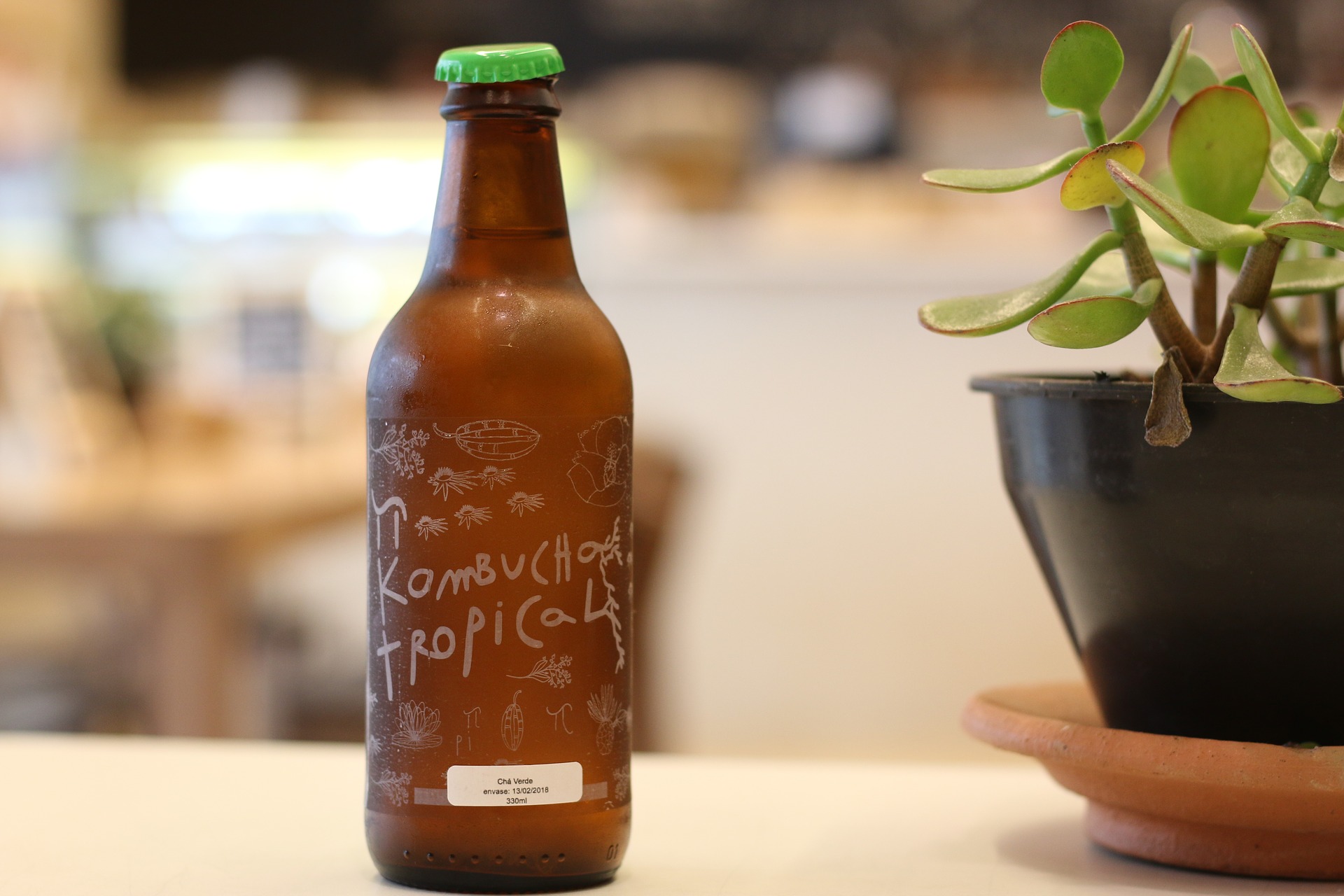 At present, the core target population for kombucha in most markets is younger consumers, but there is no reason why it should remain limited to that. Kombucha is both a natural and a functional beverage, which addresses many of the health concerns of older people, including cardiovascular health, digestive issues, arthritis and other inflammatory conditions. Instead of popping more pills, seniors would much rather eat and drink health-giving products, as long as their taste preferences are being respected, and kombucha is nothing if not versatile in this regard.
Kombucha market growth is very encouraging and the category certainly has the potential of rivalling coconut-water-based beverages, especially if it manages to capture new target audiences.
Lumina Intelligence's Kombucha product data
Lumina is an insights service for high-growth food and nutrition markets. Kombucha is included as part of our probiotics market coverage, and is split in the following ways:
Country

Brand Name

Brand Variant

Brand Owner

Average review score (by brand owners, brand and brand variant)

Price

Target population

Format

Origin

Number of strains (if applicable)

Clean label claims

Free from claims

Health benefit
To hear more about Lumina Intelligence Probiotics, and for subscription enquiries, please contact our team on +44(0)1293 846 699 or by email at info@lumina-intelligence.com. To request a demonstration of Lumina Intelligence Probiotics, please fill out a request a demo form.