Insights for High-growth Food and Nutrition Markets
We measure impact. From product formulation to sustainable sourcing, science, regulation and online review tracking.
Discover the difference 
Lumina Intelligence can make to your business – request a demo today.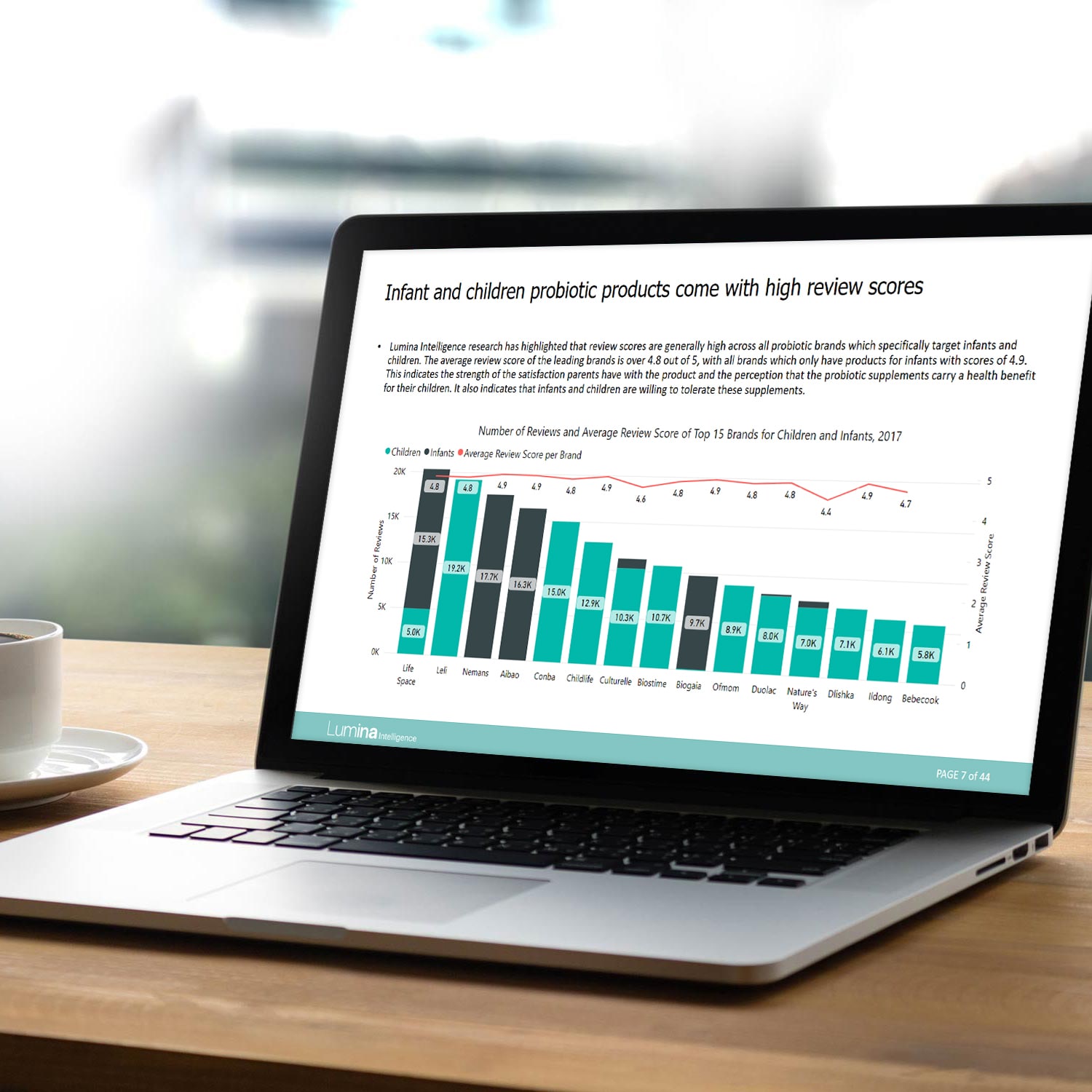 Who is Lumina Intelligence for?
We provide insights for the following markets.
Our probiotics data includes supplements, juice, skin care and kombucha – with 900 brands and over 2000 brand variants from 20 countries. Typical questions that Lumina Intelligence answers are:
How can your business tap into growth areas in the market, taking into account promising science and rising health concerns?
Which brands generate most consumer engagement in the online space and how can you compete?
Which health concerns and targeted populations should you zoom in on for successful brand portfolio diversification?
What should you prioritise when reformatting to satisfy demanding consumers? Complementary ingredients? Free from and/or clean label? Vegan sourcing?
How unique is each country in terms of strain diversity, dosages and delivery formats of the best-selling products?
Our Sports Nutrition data captures over 2600 unique brand variants and 750 distinct brands across 20 countries. Covering protein powders, protein bars, branched-chain amino acids (BCAAs), pre-workout blends, nitric oxide boosters and creatine supplements, Lumina Intelligence will help answer questions like:
What are the factors which affect online rating in sports nutrition?
Which brands generate the most consumer engagement in the online space and how can you compete?
How are different product types performing and where are the gaps in the market? Which is a bigger opportunity – BCAAs or nitric oxide boosters?
How are brand portfolios segmented by benefit, such as muscle synthesis, strength, immunity or digestion?
What does the vegan protein online market currently look like? What are the current plant-based protein formulations and are consumers satisfied?
Our analysis draws on approximately 900 food and drink company commitments, ethical labelling across more than 2,800 chocolate, coffee and tea products online and the latest social and environmental studies. Typical questions that Lumina Intelligence answers are:
How well-aligned is the food and drink industry to the UN Sustainable Development Goals?
Are company sustainability initiatives achieving impact on zero poverty, zero hunger and zero deforestation?
Are consumers willing to pay more for sustainable cocoa, coffee and tea or products with origin claims?
How does consumer sentiment differ between third-party certified products (e.g. Fairtrade, Rainforest Alliance) and company programme labels (e.g. Nestlé Cocoa Plan, Mondelēz Cocoa Life)?
Lumina provides market insights for organisations including:
Identify the active ingredients, formats and labels trending with defined populations.
Inform consumer engagement strategies in the online marketplace.
Understand the market position and impact of proprietary ingredients.
Monitor how sustainability commitments compare industry-wide.
Track innovative companies and products entering high growth markets.
Anticipate trends in niche markets to make informed investments.
Monitor scientific and regulatory developments impacting market opportunity.
Determine which companies represent sound and ethical investments.
Understand how science and regulation impact innovation and finished products.
Build a business case for grant proposals and research funding.
Develop informed policies to meet unaddressed social and environmental concerns.
Review industry sustainability plans to help inform research, lobbying and national policy.
LATEST NEWS from our blog