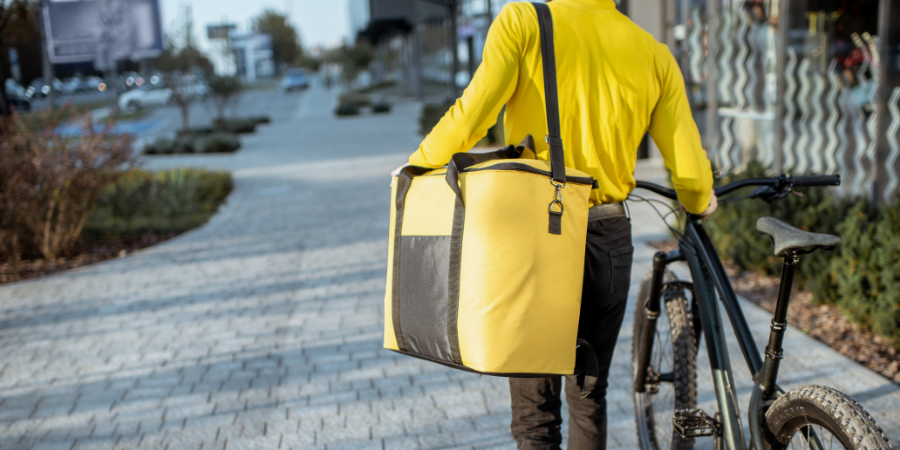 For much of 2020, foodservice delivery was one of the only alternatives available for consumers not wanting to cook, with going out to eat restricted during periods of national and local lockdowns.
Consequently, the coronavirus pandemic boosted the delivery market by +£3.7 billion, according to The Lumina Intelligence UK Foodservice Delivery Market Report 2021, equating to a percentage growth rate of +48%.  With other eating out occasions severely limited, foodservice delivery accounted for £2 in every £10 spent on eating out in.
Consumer demand for delivery has been relentless since the explosion of the market from 2017 with aggregators including Just Eat, Deliveroo and Uber Eats expanding partnerships with household brands and reaching new territories.  The roll out of delivery of foodservice brands including fast food giants McDonald's and KFC has meant that for many segments in the total eating out market, delivery now commands a higher share of total sales.  Independent restaurants and traditional fast food segments have been leading growth in the market which is set to continue.  The former is benefiting from sheer number of outlets whilst the latter through players offering relatively low-cost, quick to produce and portable propositions.
Bolstering the roll out of delivery availability at existing sites, supply-side expansion into dark and delivery-only kitchens has been a lifeline for many throughout the pandemic.  Focused delivery operations have allowed operators to generate turnover in a more cost efficient way by targeting locations with high consumer density and developing ranges specifically designed for delivery.  Virtual brands have also allowed operators to develop targeted delivery propositions to be delivered from existing stores offering the opportunity to grow revenue when on-site trade is slow.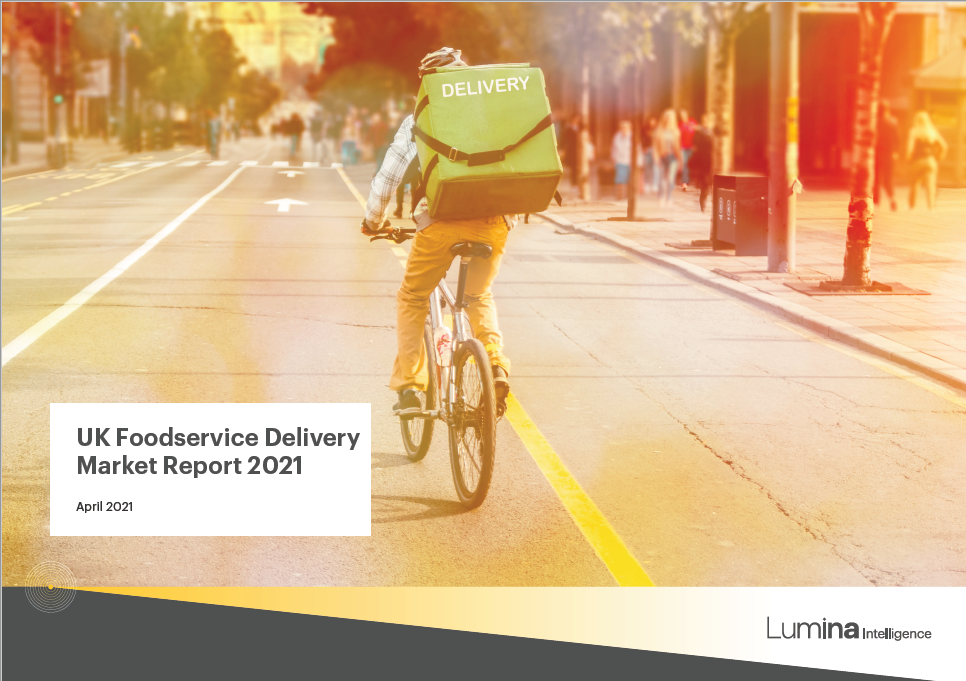 UK Foodservice Delivery Market Report 2021
The definitive report on foodservice delivery, quantifying the size and growth of the channel and market forecasts out to 2024, with a detailed look at growth drivers and potential inhibitors.
Over one quarter of consumers acknowledged that they increased their usage of foodservice delivery throughout 2020 with almost one in three (31%) ordering once per week.  As the hospitality market reopens and dine-in resumes, many will be asking if delivery behaviours will prove to be a legacy of the pandemic or if increased usage and participation was a short-term boom for the market.  Lumina Intelligence has found that the vast majority of consumers expect their delivery behaviours to continue despite more opportunities for alternatives as hospitality reopens and restrictions are lifted.
Lumina Intelligence predicts that post pandemic delivery behaviour will become more habitual and ordering patterns will be less treat-led.  For the first time, 'treat' lost its number one position as a reason for ordering delivery, as 'Didn't want to cook' became the top reason in 2021 (23%).  Shifting perceptions of foodservice delivery from an occasional indulgent treat to an everyday behaviour will be crucial to maintain growth and this can be achieved by increasing healthier options and day-part coverage beyond the core dinner occasion.  Battling barriers around cost perceptions will also be a key tool in driving usage.  Subscription models remain relatively untapped and can be used to drive loyalty and offer promotions, which are important to over half of consumers (51%) when choosing where to order.
The UK Foodservice Delivery market is expected to see consistent growth over the next three years as behaviours from 2020 persist and operators continue to place a greater focus on the delivery opportunity.  The market is estimated to reach a total value of £12.6 billion in 2024.
What does this mean for Lumina clients?
Blonnie Whist
Head of Insight
Lumina Intelligence

"With dine-in operations closed or heavily restricted over the last 12 months, consumers have turned to foodservice delivery in their droves, including an additional 4.3 million UK adults who ordered foodservice delivery for the first time during the pandemic."
"Whilst we expect the playing field to level out now that restrictions are starting to ease, the impact of 2020 is expected to drive habitual delivery behaviour beyond the pandemic. By 2024, the UK foodservice delivery market will have grown a further 10%, highlighting a significant opportunity. Independent restaurants and traditional fast food brands are set to lead this growth. In the immediate term, promotions will play a key role in driving volume, as the recession continues to pinch household incomes. However, in the longer-term, offering a point of difference and expanding day part coverage will be key growth drivers for operators."