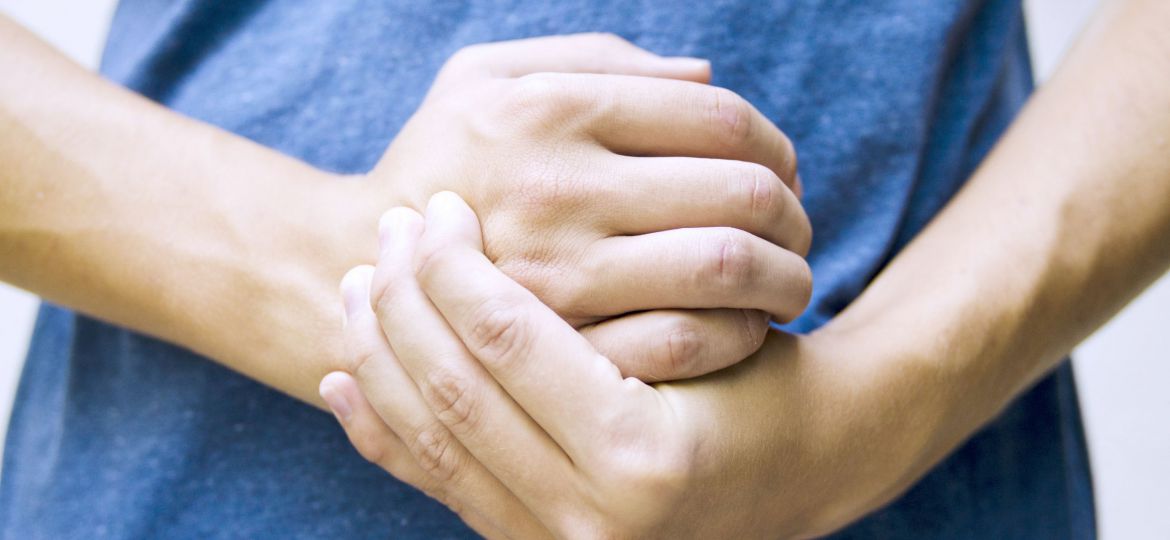 Lumina's research on searches about probiotics online reveals a most surprising insight: immunity is no longer the area most researched by consumers online. In fact, search volumes pertaining to this term in a microbiome context fell by 31% between May 2020 and May 2021. Instead, the focus has turned to if and how pre- and probiotics might help in tackling stress-related issues amplified by the pandemic, like anxiety, IBS and weight problems. In this article, we look at the impact of this shift on probiotic market trends and discuss what consumers are actually looking for in their searches.
Pandemic aggravates stress related symptoms
The pandemic continues to take its toll on people's mental health. A recent CDC study found that the percentage of US adults suffering from anxiety and depression rose from 36.4% to 41.5% in the period from August 2020 and February 2021. At the extreme end, there is even a condition identified as Covid-19 Stress Syndrome, a severe form of pandemic-related adjustment disorder, where sufferers may end up incapacitated by their fear of becoming infected.
Such severe cases may be rare, but it's a fair assumption that, over the past year and a half, most people will have experienced at least occasional instances of mental or physical discomfort triggered by the cumulative pressures of disrupted daily routines, socioeconomic uncertainty, social isolation, home schooling and working, boredom and sheer frustration.
Stress exacerbates digestive, mental health and weight issues
Looking at the bigger picture and examining the period running from May 2019 to May 2021, Lumina's microbiome online search insights reveal that weight management, IBS and constipation, all of which have strong links to excessive stress levels, were in the lead in terms of average monthly search volumes. In the past 12 months, besides weight management, areas like diarrhoea (another common symptom of IBS) and gut-brain axis emerged as growing the most dynamically.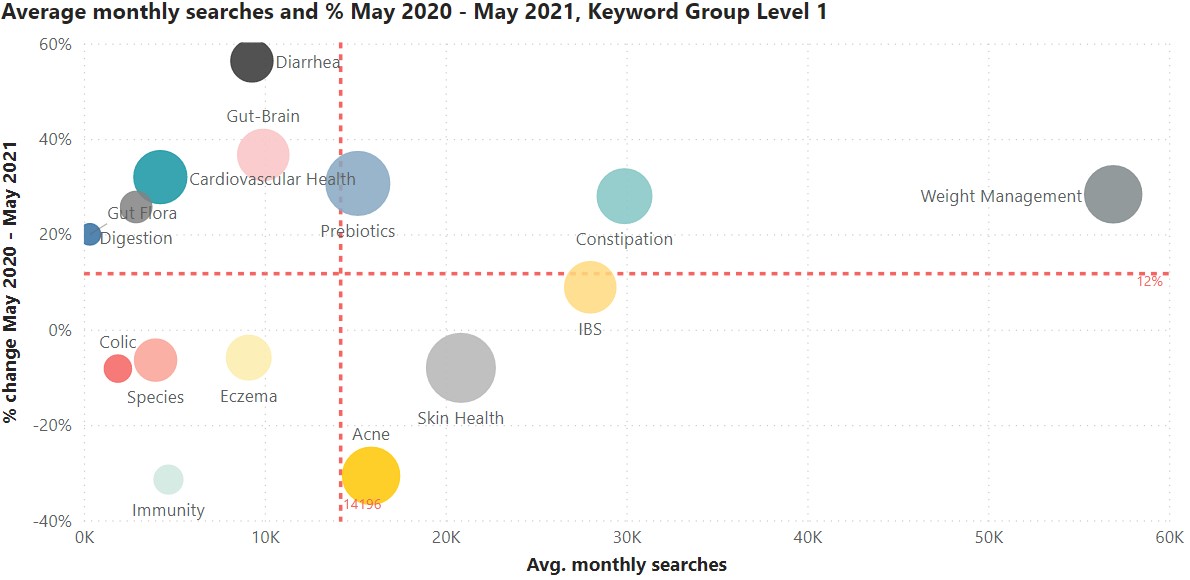 Within gut-brain-axis relates searches, the terms "anxiety" and "depression" are the key drivers. In searches for product recommendations, the phrases "best probiotic for anxiety" and "best probiotic for depression" are the most frequently entered, and this is indicative of consumers searching for specific product or strain/species specific recommendations, rather than focusing on brands.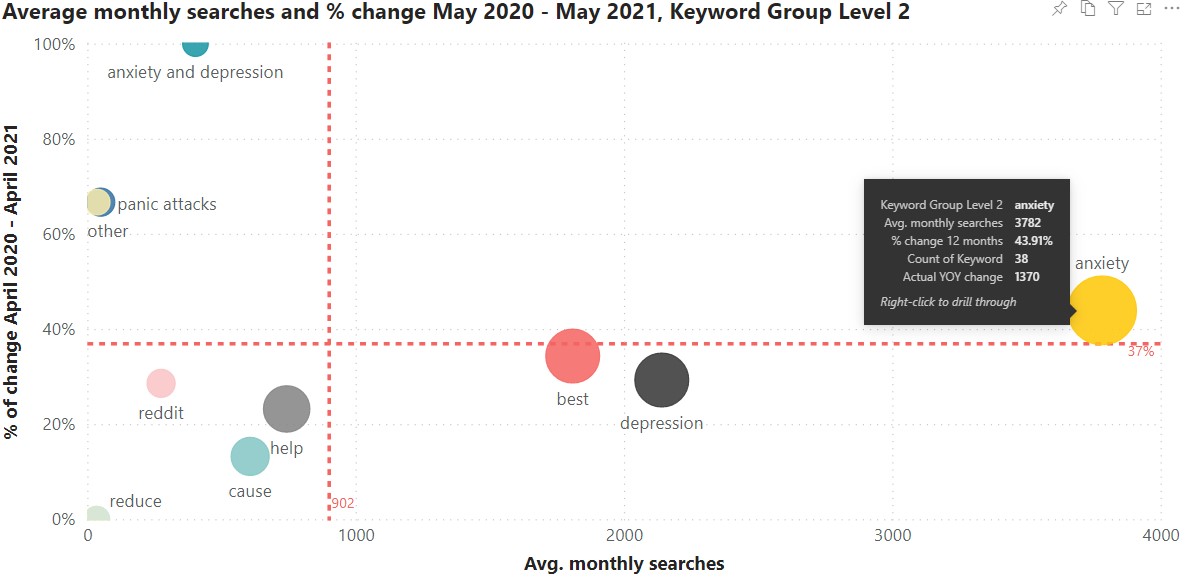 In terms of search volume growth rate, searches pertaining to the term "digestion" in the microbiome context rocketed by 80% over the past 24 months, albeit from a low base. This is worth highlighting, since these searches are generally carried out by new consumers wanting to find out about the efficacy of probiotics on digestion generally without specifying any particular symptoms. This contrasts with consumers wanting information on chronic health conditions like IBS and constipation (which can also be a symptom of IBS).
The phrase "do probiotics help with digestion" is by far the most commonly entered into the search engine, followed by "how do probiotics help with digestion," indicating that consumers are becoming increasingly curious about the science and functionality of probiotics.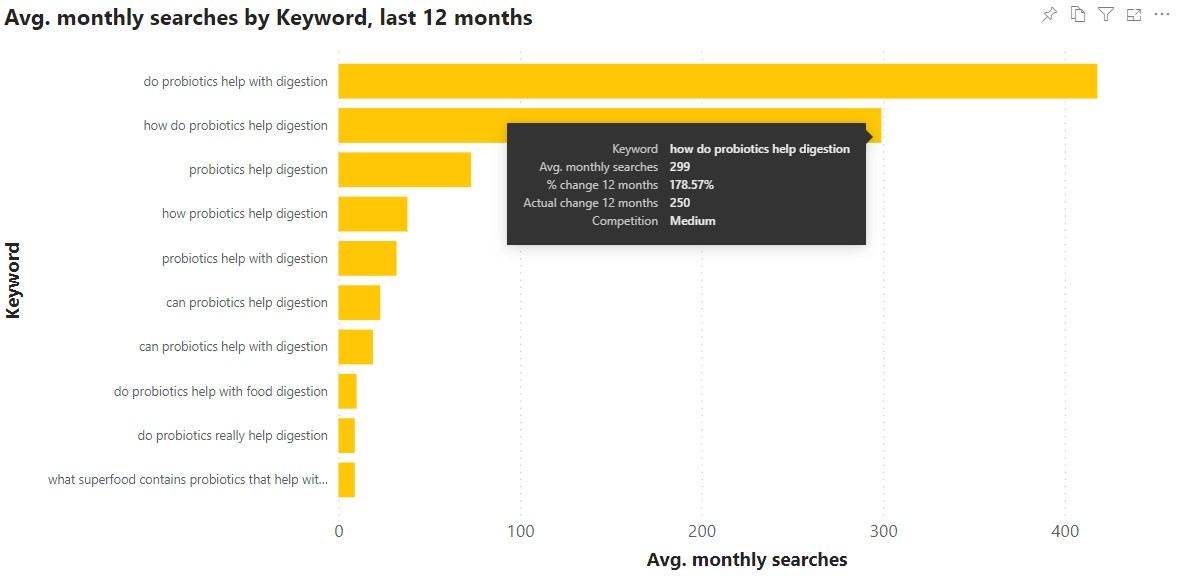 An increasing number of consumers want to hear from other consumers who have already tried probiotics. They want to see some re-assuring "evidence," albeit anecdotal, before they commit to purchase. For instance, the phrase "probiotics cured my anxiety" experienced an astounding 414% growth year-on year (April 2020-April 2021). Platforms such as Reddit, where people can discuss sensitive topics like mental health anonymously, play an important role here.
Bored, stressed and shut up at home – the perfect recipe for piling on the pounds
An article published by the American Psychological Association this month discusses the finding that 42% of US adults had piled on extra weight during the pandemic, reporting an average gain of 29 pounds, which is not exactly trivial. Across the pond, the London-based Institute of Fiscal Studies recently reported that 90% of UK households had increased their intake of total calories in 2020. Taking into account home confinement, and the widespread closure of gyms and sporting facilities for considerable periods of time, it is highly unlikely that the extra energy consumed will have been burned off.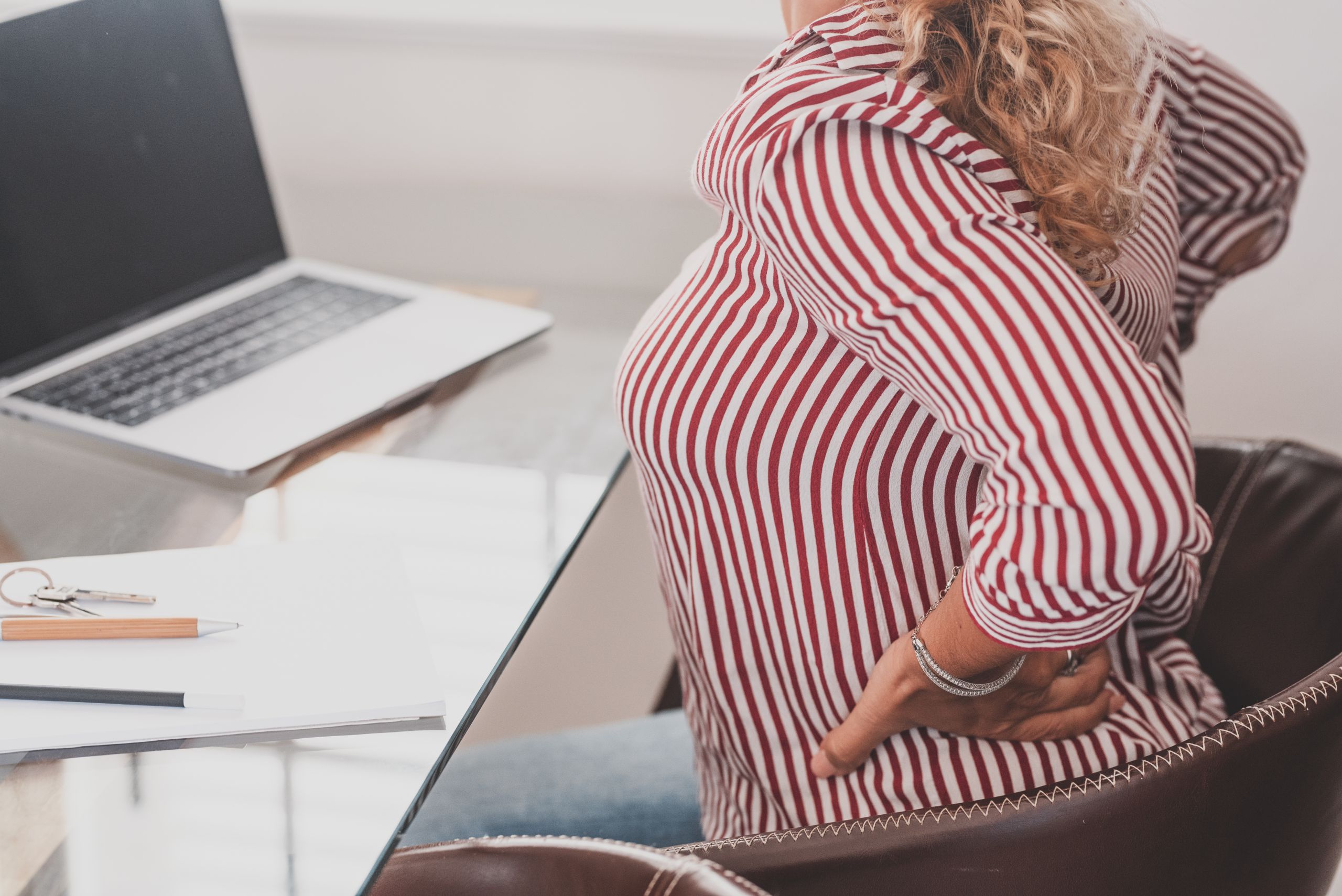 As already pointed out, weight management, despite being such a mature category, is experiencing considerable dynamism, with an 55K average monthly English language searches between April 2020 and April 2021. "Best probiotics for weight loss" was the topmost searched-for phrase by far, while "best probiotic brand for weight loss," by contrast, had decreased by 71%, backing up our observation that consumers were becoming less interested in brand names and were relying more on recommendations regarding the efficacy of strains/species to inform their purchase decisions.
Giving consumers what they want
So, what are the implications of these findings for players in the probiotics space? First of all, they need to have systems in place that make it as easy as possible for consumers to leave their reviews, recommendations and ratings, and ensure that these are accessible to the widest possible audience. In fact, setting up automated systems that actively solicit feedback from customers, ideally also in direct response to would-be buyers' queries, would go a long way towards quenching consumers' growing appetite for user testimonials before they are prepared to part with their hard-earned money.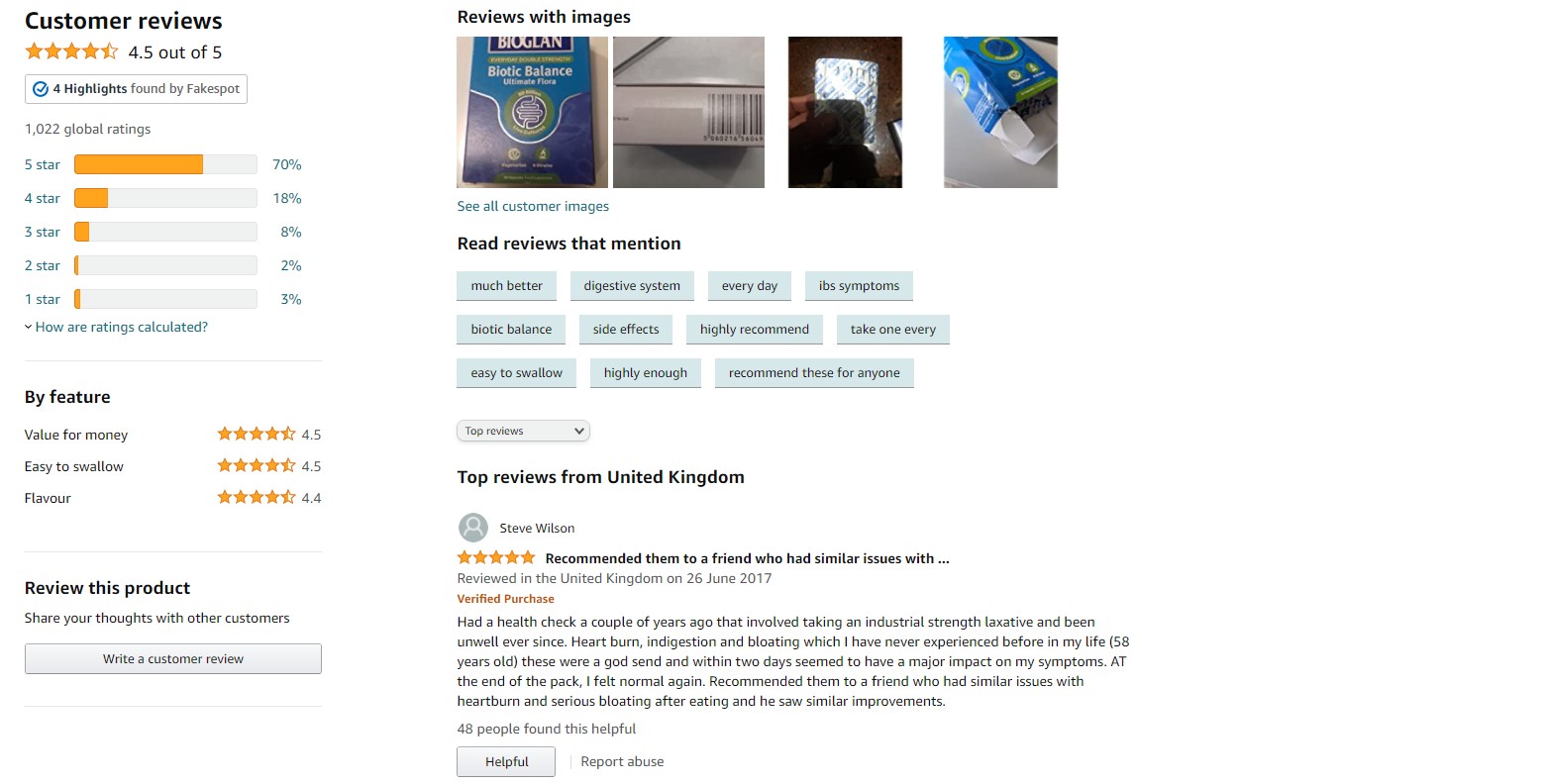 Anecdotal evidence provided by fellow consumers, however, can only go so far. The question word "how," which, as pointed out, is one of the drivers behind searches on probiotics in the context of digestion, demonstrates that consumers are not satisfied by simple yes or no answers, but want to understand what actually happens to pre- and probiotics in the body. This is something that manufacturers and brand owners, who keep close tabs on the research and develop products with specific characteristics and benefits in mind, are in the best position to answer.
Providing open access to the original research papers underpinning their products' efficacy is definitely something that should become standard practice sooner rather than later, but there is also a need for presenting the information in a palatable way to a lay audience lacking a scientific background.
Intelligible summaries that strike the right balance between providing sufficient detail without overwhelming the reader with technical complexity, ideally accompanied by information in pictorial format, would go a long way in transforming consumer curiosity into purchase intent.
View all our reports
See the range of reports we offer for the probiotics market including market overviews, deeper examinations of niche markets, country insights and more.