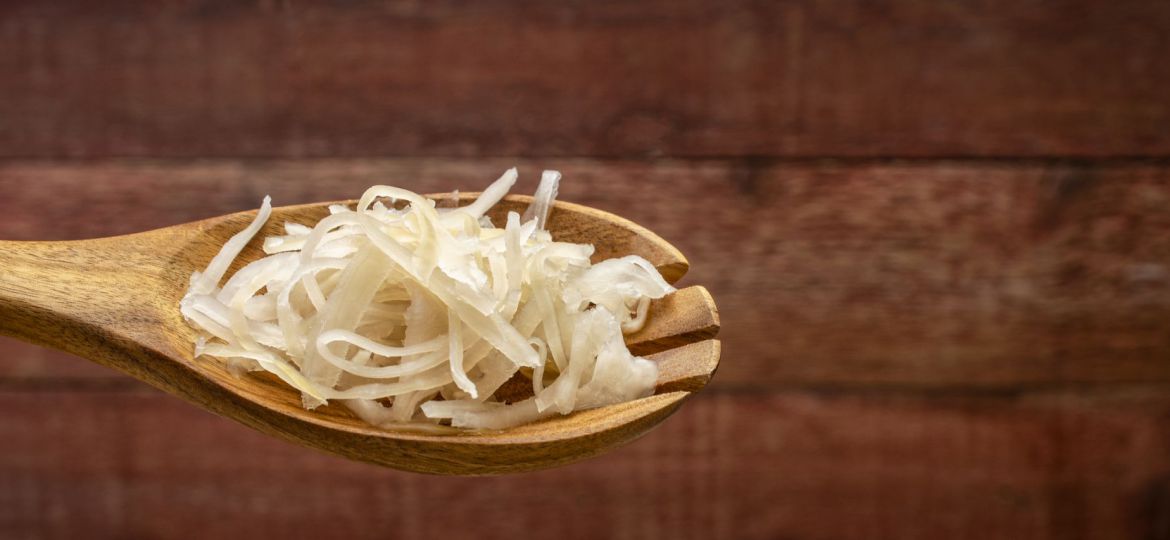 Prebiotics are trending on multiple fronts right now, creating rising demand for these sophisticated fibre ingredients, which have been shown to nourish beneficial microorganisms inhabiting the human gut. 
Our research shows that consumers are more engaged with prebiotics than ever before as they are not only searching for ways to improve their own health, but also that of their pets. This article looks at some of the key trends driving the prebiotics market and how these are likely to develop in the future. 
Consumers very engaged with prebiotics
Consumer interest in prebiotics remains high, as can be gauged by examining Google search trends. Lumina tracks shifts in online searches within the probiotics space over the last 12 and 24 months via its microbiome search trends analysis dashboard. 
At present, 1,633 keywords are tracked through English language searches worldwide. As evident from Figure 1, prebiotics, with 11.5K average monthly searches between February 2020 and 2021, is ahead of terms such as cardiovascular health, digestion and even immunity. 
What also emerges from the graph is that gut health remains a major area of interest, and prebiotics are highly relevant in this regard. Terms implicated in gut health, like constipation, gut-brain, IBS, digestion, gut flora and diarrhoea, generated a significant volume of searches, and saw high growth.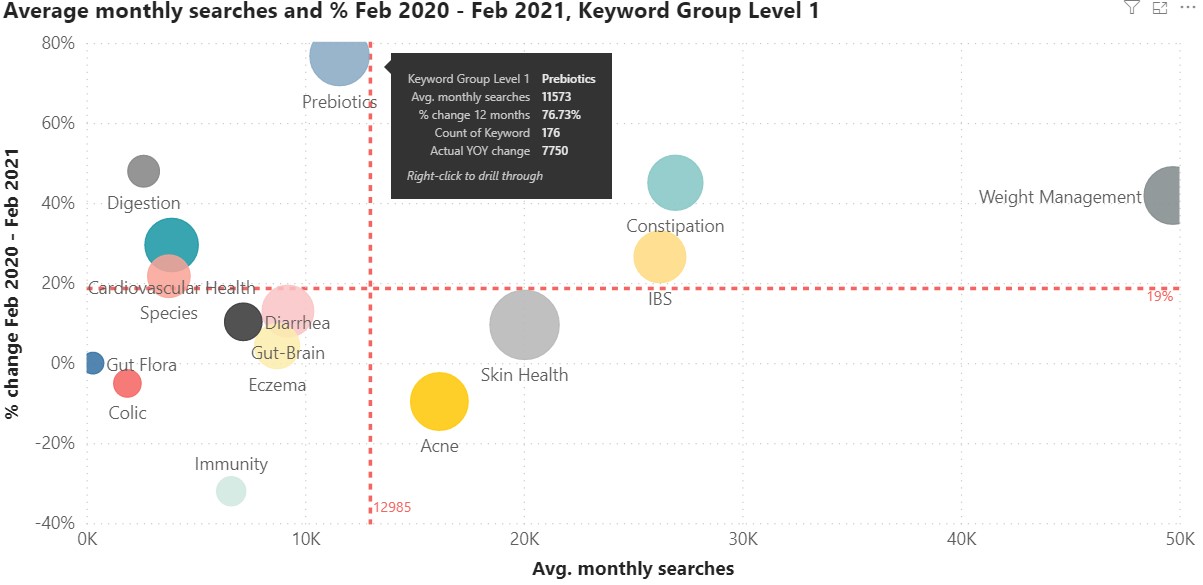 Within probiotic supplements, prebiotics as an ingredient also resonate well with the end-user. Lumina's research on post-purchase review data found that prebiotics are among the top performing ingredients when it comes to the number of reviews generated by products they are used in.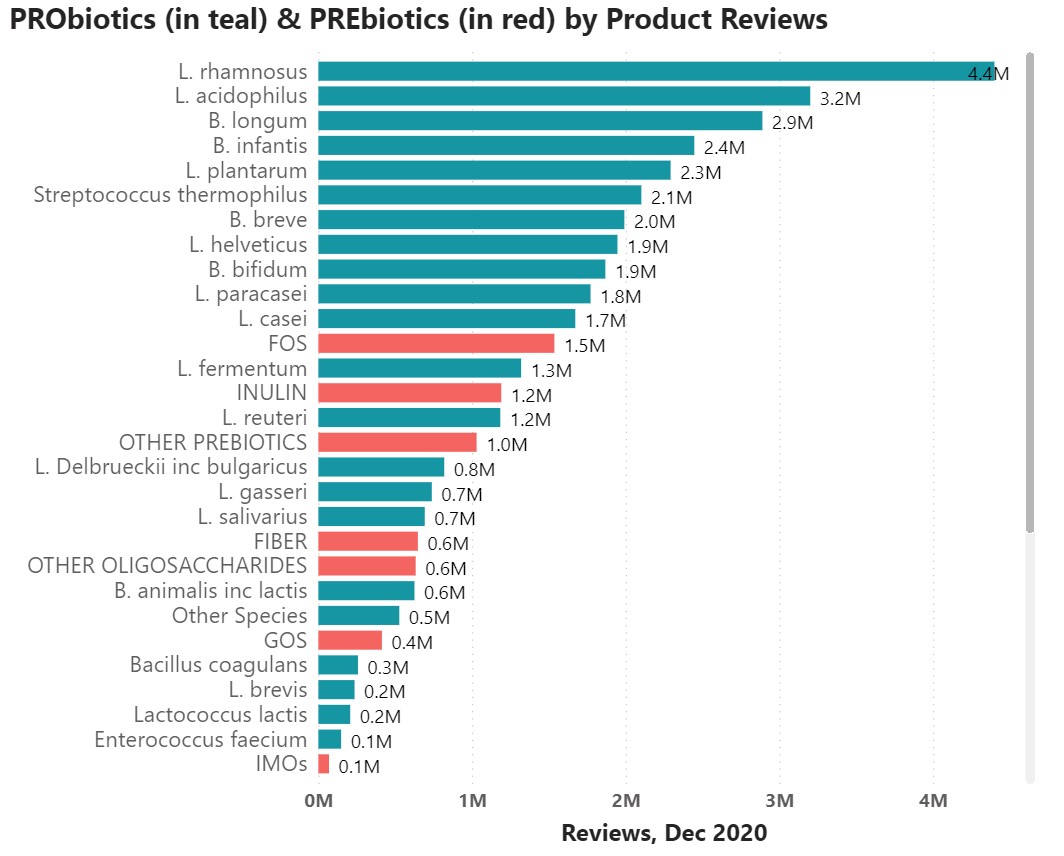 Plant-based eating a key driver
Plant-based eating is a global macrotrend. Consumers' motivations for cutting out or down on animal foods, like meat and dairy, range from environmental sustainability concerns to ethical considerations (e.g. animal welfare) to personal health objectives. 
This shift opens up opportunities for prebiotic fibres, since they are either already present or can easily be integrated into the plant-based products that are substituting animal-based foods. It also gives products, which were always plant-based, new leverage in terms of positioning. Breakfast cereals are a good example. 
In a recent webinar, D'Anne Hayman, vice president of Global Innovation and Nutrition at Kellogg, declared gut health to be the future of nutrition. Kellogg's strategy for the immediate future was to "promote its diverse range of plant-based fibres to nourish the gut." This would, according to Hayman, also include new brands and novel plant fibres. 
Comet Bio's Arrabina branded fibre is expected to hit the market in 2022. Arrabina is made from arabinoxylan, a constituent part of, for example, psyllium fiber. The company, which is based in North America with facilities in Europe, has found a way to isolate arabinoxylan on a commercially viable basis. 
Comet Bio is convinced of the superiority of its prebiotic ingredient over other kinds. It is, for example, tolerated in much larger amounts than inulin (from chicory root) without causing digestive discomfort, argues the company. 
Another attractive, on-trend aspect of Arrabina is that it is sourced sustainably from crop leftovers like straw, leaves and shells, as well as from "upcycled" spent grains diverted from the brewing industry. This is bound to appeal to the growing number of businesses embracing the circular economy model.
Anthropomorphism fuels uptake of prebiotics in pet food
Prebiotics play an important role in animal feed. The rise of poultry farming in Asia Pacific, particularly in India, China and Indonesia, is pushing the uptake of prebiotic fibres like mannan oligosaccharides (MOS), derived from brewer's yeast (Saccharomyces cerevisiae). The addition of MOS is known to improve feed conversion efficiency and boost egg production in hens as well as growth in broiler chickens and turkeys.
Prebiotics are also becoming increasingly common in pet food, but there is a different reason behind this market trend. Pet owners believe that what is healthy for them, must also be good for their four-legged companions.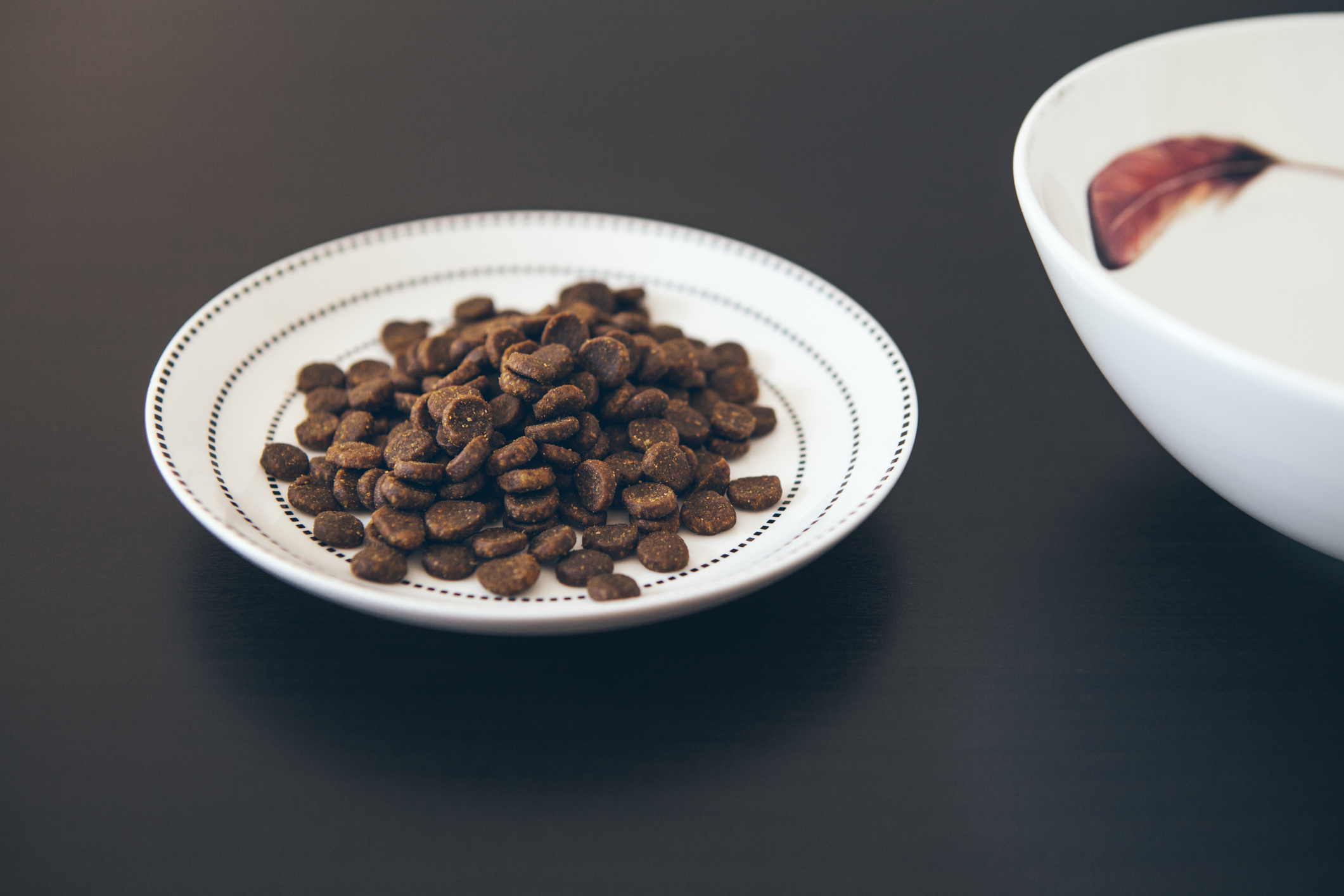 Anthropomorphism – the attribution of human characteristics, preferences, etc. to objects and animals – is a long-standing macro trend impacting the pet food sector. One manifestation of this is the addition of trendy "superfood" ingredients to pet food products for the purpose of product differentiation and adding value.
Prebiotics most certainly fall into this category, and there is a whole slew of recent launches attesting to this phenomenon. Minimo Yum Disney Pixar Soul Limited Edition Dry Cat Food, introduced by Malta Cleyton in Mexico in February 2021, contains both MOS and beta glucans for heart and digestive health. In the same month, For Life Digestive Health With Chicken Treats For Dogs, owned by Mars, was introduced in Australia. The product is formulated with beet pulp and promoted as containing "prebiotic fermentable fibre for the growth of friendly bacteria."
Prebiotics are no passing trend. As research into the human microbiome progresses, providing optimum nourishment to one's resident beneficial bacteria will become a mainstream health objective for many. This will spell growing consumer engagement with and rising demand for prebiotics.

Plant-derived prebiotic fibres will continue to benefit from the shift towards plant-based eating. In order to accommodate growing demand for plant ingredients, we expect to witness a diversification of the source materials used to extract prebiotic fibres, and not just in terms of functionality, but also taking into account environmental sustainability. 

The production of fructo oligosaccharides (FOS), which are very widely used prebiotics, from agricultural waste, for instance resulting from onion or pineapple cultivation, is going to become particularly attractive. Consumers are increasingly invested in the issue of waste reduction, which is set to drive this development. 

Lactose-derived GOS will not only remain relevant, but find increasing resonance with an adult audience in areas like immunity, mood regulation and cognitive functioning. Dairy products lend themselves particularly well as a vehicle for GOS, but they are by no means limited to this category. We expect to see functional foods and beverages containing GOS across the board. 

A lack of fiber in people's diets, resulting in an increased risk for a multitude of chronic diseases, is going to remain a public health issue for a long time to come. This fact alone more than justifies the addition of prebiotics to food and beverage products, painting a promising future for market growth and the prebiotic industry as a whole.
COVID-19: A Game Changer for Probiotics
This free whitepaper from Lumina Intelligence examines how the pandemic has impacted post-purchase consumer engagement with probiotics, the role of probiotics in defending against infections and opportunities in the market.