Lumina Intelligence is an insights service for the probiotics market. Using consumer engagement data like reviews and star ratings, as well as online search data, we provide insights and interactive data visualisations that help inform new product development, marketing and business strategies.
This article examines several different ways you can use Lumina for strategic decision-making. These are also covered in the video above.
Understand the existing market in a particular country
Lumina offers a variety of interactive dashboards examining the probiotics market through the lens of health benefits, target population and more.
Our health benefits analysis dashboard allows users to compare leading brands and companies in multiple countries and examine how their products resonate with the end consumer.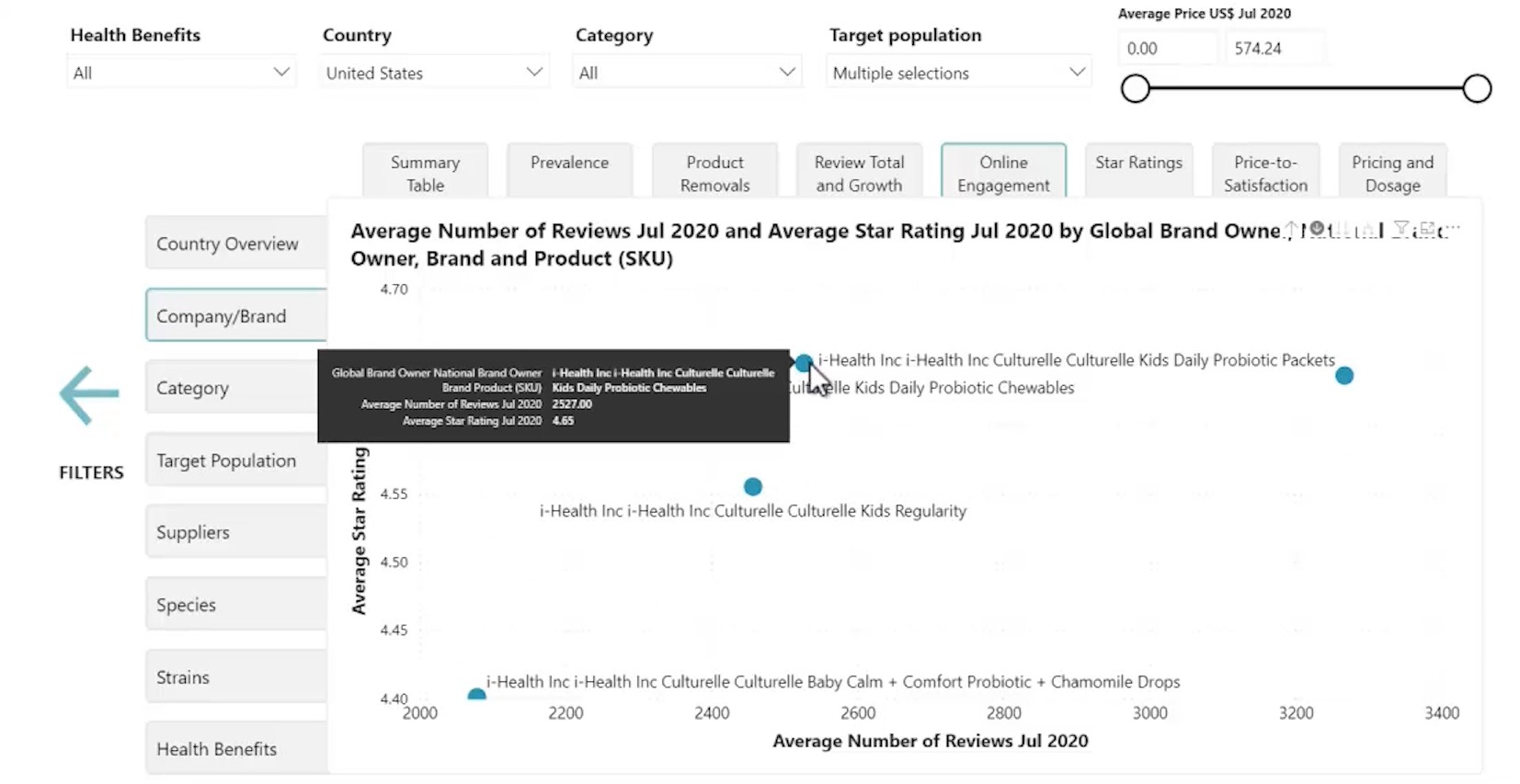 Learn which health benefits and target populations are driving consumer engagement and understand how this differs country-to-country. Below, for example, we can see the difference in consumer engagement with particular health benefits both globally and only for Australia, simply by selecting the country from a drop down menu.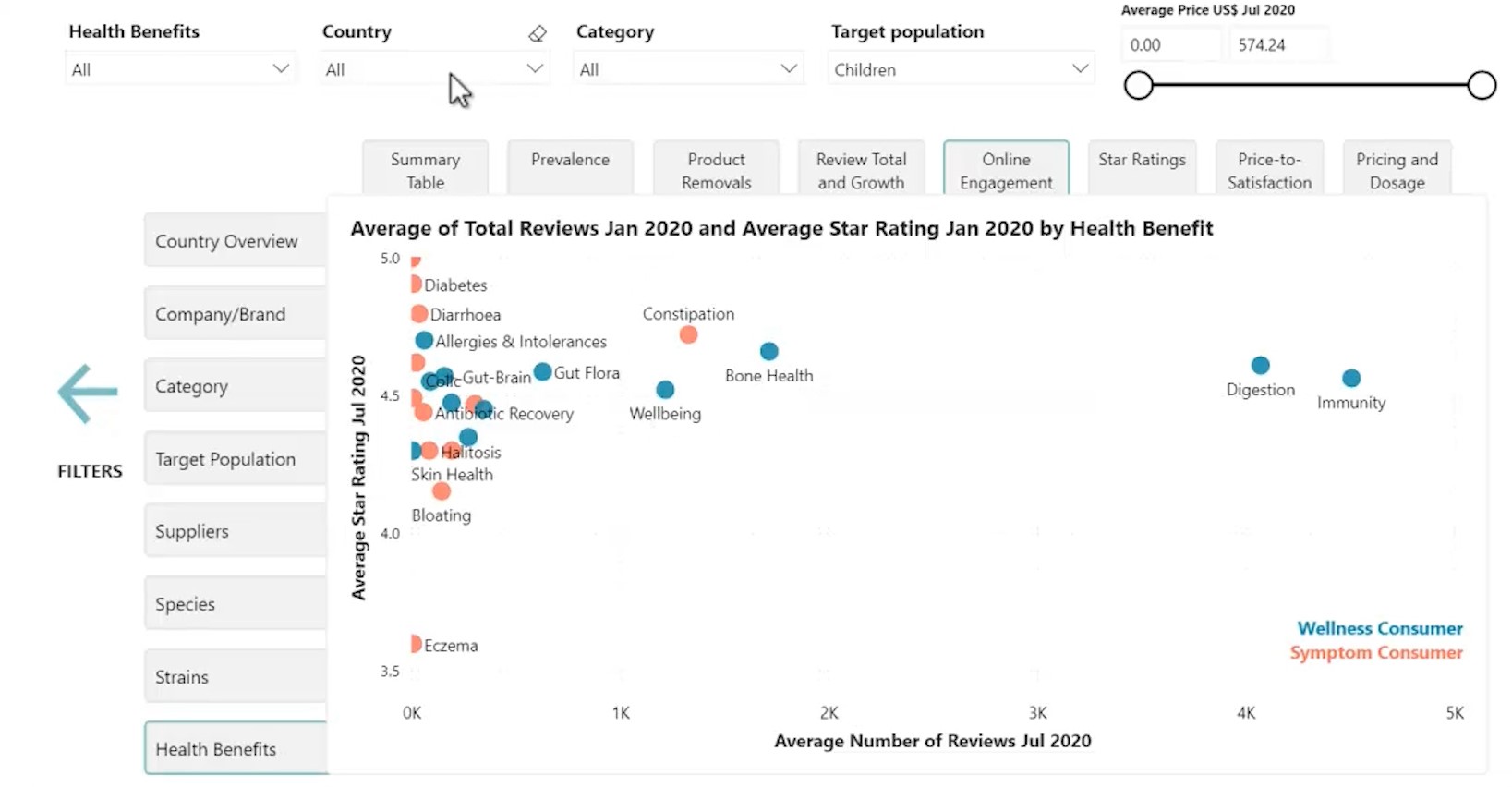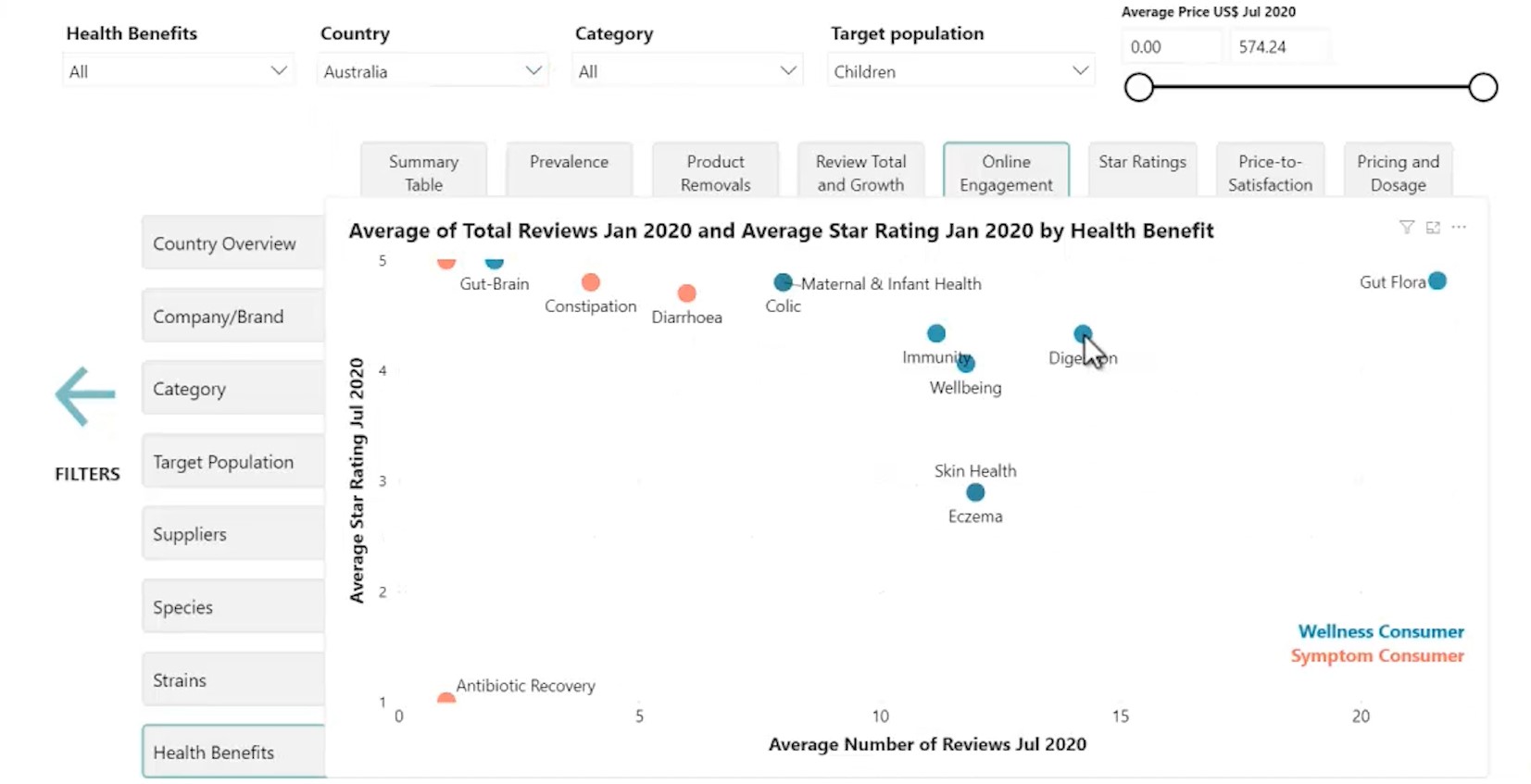 Analyse your competitors' portfolio
Our Health Benefits dashboard also allows you to view your competitors' product portfolios comparing metrics like consumer satisfaction to average price, with extensive details like format, daily dose and pack size at your fingertips.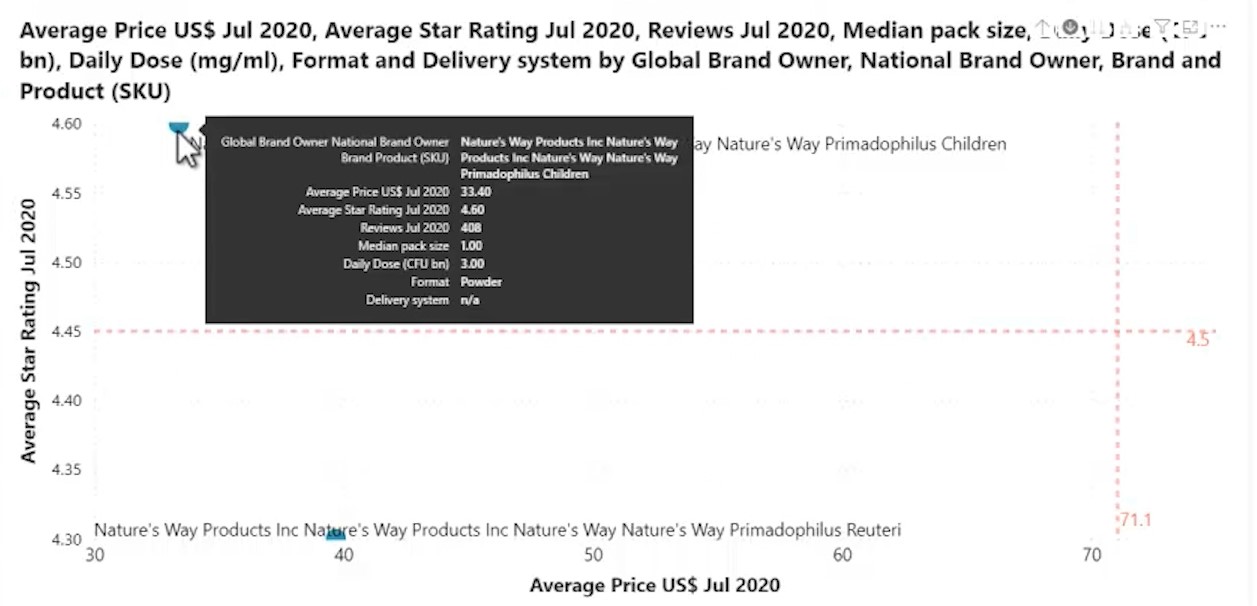 Our Target Populations dashboard also offers a variety of views for our granular datapoints. One of these, our company fact sheets, allows for a more general overview on other companies in the sector showing products, review change over time and the target populations driving growth.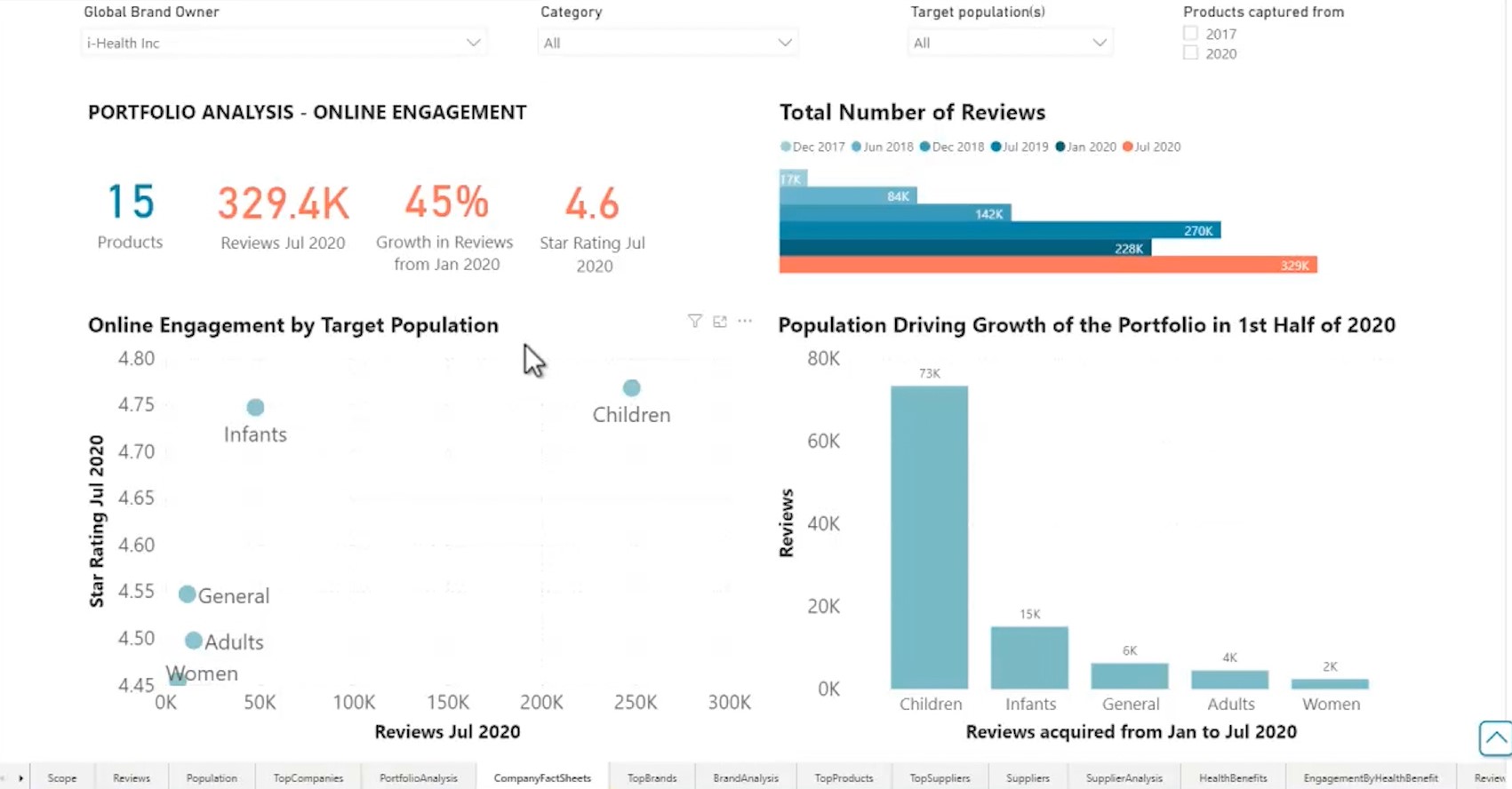 If you work for a B2B company within the probiotics sector, such as an ingredients supplier, you can also scrutinise competing suppliers by examining proprietary strains, products where they are present and how these products resonate with the end consumer, split by country.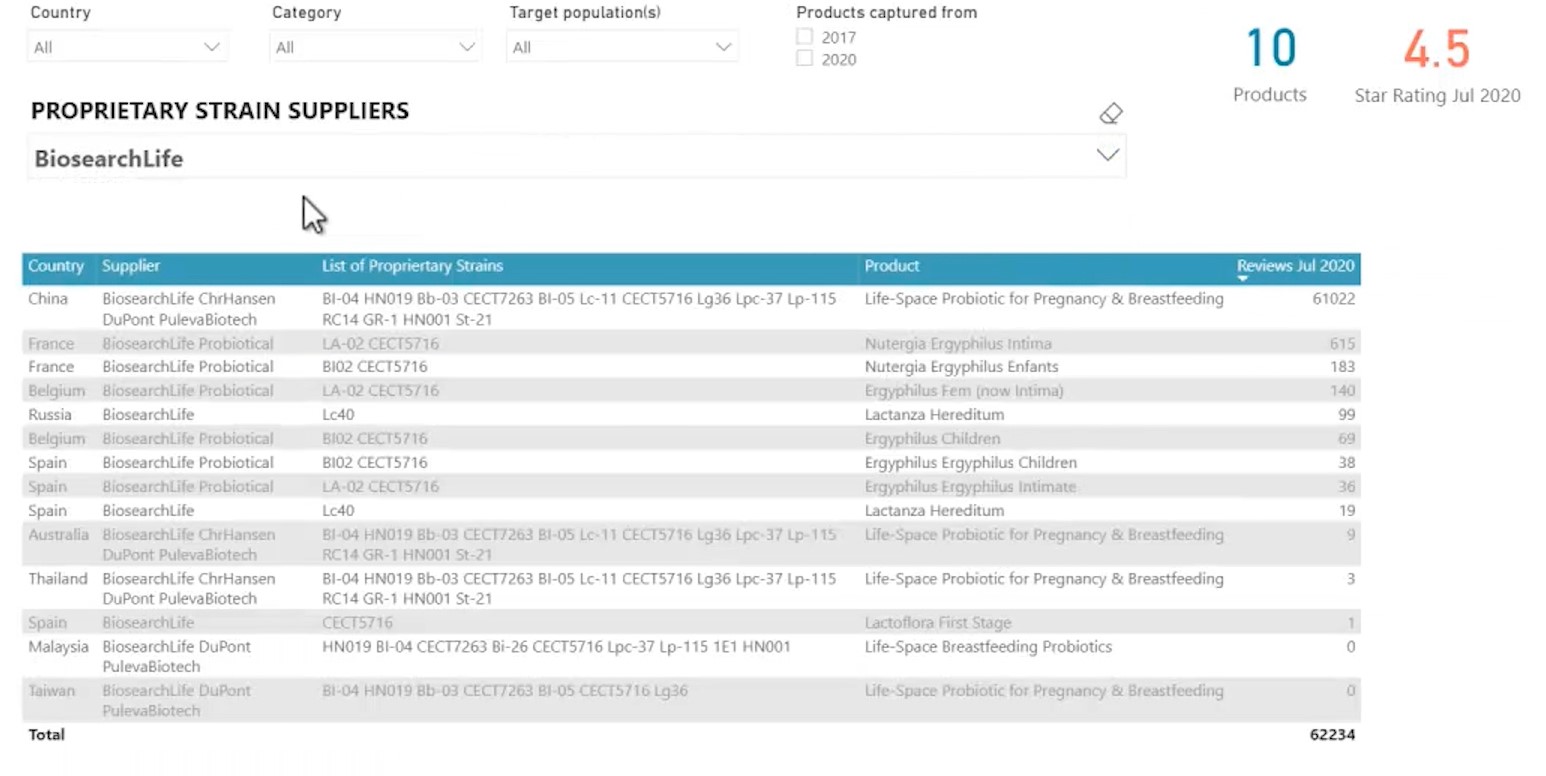 Get formulation detail to inform NPD
By looking at the "Ingredients Reviews" tab in our Target Populations dashboard, you can see what probiotic and prebiotic ingredients underpin successful products on the market. Filter by country, brand owner or target population.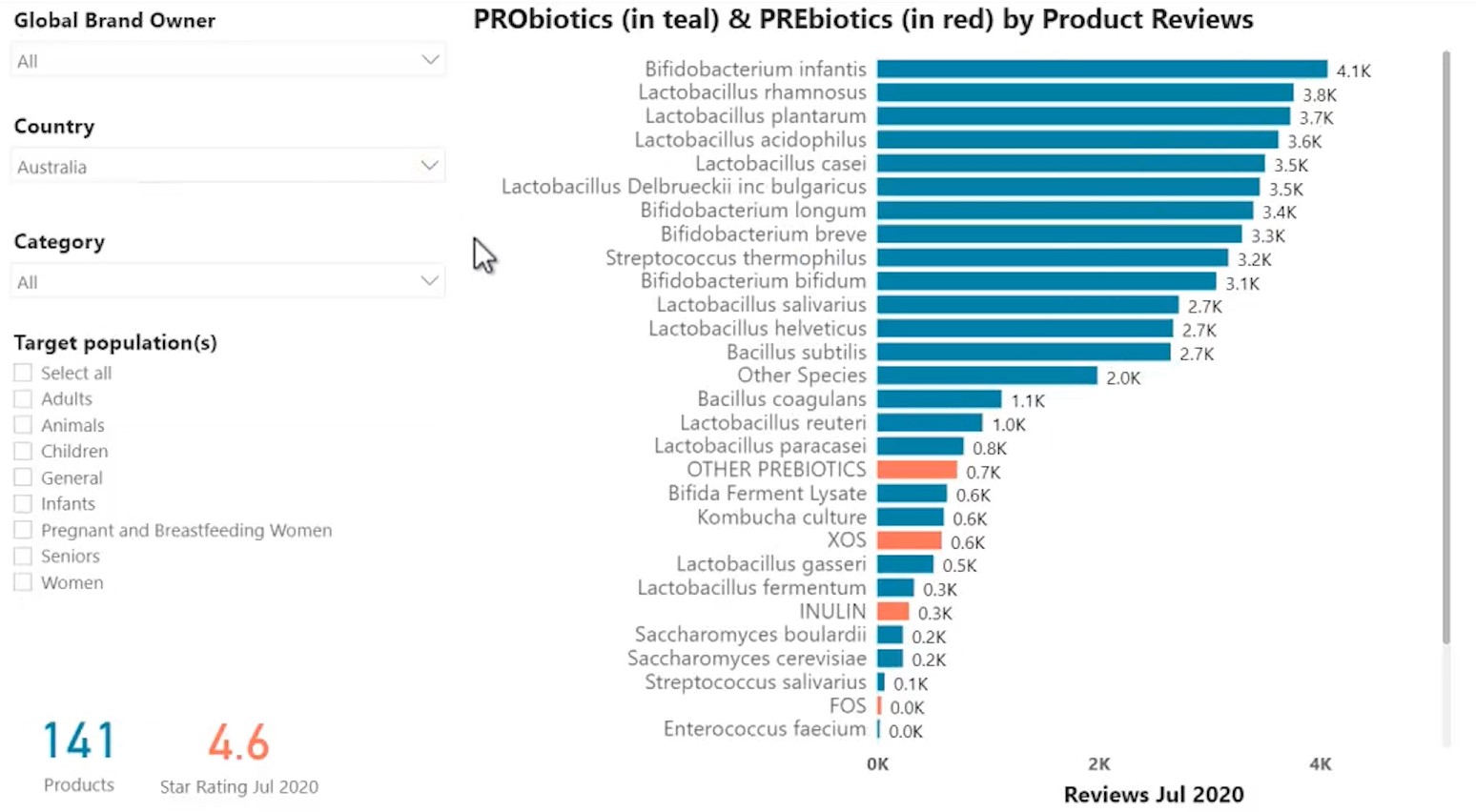 By going back to our Health Benefits dashboard and focusing on ingredients, you can answer questions like: "What strains and species are the sweethearts of specific microbiomes like gut, oral health and skin?"

Understand how consumers research probiotics online
Our more recently published dashboard – "Dr Google: Microbiome Search Trends" – uses online search data grouped into key areas to more deeply understand consumers. Which health areas drive the industry volume-wise and which are growing most dynamically?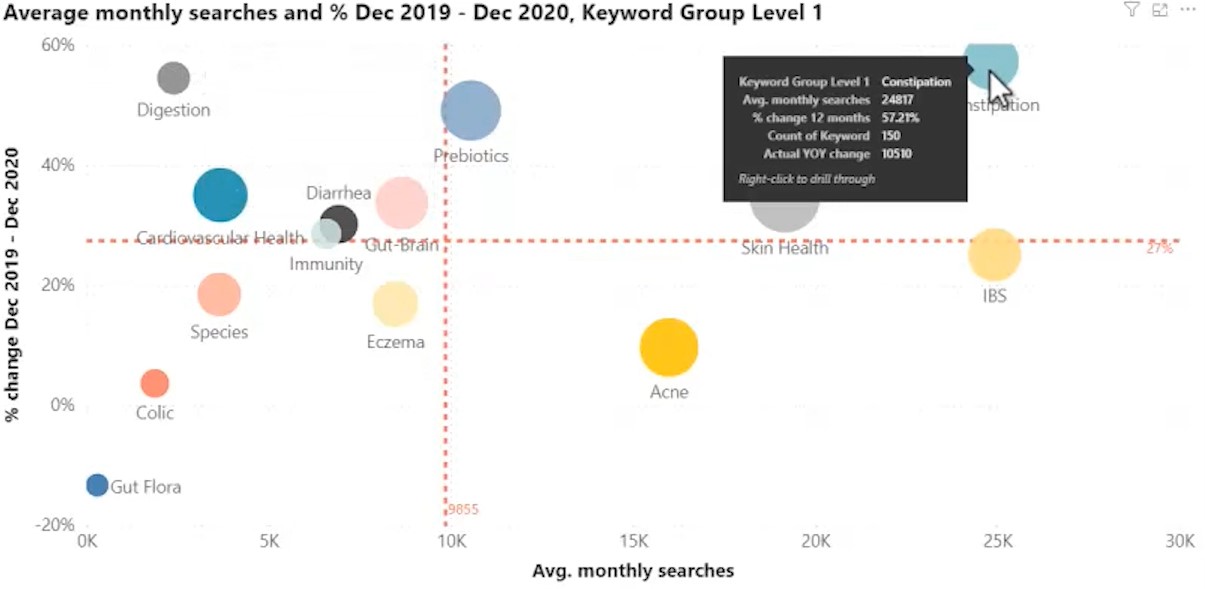 Dive down to the next level of data to discover key target populations or sub health groups driving the growth in each of these key health areas.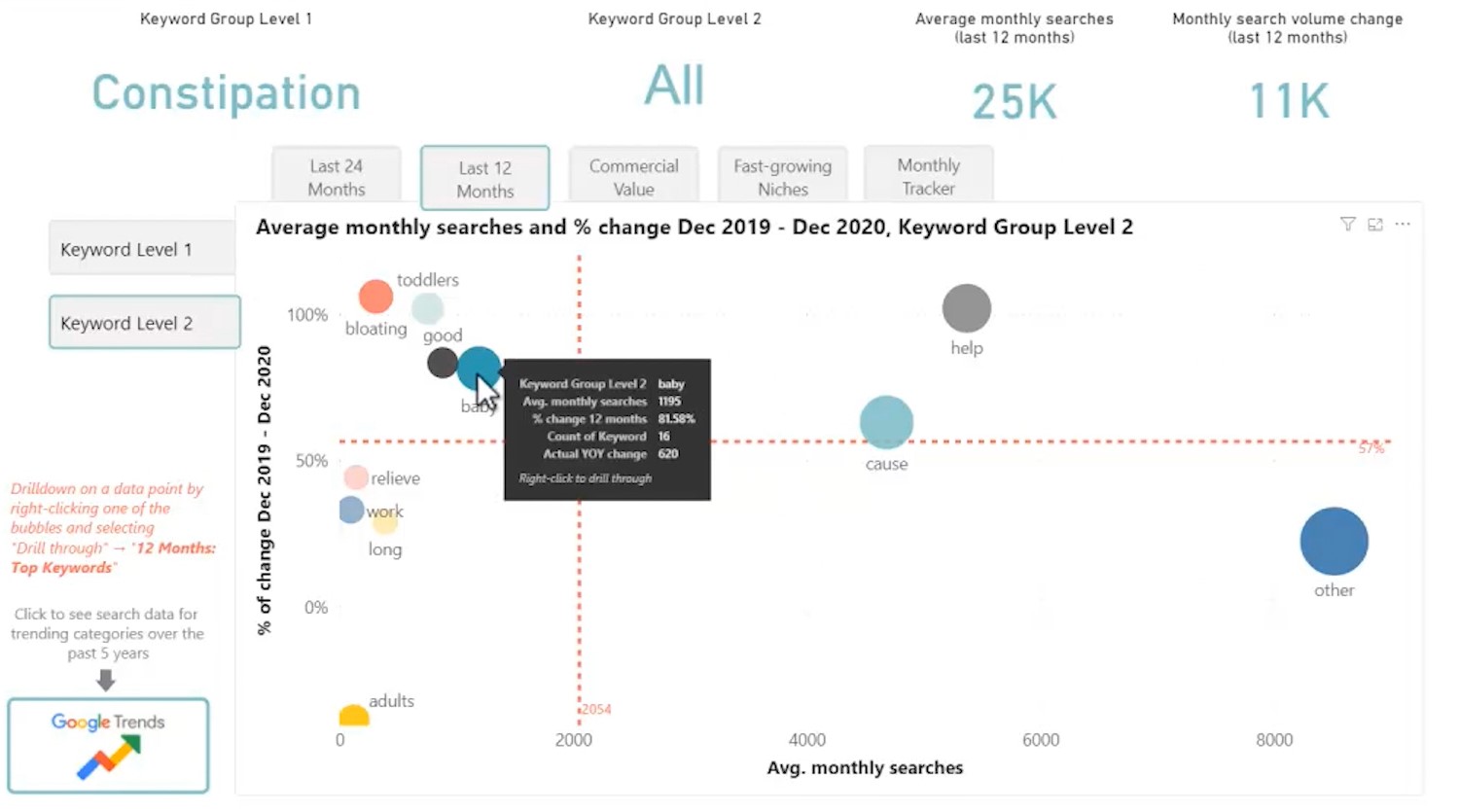 Dive down an additional level to see the keywords being used by consumers when conducting research on probiotics for this health area and target population. Understand how the language consumers use differs from that used in-industry and use this to inform your online advertising and product packaging.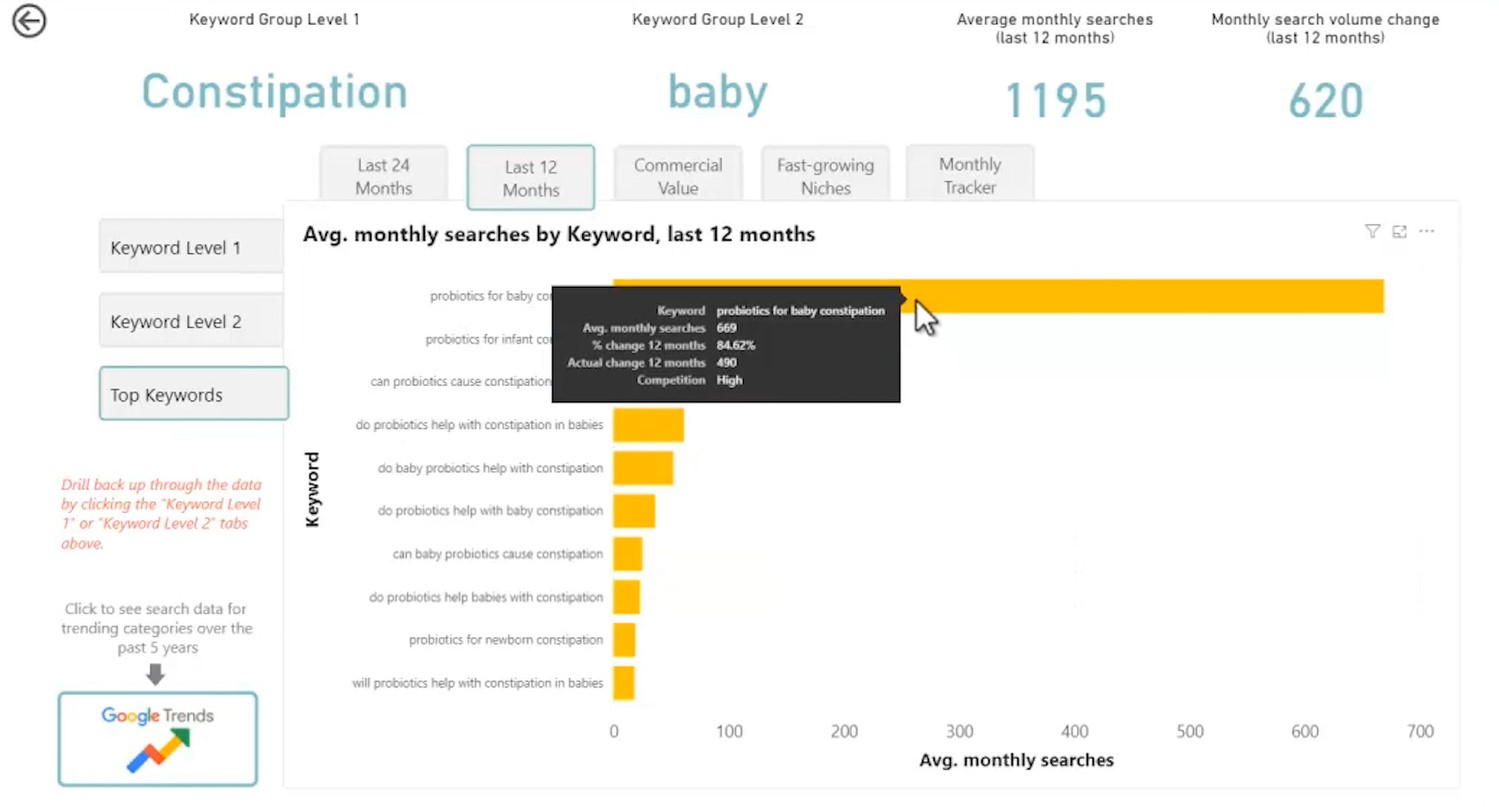 Our Dr Google dashboard also features a month-to-month tracker, so users can understand seasonal trends in each of the key areas in probiotics and see first-hand how real world events like COVID-19 impact consumer search.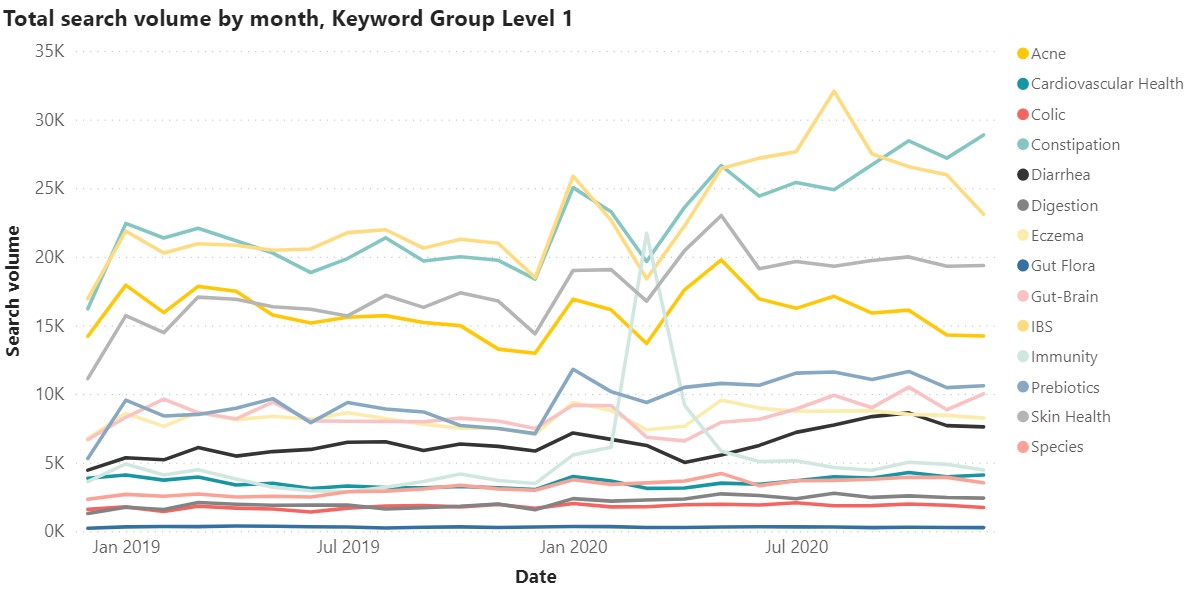 Our "Fast-growing Niches" tab identifies keywords that only started receiving search volume in the last year. This helps user pre-empt trends in the probiotics market and stay ahead of their competitors.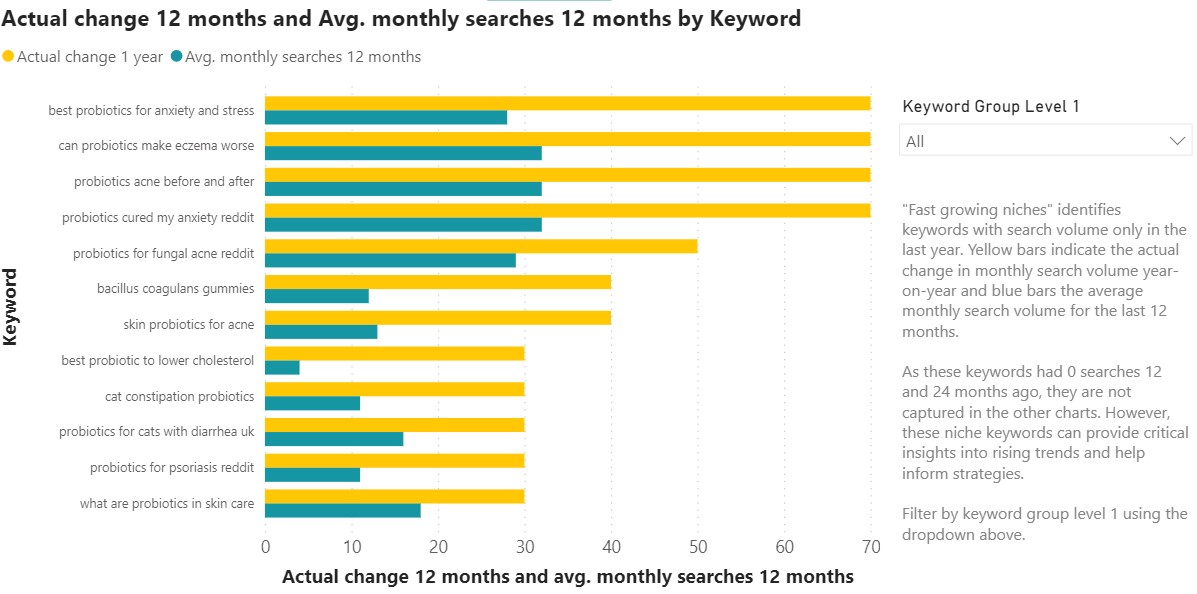 In addition to this, we regularly publish reports with insights from our data – including deep dives on certain niches and strategic fact sheets on countries or target populations.
View all our reports
See the range of reports we offer for the probiotics market including market overviews, deeper examinations of niche markets, country insights and more.
Visit our Case Studies page to see testimonials from our existing clients such as AB-Biotics, ROELMI HPC and ADM.
Book a demo of Lumina Intelligence today to see first-hand how our data can support your business strategy and increase your chances of success in the probiotics market.