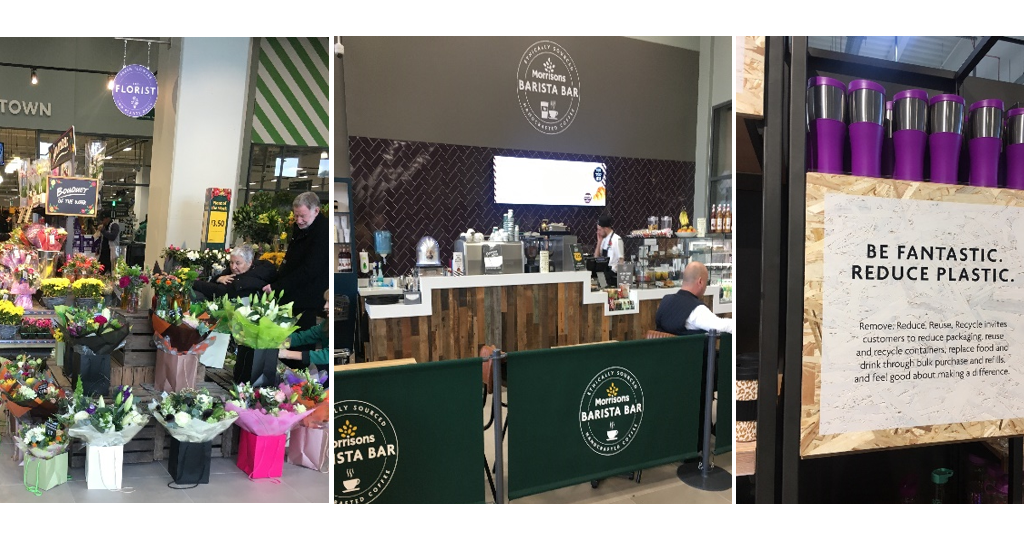 Morrisons recently opened a new store in Canning Town at the end of October. But this particular store doesn't necessarily follow the blueprints of the rest of the Morrisons estate. Prior to opening, Morrisons, like any astute business, conducted consumer research to understand what is important to their customers. The results of this survey showed the top priorities of customers as services, food to go, sustainability and locally sourced products, and this is what shaped the design and formatting for the store. We recently sent HIM and MCA Insight Account Manager, Shakti Puri, to Canning Town to see what the fuss was all about. In our latest blog she highlights the key trends that the store is looking to maximise.
From the moment you enter the store, you get a flavour of the experiential offering of the store.  There is a barista bar for freshly made coffee and a large selection of flowers with an on-site florist to design bouquets while you shop. There is also a community centre, supporting the store's efforts to increase community involvement, something that is of increasing importance to shoppers, with 80% of UK shoppers believing local retailers should function as the heart of the local community (HIM Omnichannel November 2018).
Health is high on the agenda and looks set to stay there. The HIM Food To Go Market Report 2019, indicates that 67% of shoppers believe there should be more healthy food to go options in stores. These shoppers will love the FTG availability at the new Morrisons. The store has invested in providing fast, fresh and healthy options, offering a £3.50 meal deal, a self-service salad bar, express deli and a 'Market Kitchen' foodservice offering. While offering traditional meal deal drinks, the store has included some healthy alternative drinks such as flavoured Kombucha, coconut water, and different flavours of Brain Fud (a natural energy drink made from guarana and multivitamins). Their 'Market Kitchen' offers fresh juice & smoothies (including 'Get Your Green On'; a smoothie with Avocado, Banana, Apple and Spinach), made to order wraps and salads and additional cooking stations such as a wok station, hot food to go and hot pizza station.
The store considers ease of access with spacious aisles and cross merchandising products where appropriate. For example, spirits are located opposite tonics and mixers. The range of mixers includes locally produced tonic by Bermondsey Mixer Co., a brand that uses raw, natural ingredients, offering shoppers a premium, natural alternative to traditional tonics.
On the topic of local, our research shows that 86% of shoppers want to see their retailer stock more local products (HIM Omnichannel November 2018) and this was key for the Canning Town store, which includes 77 locally sourced products including freshly laid eggs from the farms of The Kent Egg Co. This is a family business and Morrisons features a large display of fresh eggs where shoppers can choose as many eggs as they like and insert them into empty cartons to take home.
The store has also invested into free from ranges, featuring the full Alpro alternative milk range as well as introducing Morrisons own brand almond, cashew, coconut, soya & strawberry flavoured soya milk. Their chilled 'free from' range includes a wide selection of dairy alternative yoghurts, butters & spreads and ready meals. This meal for tonight range includes chilled 'free from' pizzas, lasagnes and premium offerings such as pumpkin and sage raviolini and Pieminister gluten free pies. With several shelves dedicated to ambient 'free from' products, the range includes free from world foods such as soya sauce and Mexican meal kits. The store caters to the indulgent shopper on a treat mission with a wide range of 'free from' cakes and pastries as well as gluten free cake mixes.
Sustainability is another trend that is at the forefront of retailers' minds, with consumer demands for brands and stores to be more ethical. In fact, 81% of shoppers believe it is important to reduce the use of non-recyclable plastics and 70% are trying to reduce the amount of single use plastics they use (HIM Future of Convenience Report 2019). Canning Town's Morrisons has introduced initiatives to reduce plastic such as reusable flower and produce bags made from organic cotton, linen and jute. For no additional charge, the store has replaced all of their plastic produce backs with 100% recyclable paper ones for loose produce. At the front of the store, Morrisons invested in a display providing recyclable travel mugs, water bottles and lunchboxes made from bamboo and other recyclable materials.
Overall, the Canning Town Morrisons is a leading example of integrating foodservice and retail, while tapping into key trends such as sustainability, supporting local producers and investing in a large 'free from' range, catering to customer needs.