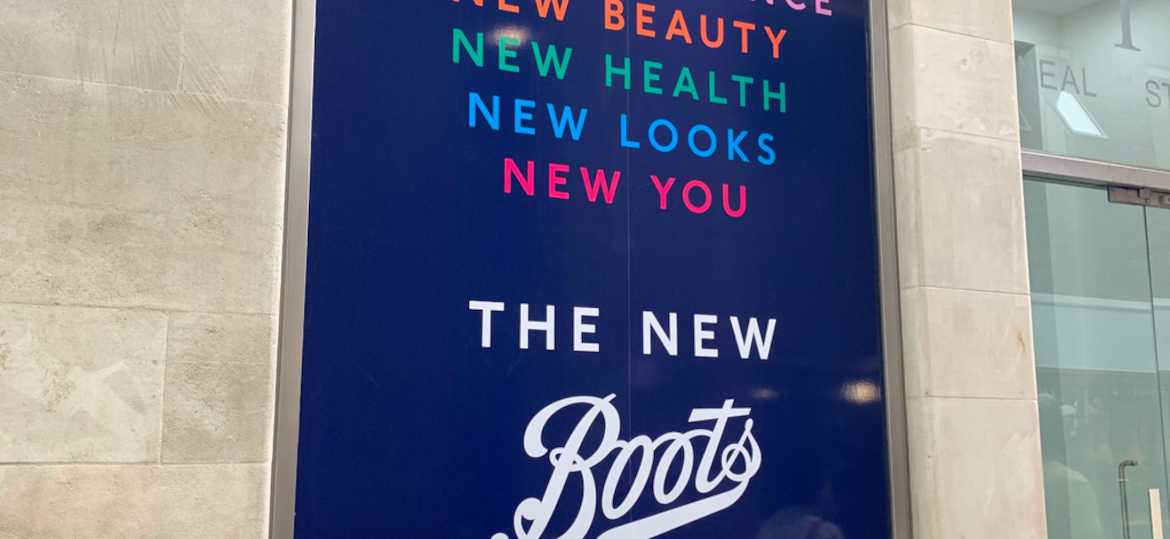 In April, it was announced that Boots will be rolling out a totally new concept for its stores, and at the back end of June the brand's new flagship store in Covent Garden launched. The new store focuses on a range of on-trend categories and features, including an Instagram feature wall & rehydration area. The store is 28,524 square foot split over two floors with the whole first floor dedicated to a reimagined beauty and skincare emporium.
Announcing the new store format, Boots CEO, Sebastian James said, "The store is full of exciting beauty brands, ideas for living well and services to help you get better, all with the great care that Boots colleagues give. We will learn what people love and want from this shop and this will help us shape a blueprint for our whole 2,500 store estate."
Boots is very much looking to the future with this new concept, but what are the key trends that they are looking to capitalise on and why? HIM and MCA Insight Account Manager, Sophie Lane took a trip to Covent Garden and, using HIM insight, highlights 5 trends that Boots are looking to maximise…
Wellness
Over half (54%) of shoppers are conscious about their mental well-being and a quarter workout regularly (HIM Healthy Snacking Report 2018). Shoppers are more aware than ever about health & wellness. Government legislation and online campaigns have bought the health agenda to the front of shopper minds.
To tap into this growing trend, the new Boots concept store has an extended wellness area, which includes some high spend items, such as blood pressure & thyroid test kits, nebuliser apparatuses and Fitbits.
To further promote wellness and educate shoppers, Boots has introduced several '3 step' spotlights. These feature a range of different brands dedicated to specific wellness subjects. For example, '3 steps to healthy feet', which includes foot creams, foot masks and other devices.
Sustainability
Sustainability is a trend that is rapidly gathering pace, in particular the war on plastic. In fact, we asked shoppers to rank 8 sustainability issues by importance, and reducing plastic use was ranked as the number one problem shoppers think companies should focus on solving first(HIM Omnichannel, June 2019). Nearly three quarters (70%) of shoppers are actively trying to reduce single use plastic such as clingfilm and plastic straws, and they rely on retailers and brands to help make it easier (HIM Future of Convenience Report 2019).
Boots has placed a lot of attention on sustainability in its new concept store. Not only are there dedicated areas for sustainable beauty products and a rehydration centre for shoppers to fill up bottles, they are also educating consumers through POS and highlighting its commitment through a partnership with the plastic soup foundation.
Social Media
Technology is moving faster than ever. A key trend increasingly affecting convenience & high street stores is the integration of the online presence with the physical. 64% of UK consumers would hesitate to purchase from a business with bad online reviews & over 50% are aware that you can buy items through social media(HIM Future of Convenience Report 2019). Social media shopping is becoming more influential and moving beyond selling, it can be used to create stories or attract shoppers into stores.
Boots has acknowledged this trend by introducing an Instagram zone, which includes a feature wall & balloons encouraging shoppers to share their selfie on social media with the hashtag '#Bootsbeauty'. Some of the brands are running in-store competitions to give shoppers a chance to win products if they share their experiences online with hashtags relating to the new store e.g. Urban Decay: #UDCOVENTGARDEN. This engages younger shoppers, enhances the shopping experience and creates a buzz online. HIM Convenience Tracking Programme 2019 data shows that consumers that have a great in store experience visit more frequently, spend more and are more likely to recommend a store to others.
Plant Based & Vegan
Vegan, vegetarian and flexitarian diets and lifestyles are on the rise. According to research conducted by the Vegan society, the number of vegans in the UK has quadrupled since 2014 rising to 600,000 in 2018(www.Vegansociety.com). MCA's hot topics consumer research in March 2019 found that 2% of adults had adopted vegan or vegetarian diets in the past 6 months to add to the 7% who were already following plant led diets.  This gives NPD opportunities to suppliers and retailers looking to target and capitalise on the trend.
Beauty Kitchen's vegan range has a large area dedicated to it and the protein/healthy snacking area of the store is dominated by vegan brands such as Pulsin and Livia's. With the popularity of veganism and vegetarianism growing, brands and retailers need to be more conscious of the range that they stock. Boots has a range of products available for different consumer diets, and they are increasing the prominence of healthier/vegan products.
Protein & Healthy Eating
Veganism/vegetarianism and health are very intertwined, but they are not always the same thing. There is shopper demand for retailers to offer a range of healthier options that suit various diets.
Two in five (39%) food to go shoppers want healthy & high protein products included in the meal deal' and retailers and suppliers are adapting to accommodate shoppers desire for healthy alternatives in all categories. Driven by increased government legislation, TV documentaries, social media and NHS campaigns, 45% of shoppers are actively making healthy decisions in their diet and 55% of shoppers said they eat more healthy snacks than unhealthy(HIM Healthy Snacking Report 2018).
The new meal deal variety in the concept store will not stock high sugar snacks or energy drinks and caters to the health-conscious shopper. As well as the fitness & energy aisle stocking high protein snacks and protein powders, the healthy nutrition area of the store is considerable and focuses on 'natural products' such as nuts, seeds, teas, and plant milks.
Overall, the store is innovative and experiential, and a true reflection of the trends that are starting to dominate the UK food and grocery sector. Boots clearly has an eye on the future and are actively trying to futureproof their business by engaging with younger shoppers, without losing focus on the now. With a wide range of options across various categories, it is hard to criticise this store, and I wouldn't be surprised if it shapes the blueprints for stores in the future.