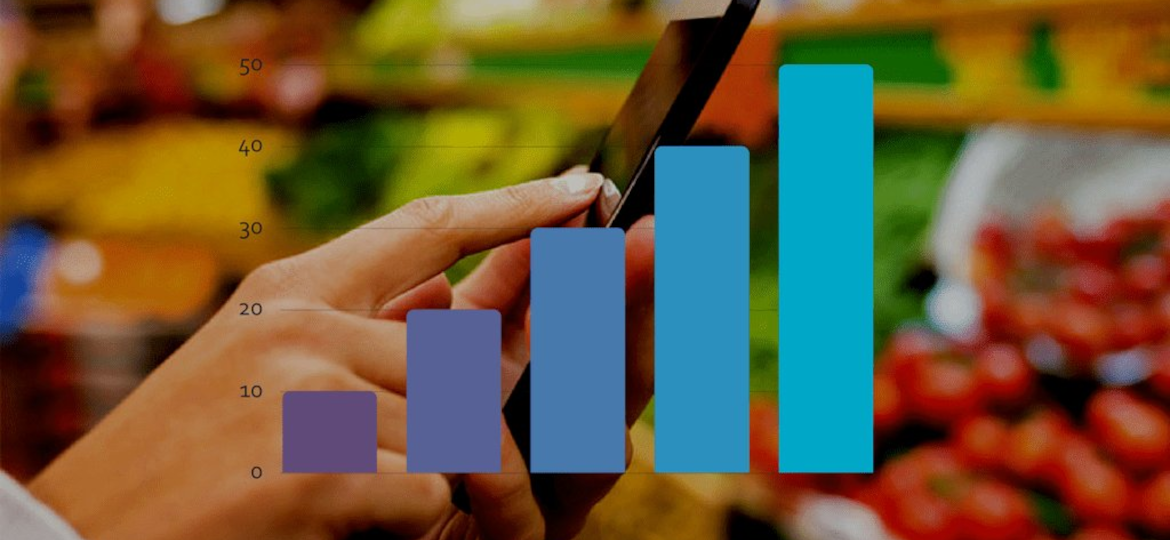 With Tesco recently announcing major plans to take on online grocery leader, Amazon, the growth and strength of the UK online grocery market has never been more apparent. The UK's biggest grocery market shareholder plans to achieve what was not long ago deemed the impossible, extending same-day online delivery service to 99% of UK households.
According to Kantar Worldpanel, global FMCG online sales grew by 26% in 2016, with e-commerce now contributing to 35% of global FMCG growth. Identified as one of the most advanced countries in e-commerce, the UK now sits comfortably alongside notoriously tech savvy countries, China and South Korea when it comes to value share. The UK accounts for 7.3% of the global e-commerce share, which when compared to just 0.1% in Brazil, almost 4 times the population of the UK, exemplifies the huge prominence online shopping has here.
HIMs online grocery market research asked UK shoppers which channels they had shopped at each week over a series of months. Over the seven-month period, the percentage of shoppers going online for their grocery shopping rose from 28% to 35%. This made it the fastest growing channel of them all even above the critically acclaimed Discounters.
Not only is online grocery the fastest growing, but the average size of an online grocery basket in the UK is the highest in the world with an average of £64 per shop. And to top it all off, Brits are also the most frequent online grocery shoppers. HIM uncovered that in 2016 an average of 34% of UK shoppers were going online for their groceries.
However, do not be fooled – just because online grocery shoppers are higher and more frequent shoppers does not translate into them being frivolous. In fact, the results from HIMs online grocery market research suggests that these shoppers are more likely to compare prices between stores – 66% vs. 44% average. They even use price comparison sites more than 10% than the average.
Undeniably the facts and figures currently surrounding global e-commerce and online grocery shopping in the UK create for a compelling and exciting story for the grocery sector. But what is getting shoppers to opt for online? HIM has conducts research to uncover the reasons for the growth in online shopping in the UK and find out what makes these shoppers tick.
Londoners are much more likely to grocery shop online. A hefty 43% of city folk we talked to are going online for their groceries. That is nearly half of one of the world's biggest cities, 4.4million people, 0.5% of the entire world's population! Arguably, the reason an area such as London will be ordering their groceries online to such a high degree in comparison to areas such as Scotland (23%) will be due to the number of retailers making it available. Therefore, in light of Tesco's plans to reach the vast majority of the country, we could see similar numbers reflected in the furthest corners of the country.
Younger shoppers with bigger households are also among the groups driving the growth of online shopping in the UK. HIMs research states that almost half of these shoppers are 35 years old and under. This perhaps comes as little surprise when considering that last year the Office for National Statistics revealed that 99.2% of adults aged 16 to 24 are internet users in contrast with 36.7% of adults aged 75 and over. As generations behind us take their use and dependence on technology to a higher level each time the rapid yet steady growth of online shopping seems inevitable.
Online shoppers are also more likely to live in a household with children. 51% of online grocery shoppers have children in comparison to the national average of 30%. This gives us an insight into why certain demographics of shoppers are going online for their groceries. Adults with children are often thought of as being busier than the average single person and therefore shopping online is associated with being a more efficient process.