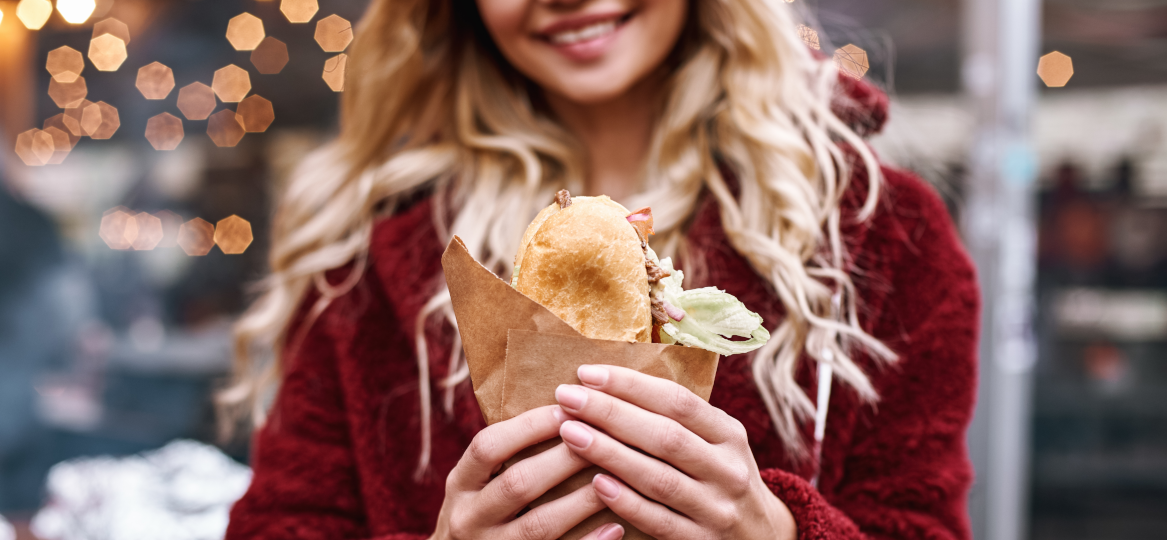 In 2017 shoppers are becoming increasingly fast paced – wanting what they want instantaneously and more so than ever they want it on the move. It is therefore hardly surprising that, according to MCA Insight, food to go is expected to grow by 3.8% in 2017 to a value of £20.2bn, and the average rate of growth for the 3 years following is assumed to be 4.1%.
However, as the food to go marketplace competition intensifies we are seeing the convenience sector struggling to keep up with this growth, with HIM predicting the value of the Food to go mission in convenience to grow at a rate of only 0.9% over the next 3 years. Fierce competition comes from food to go specialists.
Food to go specialists are growing in store numbers, with retailers such as Leon and Pret expanding outside of London. They always keep one step ahead of the game and adapt their range and store experience to tap into the latest consumer trends – in 2017 they have adapted to incorporate the continuous evolution of health (including the rise in veganism, vegetarianism, free from diets and flexitarians) and the growing demand for personalisation and digital interaction. Convenience stores must keep up with and not shy away from these trends in order to compete, whilst also achieving the basics by understanding shoppers' decisions, motivations and importances.
Firstly, stores will need to understand how to attract food to go footfall. The main product driving Food to go shoppers into c-stores is chilled food to go, whereas the main product driving them into food to go specialists is hot food to go.
Retailers and operators must make sure information on these categories is clearly communicated to shoppers in the surrounding area. Promotions will be effective in enticing shoppers and hence driving shopper traffic into store and affecting overall food to go sales. Promotions can be a point of difference from food to go specialists for convenience stores because food to go specialists rarely offer promotions.
When in store, Food to go shoppers' purchasing behaviour varies throughout the day. For example, hot food to go penetration is greatest in the morning and therefore retailers must ensure availability of this sub-category during this period.
Hot food to go will be a key category in driving up c-store Food to go shopper value, and a key category to help convenience stores compete against food to go specialists.
Currently, in convenience stores hot food to go penetration over-indexes in symbol and forecourt retailers, an extended range will be needed in these sub-channels. However, there is a clear opportunity to grow penetration within managed and supermarket convenience.
In order to do this it will be vital to understand what these shoppers' product preferences and importances are in order to adapt range to suit them. Managed and supermarket convenience shoppers are more demanding; both over-index greatly in wanting more premium and healthy options in store. Convenience stores can take inspiration from food to go specialists in order to achieve this.
We have already seen convenience stores take best practices from food to go specialists and create full hot food to go solutions for their shoppers that adhere to demanding customer needs. One example is BYO Burgers, which is an Aryzta solution being used by SPAR Gourmet in Dublin. It takes into consideration shoppers' want for a personalised and digital service by allowing shoppers to heavily customise their meal (burger or pizza) by using tablets in store. They also offer a home delivery service appeasing the new shopper who expects fast consumption and fast door-to-door delivery, an expectation since the introduction of Deliveroo and Just Eat.
Hot food to go offers opportunities to upsell shoppers in order to maximise sales and shopper value, this is achieved by locating hot food to go besides other products the category is usually purchased with. For example, cross-merchandising the category beside hot drinks to go. Not only will this ease the shoppers' shop, but it will also create additional purchases if the hot food to go shopper is tempted by a complementary item in the same location.
Hot drinks to go should also be a focus area for convenience store retailers. Retailers are currently under immense pressure – they are facing an influx of government legislation, inflationary pressures and a continuing price threat from the discounters, just to name a few – as a result their margins are being squeezed. Hot drinks to go offers a healthy margin for retailers.
In addition to the margin benefit hot drinks bring, they also drive footfall – almost three fifths of hot drink to go shoppers say it is the main reason they are coming into store.
Hot drinks to go are often involved in meal deals; we have seen combo deals from the likes of Aryzta and Seattle's Best who do a coffee and a donut deal in MACE and SPAR stores in Ireland. These suppliers have done a great job in communicating this offer to shoppers via digital screens on their coffee machines.
Meal deals are of course not limited to hot drink to go combos and currently play a big role in Food to go in convenience stores and food to go specialists. Over one third of food to go specialist shoppers are purchasing a meal deal and one in five Food to go shoppers are purchasing one when it is offered, although this differs by convenience sub-channel. Getting a meal deal offer right will therefore be very important.
Both convenience store and food to go specialist shoppers believe meal deal offers can be improved. A lack of healthy options is especially upsetting convenience store shoppers about meal deals – these will be imperative.
In convenience stores the meal deal rule of three works – nearly two thirds think that three items make the perfect lunchtime meal deal, whereas shoppers in food to go specialists are happier with smaller meal deals. In addition to a main item, the top categories that shoppers want to see in meal deals differ slightly for convenience stores and food to go specialists, the top item in convenience stores iS crisps & snacks whereas in food to go specialists it is soft drinks. Suppliers within these categories will be best placed to be one of those two or three meal deal items.
But it is worth considering the future of these traditional three piece meal deals. In the advanced Irish Food to go market we do not see shoppers being tied to a three item lunch deal and convenience do not push these type of promotions like they do in many UK retailers. Could this be the way Food to go is going? In 2016 we saw Sainsbury's largely scale back their meal deal offer, removing premium sandwiches, subs, pasta pots, cakes and more in order to regain some margin. As margins continue to be squeezed in convenience we might see other retailers follow suit.
However, in the UK this has not largely happened yet and we know that shoppers' barriers to purchasing more food to go is not primarily led by lack of meal deals. Fourteen per cent of Food to go convenience store shoppers believe a lack of inspiring products prevents them from purchasing more food to go than they currently do. Retailers should therefore ensure a range is inspirational, one way they could do this is by advertising a product alongside a suggestion of an occasion they could consume that product during, for instance a picnic.
Messaging around the top occasions shoppers are purchasing for will create high levels of engagement from shoppers, however, the occasions that Food to go shoppers are tapping into will vary on a category by category basis. Although, a theme across all categories is that Food to go shoppers are purchasing for instant consumption, therefore products meant to be consumed chilled (e.g. soft drinks) need to be located in the chiller not main shelf, and smaller non-take home pack formats will be required.
Messaging in store cannot stop there; retailers and food to go specialist operators must appreciate shoppers' purchase decision hierarchies and create communication that facilitates this decision making process. For instance, brand and price play large roles in Food to go shoppers' decision choices in both convenience stores and food to go specialists, and therefore these two things must be clearly communicated on POS.
Brand plays the largest role in savoury pastry, sandwiches and in-store bakery categories.
Another big importance for shopper is health. Nearly two fifths of Food to go convenience store shoppers believe that a range of healthy options and alternatives is important to them in store. Even though this is lower than the percentage of shoppers in food to go specialists, it is still substantial. What healthy means to shoppers is constantly evolving and unsurprisingly we have seen food to go specialists keeping up. Free from: coco porridge normally affords the same shelf space as regular porridge in outlets such as Pret. Meat-free options: Veggie Pret's are spreading and all Pret a Manger's now have vegetarian fridges. Trends such as Poke, 'adaptogens', seaweed & golden lattes: Poke is now mainstream, for example being offered in Abokado.
Additionally the in store experience is of paramount importance to Food to go shoppers. The Food to go shopper has a higher basket spend, has a higher basket size, visits more often and is more likely to recommend a store if they have a positive in store experience, so therefore efforts need to be made to improve it. Firstly, start with the basics: key in store experience factors are not being met for Food to go shoppers, such as ease of shop and cleanliness of store, and therefore these need working on first.
Locating food to go where shoppers' want it will ease shoppers' shop. Over one third of convenience store shoppers believe that the main food to go fixture should be a chiller at the front of store. It is also worth considering that the Food to go convenience store shopper spends more in store when there is a separate till/area in the store for customers to purchase their food to go.
Four out of the six top factors that Food to go convenience store shoppers think could improve their in store experience are to do with speed of service. Suppliers should create an education piece to encourage retailers to implement time saving technologies.
Once the basics are met suppliers, retailers and food to go specialist operators can begin to build the in store experience to offer a fuller experience for shoppers.
Technology is a great wait to enhance a shoppers' in store experience. Food to go shoppers are more likely than your average c-store shopper to want to see offers direct on their mobile device, and younger shoppers are more likely to want to engage. Suppliers can work with retailers to use beacon or Wi-Fi technology to function with either their own apps or pre-existing apps such as Big DL and Zapper.
We have seen retailers use technology well to tap into the current personalisation consumer trend, for example, Vita Mojo in London allows shoppers to personalise their hot food order either on their app, on their website or on tablets in store. It allows shoppers to adjust food quantities and ingredients to suit their preferences and health needs.
Innovation like this that offers a relevant and full range and experience is the direction that convenience stores will want to head in order to flourish within Food to go and compete against specialist outlets and the new kids on the block.