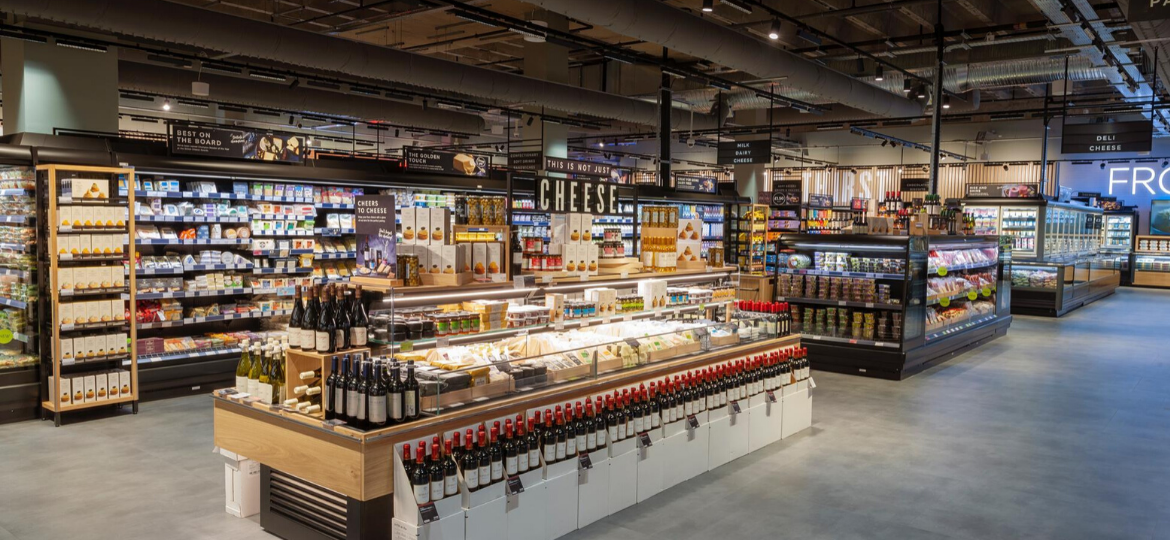 In mid-September, Marks & Spencer opened its second transformed foodhall in Clapham, South London. Following on from the opening of the Hempstead Valley store in Kent, the new format is innovative, modern and provides shoppers with a premium shopping experience. The Clapham foodhall showcases the best of M&S, with an extended supermarket-fit range that has the look and feel of a local market throwing back to the shop's roots in 1914.
HIM and MCA Insight Account Manager, Sophie Lane, took a trip to Clapham and using HIM and MCA insight, highlights key experiences that M&S are tapping into…
Sustainability
Customers are looking to retailers and suppliers to take responsibility across the food and grocery supply chain and provide an environmentally friendly shopping experience. 70% of consumers are trying to reduce single use plastic usage and 66% of shoppers agreed convenience stores were not doing enough in the war on plastic (HIM Omnichannel July 2018). M&S places a spotlight on sustainability, with highlights including:
The first in store vertical farm in the UK
Free refillable H2O station
Terracotta plastic in place of unrecyclable black plastic in the ready meal range
Environmentally focused POS
Removal of all plastic bags
Extensive range of loose fruit and veg
Perhaps the most exciting addition is the vertical farm. Created in partnership with Infarm, herbs such as Mint, Basil and Parsley are grown in a managed ecosystem controlled through a cloud-based farming platform that "learns, adjusts and Improves itself continuously so each plant grows better than the one before". The optimal conditions mean that the produce is fresh, tasty and saves on water and food miles. This new urban food system is more than a gimmick. It's redesigning industrial farming, meeting consumer needs and leading the way for more responsible UK based farming.
The exciting developments, partnerships and educational POS throughout the store highlight the commitment and future thinking of Stuart Machin, Managing Director of M&S Food and his team who have designed a store dedicated to sustainable retail.
Service and experience as currency
Shoppers are looking for more than just an adequate range and good prices. Evaluating what makes a good shopper experience is critical. 64% of UK consumers would hesitate to purchase from a business with bad reviews (Future of Convenience 2019). Engaging with shoppers and providing a differentiated experience that is memorable is key. Tebay Services in Penrith is a leading example: it has over 6,348 reviews with an average 4.4 stars, with visitors praising the stores water features, local farm shop and independent restaurants.
The Clapham M&S has a very people-focused, experience-led set up with produce tasting, wine tasting with a wine loyalty card and a glitterball pizza oven delivering freshly baked pizza in 2 minutes. Shoppers want a personal touch; 53% of shoppers prefer to buy grocery products from a real person (Future of Convenience, 2019). There is an abundance of staff ready to help and the store showcases a number of local products including Clapham made wine. These great initiatives will make the store a destination rather than just a pit stop.
Food to go
The food to go offering is extensive and covers around a fifth of the store space. As well as the usual meal deal sandwich offering, the store has exciting hot and cold options including a sushi bar, fresh juices, bowls and bakery.
With food to go a growing market and occasion (2.7pp% increase in 2018 of total eating out occasions, MCA Eating out 2018), retailers need to compete with innovative foodservice establishments and grab a slice of the growing market. The biggest barriers for FTG shoppers, other than price, are not having a wide enough range (15%) and a lack of quality sandwiches (13%). The M&S foodhall positions itself as a market leader in this arena.
 The Clapham branch is a leading example of a store meeting customer expectations and demands. We can only look forward to M&S opening more foodhalls across the country.