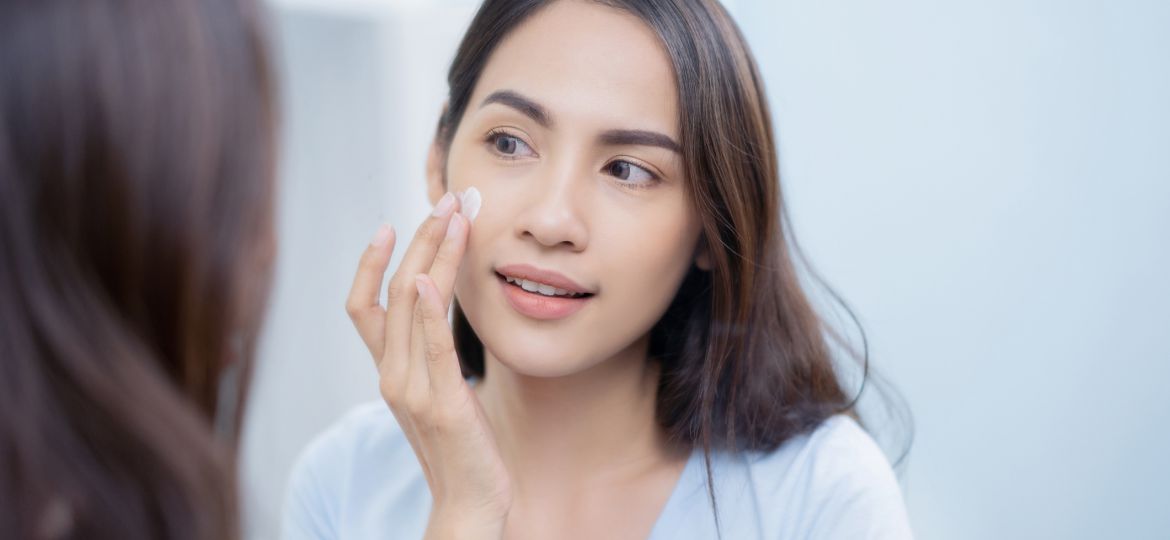 With mounting evidence demonstrating the gut's impact on inflammation, immunity and even mental health, its microbiome has received increased levels of interest over the past few years. But what about the microbiome of our largest organ – the skin?
This guide examines the global probiotic cosmetic products market, including size, key health areas, potential growth and current status in different countries. It also explores why probiotics targeting skin issues are important, how online search for such products has changed in the last decade and how the skin microbiome is now being adopted into mainstream, everyday products.
What are probiotic cosmetics?
"Probiotic cosmetics" are topical applications most frequently associated with skin hydration, anti ageing, acne, spots and redness (rosacea). Lumina Intelligence has identified three key health areas for probiotic skin care across 25 countries. These are:
Acne (23 products)
Eczema (34 products)
General skin health (343 products)
Why are they important?
Probiotic cosmetics could provide relief for skin conditions affecting a hefty chunk of the human population worldwide.
Occurrence rates of skin ailments like eczema (atopic dermatitis) and certain allergies are increasing in both the developed and developing worlds due to multiple factors from genetics to changing diets, hygiene habits and environmental factors. For example, 20% of infants and children contract eczema in many countries and it is estimated by groups like the British Skin Foundation that 3 out of 5 people will suffer from a skin disease at some point in their life.
Interest in, and understanding of, the skin microbiome is rising fast and leading to concepts such as the skin gut axis, where research is finding links between nutritional inputs such as probiotics and prebiotics and the gut and skin microbiomes. Research activity has reached the point where there are now congresses about this niche topic.
These factors underpin a rapidly evolving niche that is moving into the mainstream.
Get the full picture
See the detail on formulation, strains, consumer sentiment and more in our Skinbiotics report – available to buy online now.
Skin Microbiome: Market size and growth
Lumina Intelligence's data collected in January 2020 from 25 countries found 352 products from 186 global brand owners targeted at the skin microbiome – comprising 254 topical and 107 ingestible products.
In terms of specific health benefits:
23 of these products pertained to acne
34 of these products pertained to eczema
343 of these products pertained to skin health generally
The probiotic cosmetics market is expected to grow at a CAGR of nearly 12% during 2020 – 2030 (Fact.MR). This is unsurprising, given the niche nature of this market and the increasing level of interest from consumers and businesses alike, which we will explore more thoroughly in the next chapter.
Into the mainstream: Consumer search and adoption
Examining how consumer search around probiotic cosmetics has changed in the last few years can help quantify the uptick of interest and the attention that different health benefits in the niche are receiving.

Above: Worldwide interest over the last 10 years for searches containing "probiotics skin", "probiotics eczema" and "probiotics acne"
We can see that there has been a strong and consistent growth in interest around probiotics and their potential skin care benefits. Even more interestingly, this chart shows a disparity between the two key health benefits in this niche. Whilst search around probiotics for eczema has seen slight growth in the last decade, queries regarding probiotics for the treatment of acne have outpaced this – matching the growth of more general "probiotics + skin" searches. This is particularly important when the prevalence of products pertaining to these particular benefits is considered – in the last chapter we mentioned that only 23 products on the market captured by Lumina Intelligence explicitly targeted acne, and 34 eczema.
When consumer interest in a niche area rises, large brands are often not far behind. In the past couple of years there has been a notable adoption of probiotics and the microbiome into the mainstream of skin care.
Probiotics on-pack: Garnier Intensive 7 Days Body Lotion
Garnier (owned by L'Oreal Group) have brought probiotics to the forefront of their marketing with their "Intensive 7 Days" range of lotions. Each of the five varieties of the body lotion states it contains "probiotic extract" on the front of the packaging, with the hand lotion going as far as to state the species (L-Bifidus).
Additionally, on at least two of the variants the online product title on Garnier's own website (see right) positions them as "probiotic extract body lotions" with the species highlighted in the product blurb.
Further clarification is provided on the species as it is in fact "Lysate of Bifidus" – a product obtained by the fermentation of Bifida, with the living bacteria destroyed in the preparation (source). This utilisation of "postbiotics" for topical formats is fairly common in the probiotic skin care market.
Above: References to species in hand lotion (left) and probiotic extract in body lotion.
Dove: Decoding the skin microbiome for the mainstream
The previous example highlighted a mainstream beauty product adopting probiotics not only into its formulation but also its marketing. Dove have taken this a step further, using the skin microbiome – or, as the company puts it, "your skin's living protective layer" – as a focal point for the marketing campaign to promote their Deep Moisture Body Wash. As well as an advert broadcast in 2019 (see below), the company have a dedicated introduction to the microbiome on their blog and of course the description of the product itself uses terms like "microbiome-gentle" and "kind to the microbiome".
It's worth noting that Dove's Deep Moisture Body Wash doesn't contain any probiotics (or postbiotics). However, their decision to put the skin microbiome in the centre of their campaign reflects a growing desire for mainstream science-savvy health & beauty products that benefit the skin's living protective layer.
Global analysis
Now we will explore how consumer interest and the prevalence of probiotic cosmetics differ between countries, how these products resonate with consumers and which domestic markets have the most engaged end-users.
Google Trends
In terms of consumer interest, we can establish some top-line differentials by looking at 5 years of Google Trends demographics data for the three key queries used earlier, plus "skin microbiome".
Some key observations:
"Skin microbiome" is a niche term in the west but more prevalent in some APAC countries, particularly South Korea. The data relates only to searches in English, so this is likely to represent only a fraction of users in these countries.
Search is split more evenly for the 3 key health benefits (eczema, acne and general skin health) in the USA, Canada, UK and Australia.
In Canada acne leads with 40% of searches, making it an anomaly in the Western world – where general skin queries are more popular. The only country with a greater proportion of search for acne is The Philippines (46%).
In general eczema trails far behind acne and general skin queries – but in Australia makes up a significant 27% of searches.
Product Prevalence
We can also garner information about probiotic cosmetics in different regions by looking at the prevalence of products targeting the skin microbiome in each country.
The country with the greatest amount of products was Australia (29) and the least was India (5). It's interesting to note that the top 3 countries for product prevalence (Australia, Canada and the United States) also had the most even split in search between the three key health areas (as covered above). These markets have possibly already responded to consumer demand for probiotics cosmetics dealing with a more diverse range of skin issues.
Consumer Sentiment
How do end-users feel about probiotics for skin health? Different levels of consumer engagement country-to-country can be identified by looking at review data, including average number of reviews and average star rating, for each country side-by-side.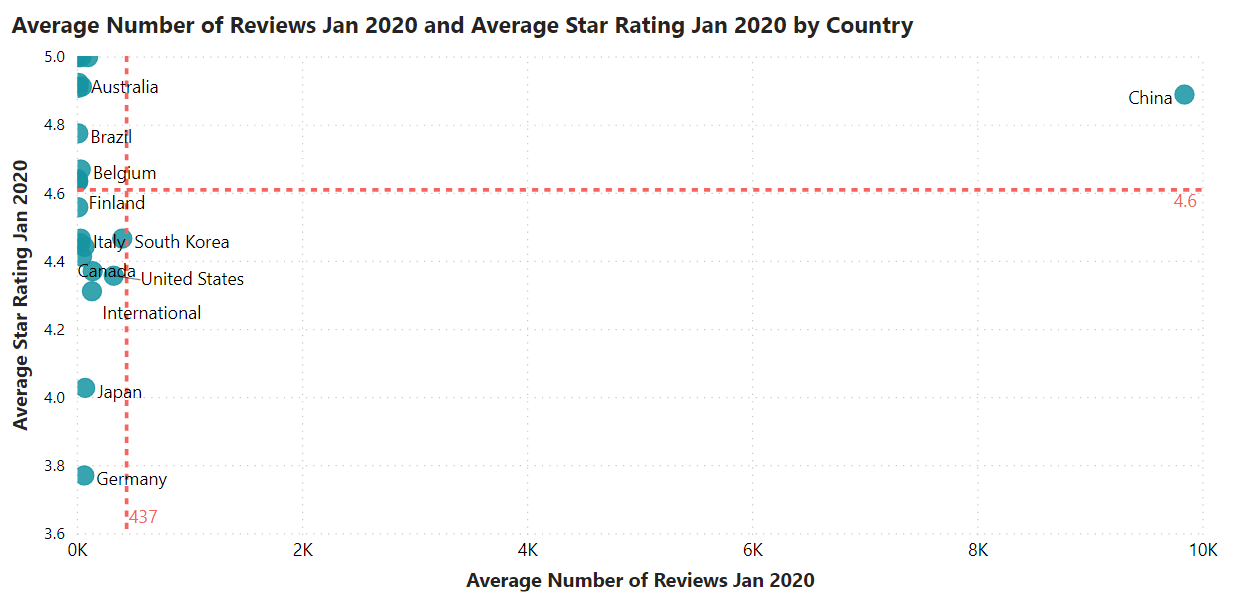 Here, we can see that China completely dominates the reviews with an average of 9837 per product. In January 2020, Lumina Intelligence captured 275.5k reviews from China pertaining to probiotics targeting the skin microbiome – the United States came a far second with a total of 9339 reviews. Consequently, it's important to view data for China separately so trends and opportunities in other regions can be more easily identified.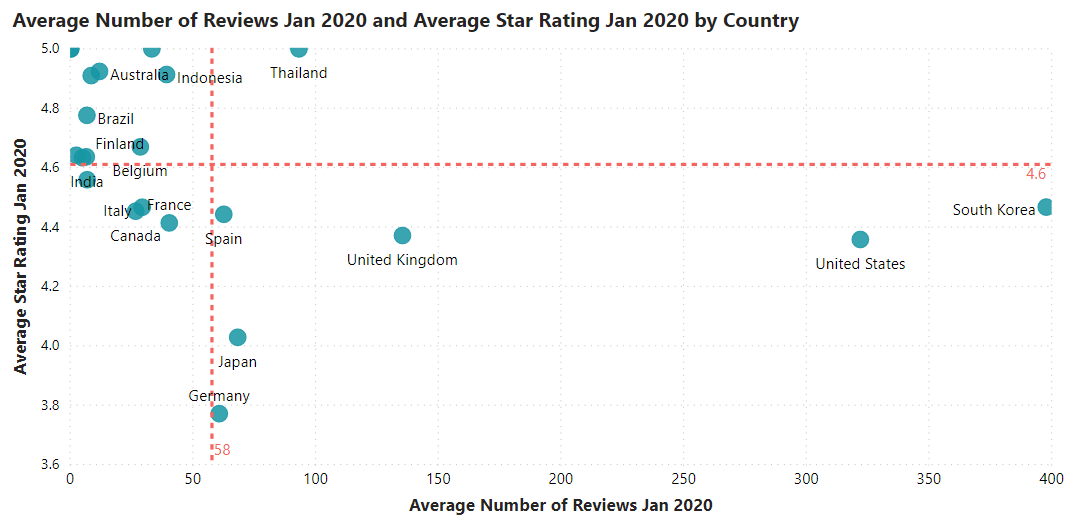 With China excluded, we can now see that South Korea, the US and the UK lead the way in terms of average number of reviews, but have an average star rating lower than the 4.6 star average (plotted in red on the chart). This pattern of consumers in countries with lots of reviews being "fussier" is fairly typical in all probiotic categories, as these markets are generally more developed. From this chart, however, we can still identify some rising stars like Thailand (average star ranking of 5 and higher number than average reviews per product) as well as consumers who are less engaged with this category (Germany hits just above the average reviews per product but has an underwhelming average star ranking of 3.77).
Key players in the skin microbiome market
Which brands do consumers resonate with the most?
Based on reviews, the top 5 probiotic cosmetics brand owners are:
Andalou Naturals
Eminence Organic Skin Care
DrFormulas
CJ Cheiljedang
Tula Life Inc
Conclusion
Probiotic cosmetics is an exciting and rapidly-growing market, with eager consumers searching for efficacy on general skin health, as well as more specific skin concerns such as eczema and acne. Companies seeking to enter or expand their portfolio in this category should carefully research the particular health benefits consumers are demanding in their target region, as well as competitor products on the existing market and how they resonate with end-users.
Online reviews in this niche area have increased 467% in the last three years as consumers are actively seeking out products that work, particularly if there were any premiums attached.
In May, Lumina Intelligence's Director of Insights told CosmeticsDesign-europe.com: "For probiotic beauty to truly take off, manufacturers have to lead on the hard data and science. Such efforts would be best channelled into niche categories like acne, eczema or wound healing – segments consumers could quickly judge the benefits for themselves."
See Ewa talk more about beauty and probiotics with Kacey Culliney in the interview below, recorded at Probiota 2020.
Inform your business strategy
Request a demo of Lumina Intelligence Probiotics today to see how our data and insight reports could guide your NPD, business and marketing strategies.