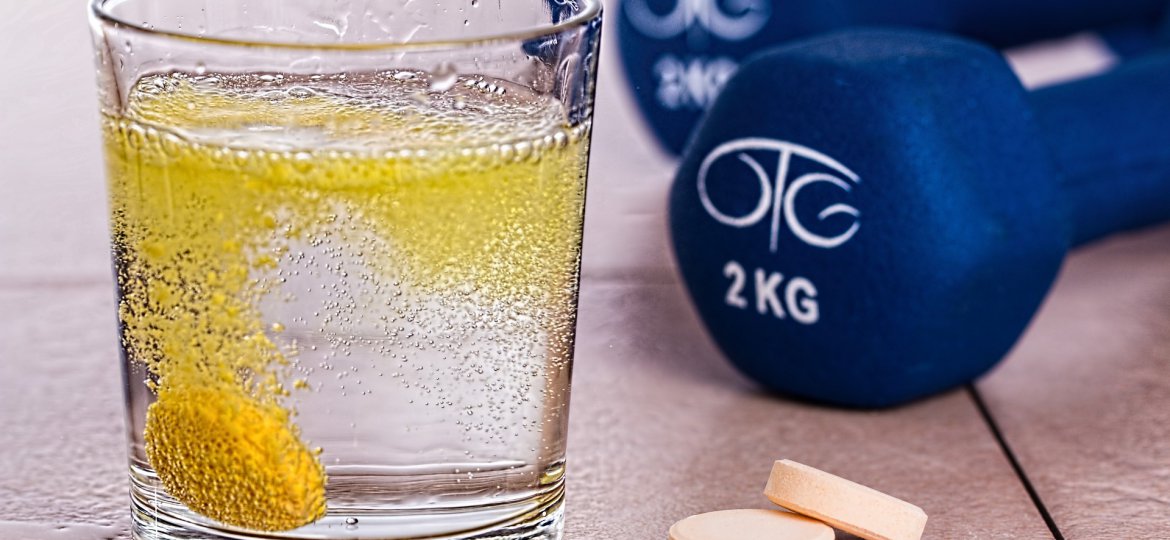 Sports Nutrition is one of the most exciting and fast-moving markets in the nutraceuticals space. Companies are constantly diversifying, with new, innovative players looking to capitalise on small niches within the market, such as personalised nutrition and nootropics.
In this guide, we take a look at the Sports Nutrition market size, vital product categories and key players. We analyse some of the key market trends, as well as looking at how these differ between various countries and regions.
Overview of the Sports Nutrition Market
The sports nutrition market is vast – covering a wide range of categories such as protein powders, protein bars, branched-chain amino acids (BCAAs), pre-workout blends, nitric oxide boosters and creatine supplements. In 2018, Lumina Intelligence captured 2,600 unique brand variants (with 750 distinct brands) over 20 countries, which in turn attracted over 2.4 million post-purchase reviews across leading online retailer platforms. The global sports nutrition market is expected to reach $44 billion by 2021 (Allied Market Research) and in 2016 was valued at $28 billion (Statistica).
Product Types
Lumina Intelligence captured review data and product labelling information for five different product types in the Sports Nutrition market.  
Powders
Protein products, and in particular protein-based powders, are still a mainstay of the sports nutrition scene – with a total of 411 brands and 1174 brand variants captured by Lumina Intelligence. This category also attracted the most customer reviews of any in Q3 2018, with a global total of 1.62 million and an average of 940 reviews per product.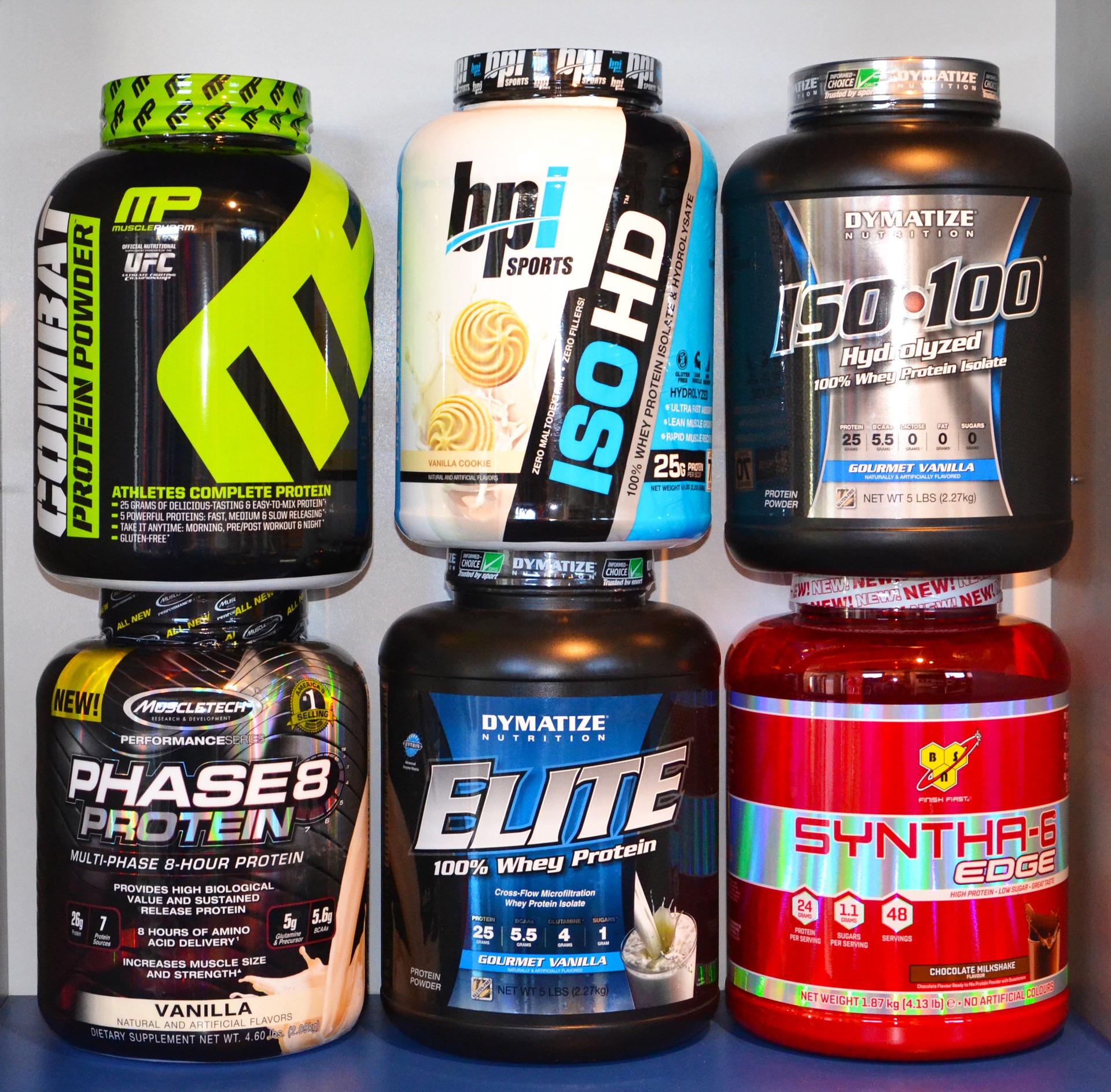 Protein Bars
Protein bars have far less reviews overall, with 162,350 captured by Lumina Intelligence in 2018 (an average of 228 reviews per product), and fewer brand variants (422) than protein powder.
BCAAs
Branched-chain amino acids help promote muscle growth and repair post-workout. Despite being a more niche category traditionally, these are becoming increasingly popular among consumers interested in HIT and strength training. Lumina captured 208 brands variants and over 255k reviews for this product category, with an average of 577 reviews per product. 
Nitric oxide boosters
A range of health benefits have been attributed to nitric oxide boosters including improving exercise performance, preventing muscle soreness, lowering blood pressure and helping treat erectile dysfunction. Nitric oxide increases blood flow and lowers blood pressure by relaxing the inner muscles of the blood vessels, causing them to widen. Lumina's data for nitric oxide boosters include 185 brands variants and 26k reviews (an average of 99 reviews per product).
Creatine supplements
Believed to enhance muscle mass, creatine is available in a range of formats for example powder, tablets and drinks. Lumina captured 305 brand variants and 257k reviews for this product category, an average of 577 reviews per product.
Consumer engagement
Online reviews are the new digital currency for measuring consumer engagement with products. These reviews are left voluntarily post-purchase and recording product data such as formulation and labelling alongside review data provides a realistic picture of what attributes underpin successful products. So when looking at the number of reviews and average score, what product categories resonate with end users the most?
In an effort to illustrate how different product types perform with consumers, the above scatter charts shows number of reviews and average score in 20 countries.
Key points:
Protein powders, a mainstay of the sports nutrition scene, is highest in reviews.

BCAAs, a more niche category traditionally, kept normally for the post workout, is now catching up quickly with both a high level of engagement and higher score.

Pre-workouts and nitric oxide boosters, more products for the body-builder and less for the general consumer, gain significantly less net attention.

Whilst protein bars are normally a well-performing sector, here we can see that they have significantly less engagement than expected. This is largely explained by the fact that their growth it being pushed by their new health snacking appeal, so more impulse purchases on a shop floor, rather than a purchase on a website.

Across the sports nutrition market, female consumers are being largely ignored, with only 2.5% of products targeting women.
However, with this there are very specific regional tastes, with scope between countries changing significantly. It's only with a more granular look by region that we can see what each individual market is doing.
Europe
Tastes in Europe are conservative, with an emphasis on protein products. Scaling has changed in average number of reviews, as Europe has significantly fewer reviews than China or the USA.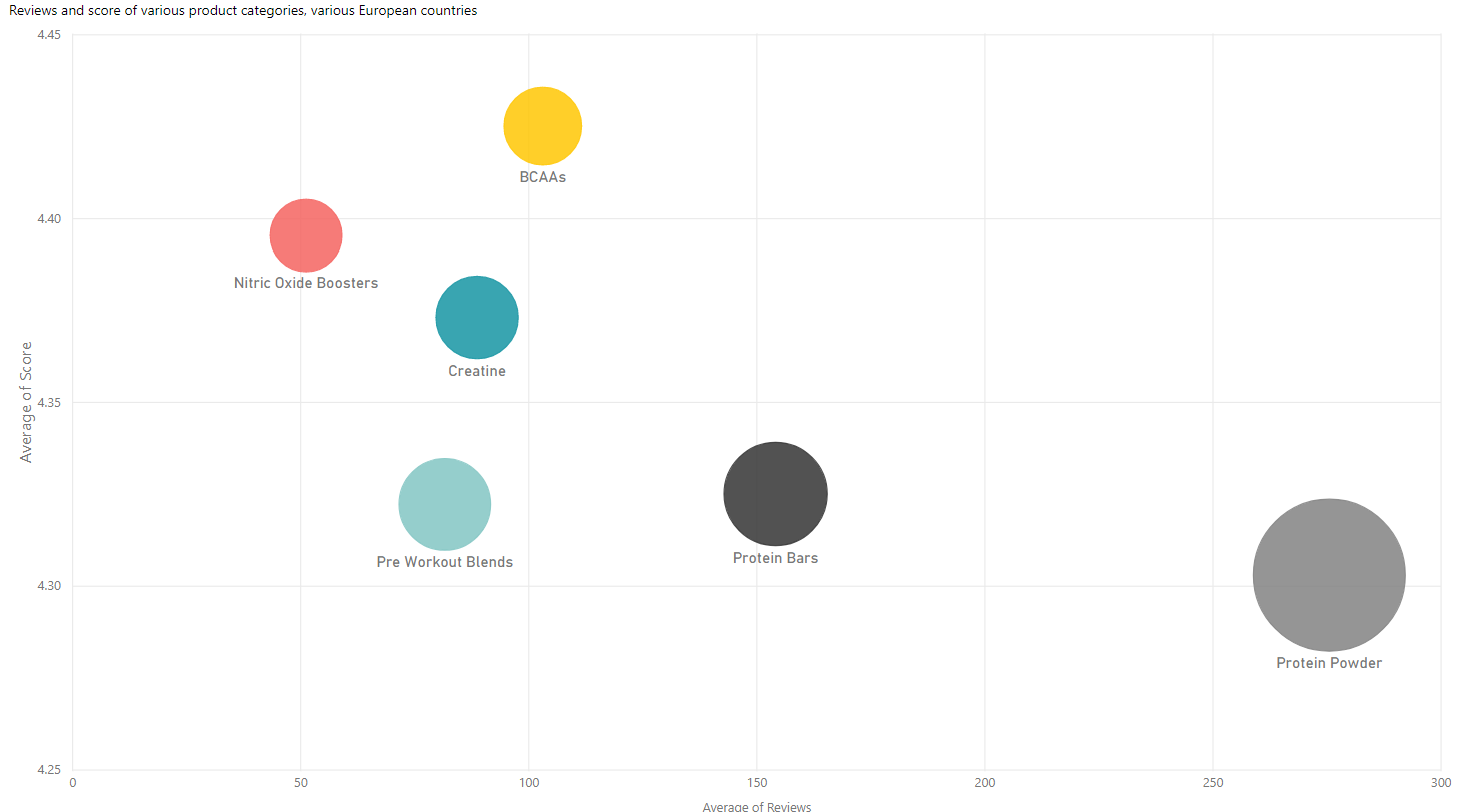 We can see immediately that European tastes are notably more traditional, sticking to protein, and are less inclined to explore the more niche bodybuilding products. BCAAs still attain an amazingly high score, but in terms of engagement protein powder is still the winner.
US
Review numbers are far greater in the US. As can be seen, changing the region sees massively changing engagement factors for the consumer.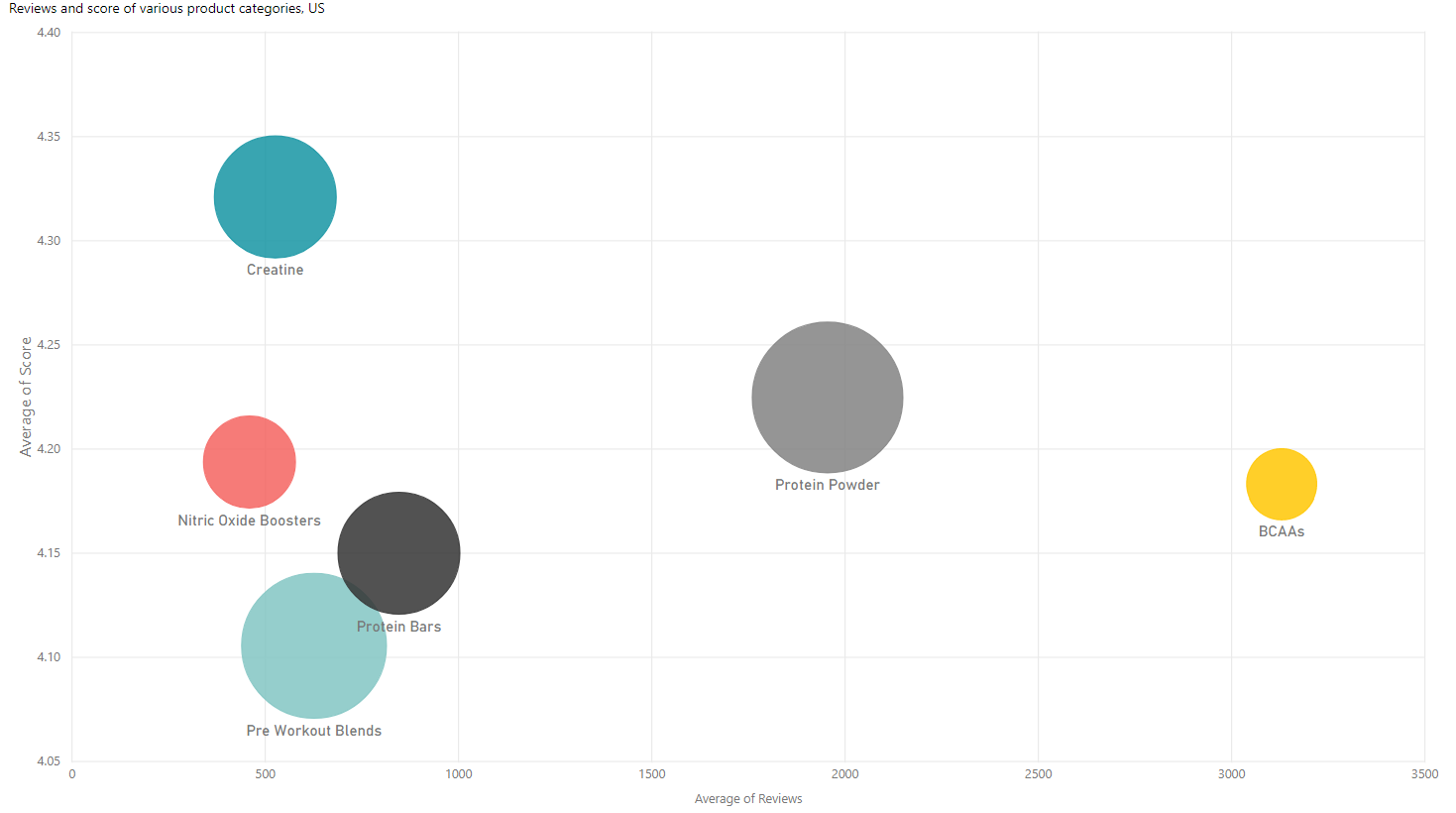 The USA has a much higher expectation of products, as such products on average score lower. BCAAs shoot ahead, with over 3000 reviews on average per product. Protein powder still performs well, and only appears slightly less well-performing due to the comparative shape of the market. We see the traditional body-building sectors move to the bottom left of the graph as they don't attain significant appeal due to the small size of their traditional demographics, and the low scores due to the high expectations of the user.
Key players
The global sports nutrition market is highly competitive, with many companies battling for market share in the aforementioned product categories. Lumina Intelligence captured 653 brand owners (i.e. manufacturers) across 20 countries in five continents.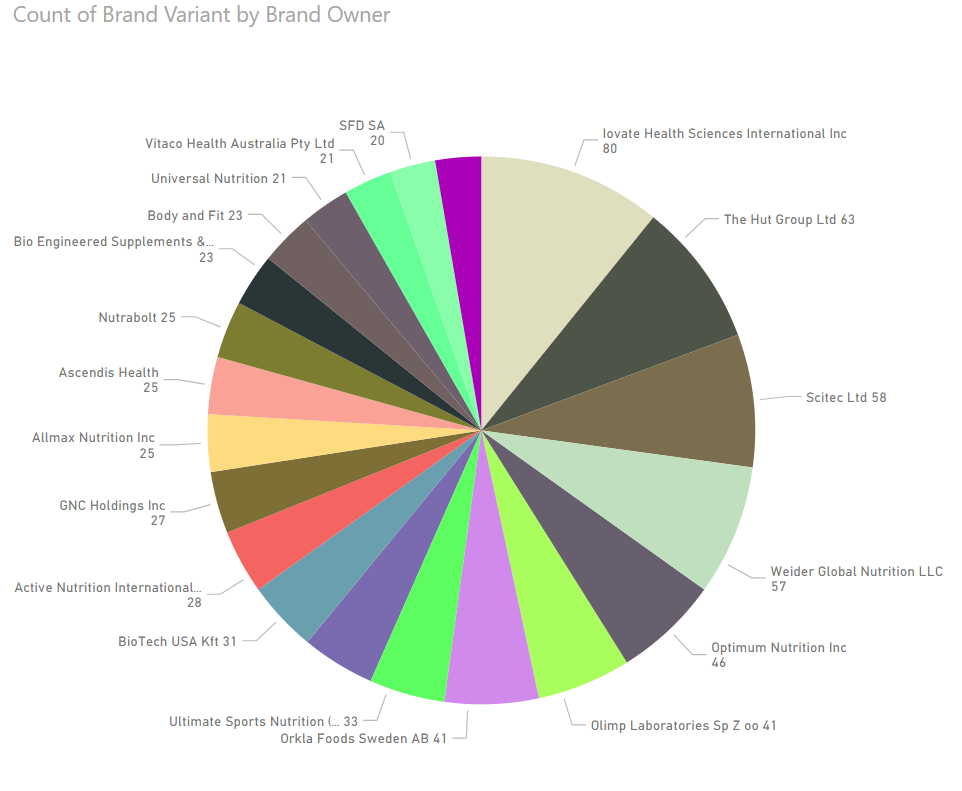 The top 5 manufacturers based on distinct brand variants available in 20 countries are:
Iovate Health Sciences International Inc (80 brand variants)

The Hut Group Ltd (63)

Scitec Ltd (58)

Weider Global Nutrition LLC (57)

Optimum Nutrition Inc (46)
When looking at the top 20 manufacturers globally based on review data, and in particular the number of reviews, the picture is quite different: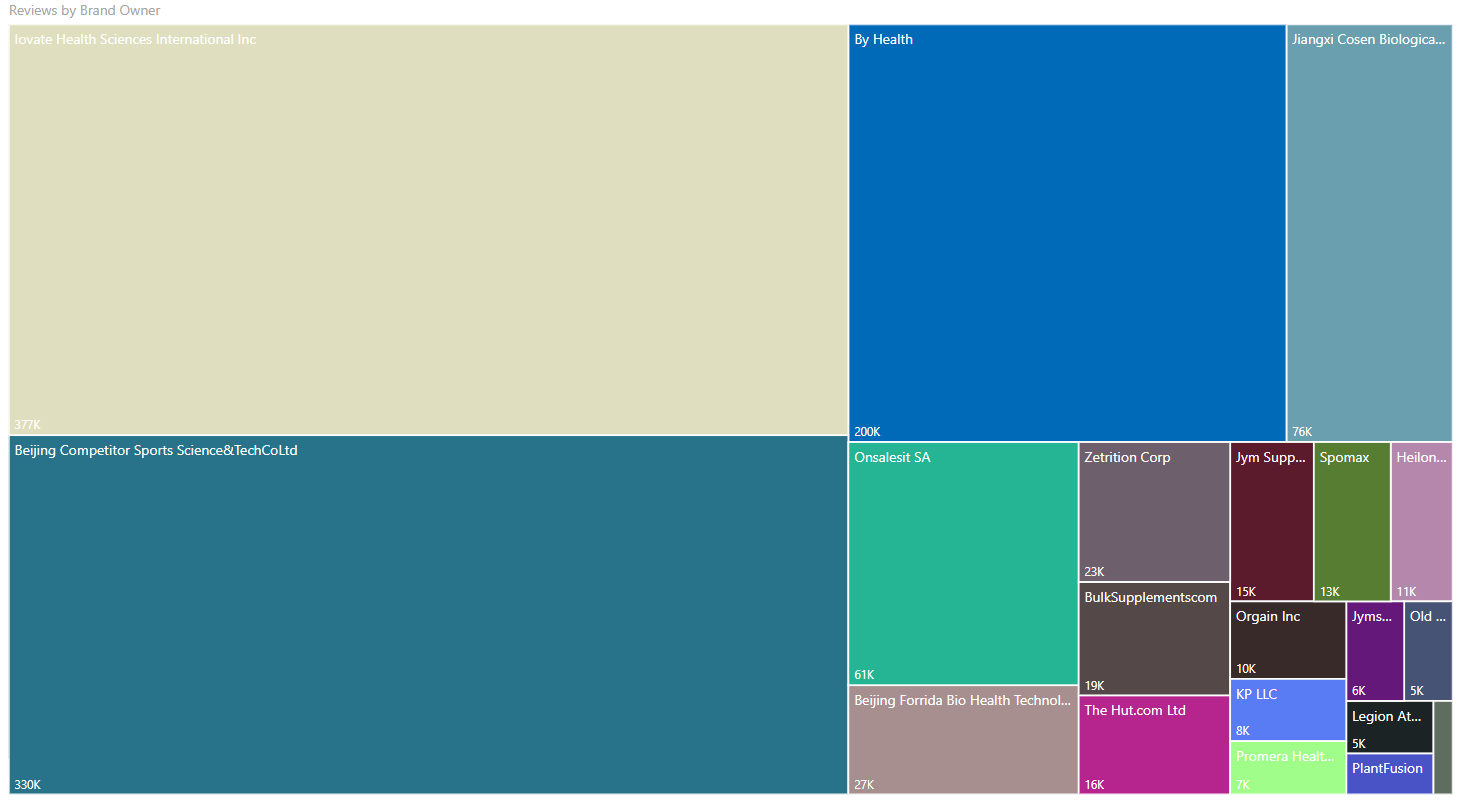 Here, whilst some of the manufacturers from the previous chart make an appearance such as Iovate Health Sciences International Inc (377k reviews), manufacturers that do not appear in the top 20 for brand variants dominate the reviews chart. This is especially true in the case of Chinese brand owners such as Jiangxi Cosen Biological Co Ltd (76k reviews) and Beijing Competitor Sports Science & Tech Co Ltd (330k reviews).
There is a reason for this – China makes up for 56% of reviews for sports nutrition products across all categories. That makes the country three times as engaged as the US.
In terms of review numbers China dominates with over 1.3 million captured, with the US far behind in 2nd place with 447k reviews. There's then another large discrepancy between the US and Russia – the country with the next largest volume of reviews.
View all our reports
See the range of reports we offer for the sports nutrition market including market overviews, deeper examinations of niche markets, country insights and more.
Regional Analysis
Below are the top brands based on numbers of reviews per region.
Top 5 brands based on review numbers in Europe (Belgium, Finland, France, Germany, Italy, Poland, Spain, Sweden, United Kingdom):
Myprotein (76k reviews)

Prozis (61k)

Body and Fit (29k)

Optimum Nutrition (26k)

MusclePharm (10K)
North, Central and Latin America
Top 5 brands based on number of reviews in the Americas (US, Canada, Mexico, Brazil):
Optimum Nutrition (89k reviews)

BSN (32k)

Quest (23k)

MuscleTech (21k)

Cellucor (19k)
Top 5 brands based on number of reviews in Asia Pacific (Australia, China, Japan, South Korea, Taiwan):
CPT (330k reviews)

MuscleTech (330k)

GymMax (200k)

Optimum Nutrition (137k)

MusclePharm (95k)
Whilst some big names appear in the top 5 for all three regions (for example Optimum Nutrition), for the most part, each region has its own set of brands that consumers are particularly engaged with. 
Deep Dive: Sports Nutrition Market UK
The UK is one of the largest and most established sports nutrition markets, certainly in Europe. Examining a certain country in more detail, and comparing it to others, can provide valuable insights that aid new product development.
For example, looking at the chart below, we can see that protein sources for sports nutrition products in the UK are led by whey and milk, but soy is still three times as popular as pea protein.
Meanwhile in Germany, collagen is ahead of whey as a protein source – with milk protein coming top.
Anyone working on new product development might want to consider these kinds of differences when formulating a product for launch in multiple countries.
Back to the UK:
Lumina Intelligence captured 63k customer reviews, with an average score of 4.3 out of 5 across all categories. The average number of reviews per capita (i.e. number of reviews divided by population size x 1000) is 0.97.
Clean label
In the UK 37% of sports nutrition products have a clean label claim – that's a significant amount more than neighbouring France (21%) and Germany (20%).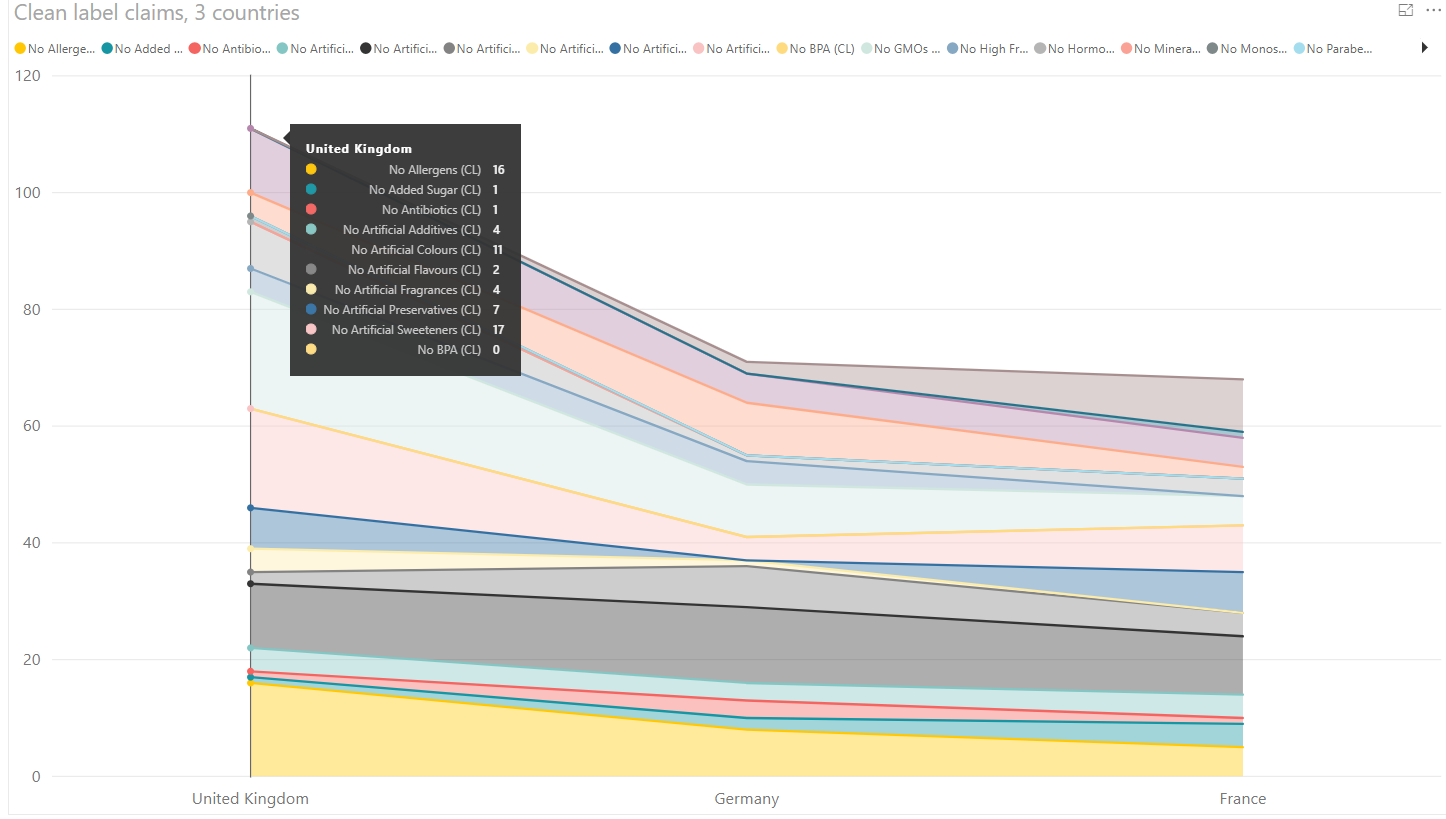 The top clean label claim in the UK is "No GMOs", with 20 brand variants carrying this label, followed by "No artificial sweeteners" (17) and "No Allergens" (16). Clean-label brand variants in Germany and France are most often labelled as "No Artificial Colours" (13 and 10 respectively) compared to the UK's 11 for this claim.
Sports nutrition market analysis – Trends
The rise of clean label – particularly in the well-established US, UK and Australian sports nutrition markets – is just one of many trends to emerge over the last few years. However, there are a few that show no sign of slowing – manufacturers, suppliers and retailers alike need to be aware of these if they are to maintain or increase their share of the market.
Plant-based formulas representing 15% of products available across 20 countries are becoming increasingly popular, and this is driven by several interlinking trends:
Emergence of a plant-based diet as the new healthy eating ideal

The high protein trend

Meat reduction/flexitarianism

Personal health goals (cholesterol reduction, minimising cancer risk, etc.)

Veganism

Ethical concerns (particularly animal welfare)

Sustainability and other environmental concerns

Free-from trend (dairy proteins are common allergens)
Animal-Derived
Plant-Based
Mixed
Proportion of protein types in protein powder, 20 countries, Q3 2018 (%)

As shown in the chart above, the interest in vegan protein is here to stay. However, Lumina Intelligence data indicates that whilst consumers want plant protein, they aren't necessarily happy with what is on available on the market.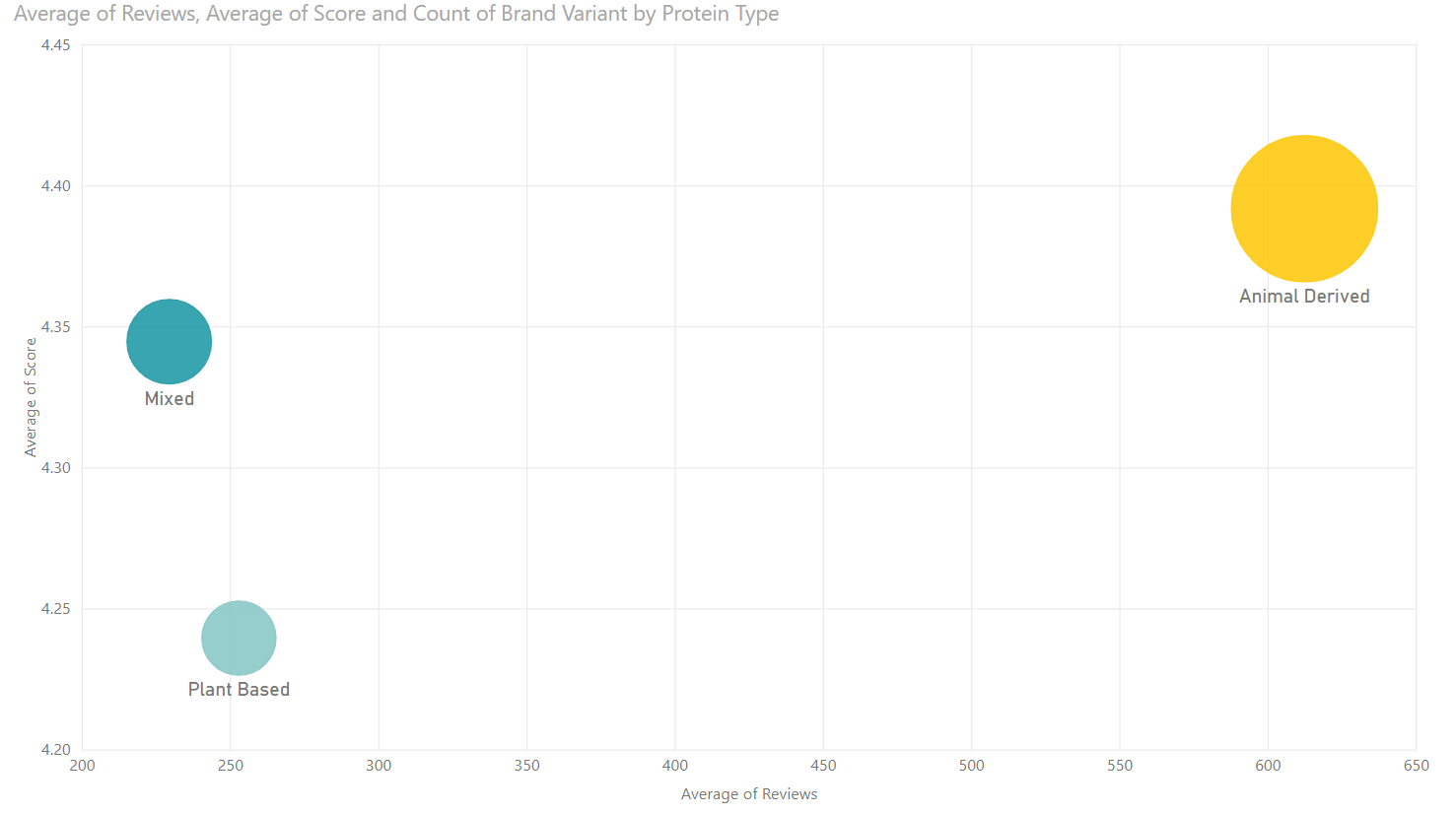 Plant-based proteins form 15% of the protein powder category but are low in average number of reviews per product and average score. This could be for a myriad of reasons, from issues in organoleptic properties to issues in digestibility. From Lumina data though, we can see clearly that a number of products have hit the market at the same time for plant proteins, thus being a plant protein is no longer a differentiating factor. Whilst plant proteins have the disadvantage against whey, with whey being one of the fastest absorbed proteins, they do have the advantage that they should be able to appeal to the widest consumer base, being able to draw in both vegans and flexitarians alike.
Lumina's research indicates it's not time for companies to release new plant proteins at the moment – it's a time for companies with products already to reformulate and to improve their products. They need to find what resonates with consumers, and find differentiating factors independent of being a plant protein.
Nitric Oxides
Due to their ability to improve performance, cardiovascular health, and erectile dysfunction, nitric oxide supplements are increasing in popularity.
From an ingredients perspective, supplements unconcerned with achieving a 'natural' nitric oxide product will often combine arginine and other amino acids, plus a few botanicals to give the nitric oxide boost.
Those going down the natural root will use purely botanicals such as beetroot to give the nitric oxide boost.
In France, nitric oxide boosters come third based on average reviews per product with over 300 – beaten only by non-vegan protein powders and bars.

Delivery Formats
As consumers try to make healthy high-protein eating an active part of daily life, the variety of formats for sports nutrition products has become more wide-ranging. Looking at the formats for variants captured by Lumina and removing the top 3 (soluble powder, capsule and bar) shows what these other products are.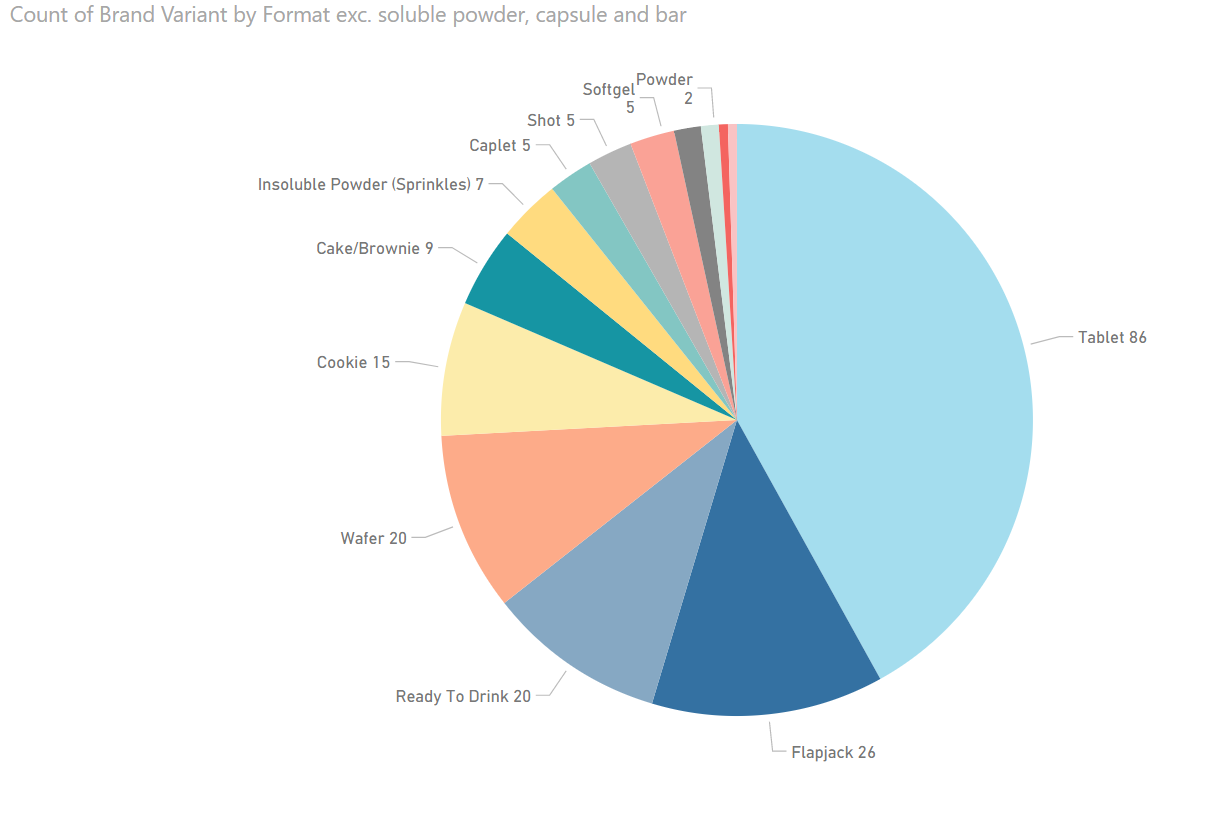 Whilst tablets still have the lion's share of these 'alternative' formats, there is a wide range of 'sports food' emerging such as flapjacks, wafers, cookies, sprinkles and cakes. As sports nutrition widens its appeal to a broader audience through movements like clean-label and plant-based, this is likely to continue.
View all our reports
See the range of reports we offer for the sports nutrition market including market overviews, deeper examinations of niche markets, country insights and more.