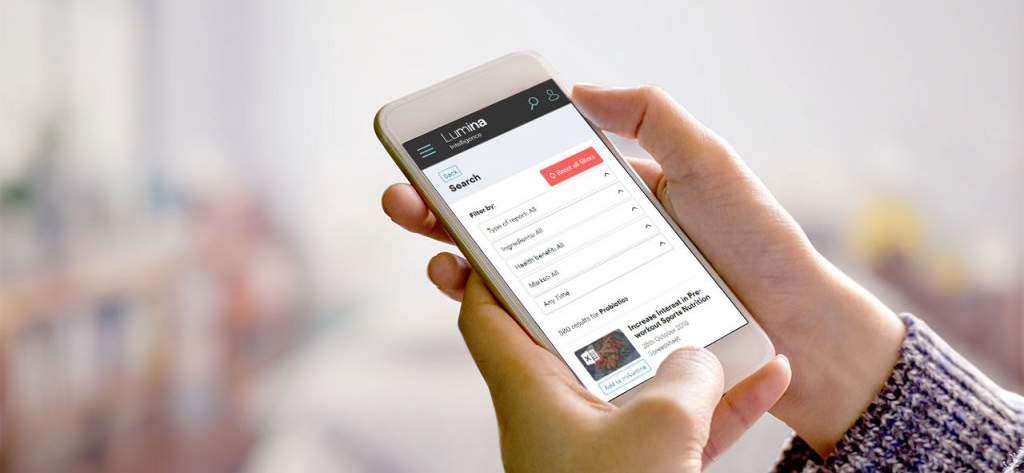 Lumina Intelligence is an insights service for the food and nutrition markets, brought to you by William Reed. This guide outlines exactly how, why and for whom Lumina Intelligence operates, so you can better understand whether our services can help your business identify growth opportunities in niche markets.
What?
Lumina Intelligence's key objective is to provide suppliers, manufacturers, financial institutions and NGOs with the tools to identify opportunities and trends in their chosen markets. Our reports and insights covers the following areas to ensure your business has a comprehensive picture of niche markets at every stage of the supply chain.
Consumer Sentiment:

What do your target audience really think? Understand the drivers that underpin successful products in your category and learn about upcoming trends that will help you with new product development.
Market Insight:

Get the big picture on your chosen market. Lumina observes and analyses market trends as well as new and innovative entrants to the market.
Regulation:

Connect consumer sentiment and market insights with developments in legislation for your industry. Understand how regulation should be taken into account when developing new products to maximise their chances of success and longevity.
Science:

Keep up to date on the latest scientific developments in your field and understand how this could impact demand from consumers. Lumina's interactive science timeline allows you to filter results so you can understand how a particular topic has evolved over time.
Sustainability:

Measure and compare company sustainability programs against the UN Sustainable Development Goals and how companies promote ethical cocoa, coffee and tea products. 
How?
Lumina Intelligence's consumer sentiment reports and insights are based on data collected from online reviews in over 20 countries. Specific attributes of each product are collected so the data can be segmented in the following ways:
Application

Brand Name

Brand Variant

National Brand Owner

Target Audience

Health benefit

Format

Flavour

Delivery technology

Origin

Dosage per unit

Proprietary Probiotic Strain

Prebiotics

Clean label claims

Free from claims

Online retailer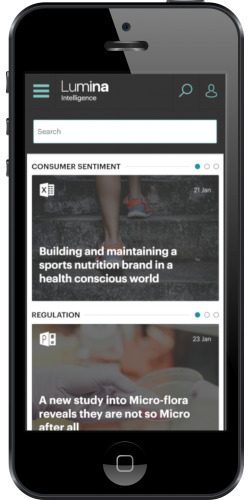 Why?
Lumina Intelligence's insights seek to pinpoint specific trends and opportunities in niche markets which, in turn, can help businesses with new product development maximise their chances of success. Our data helps subscribers understand how the consumer is interacting with brands and companies, connecting this with science and regulation so they can make informed business decisions.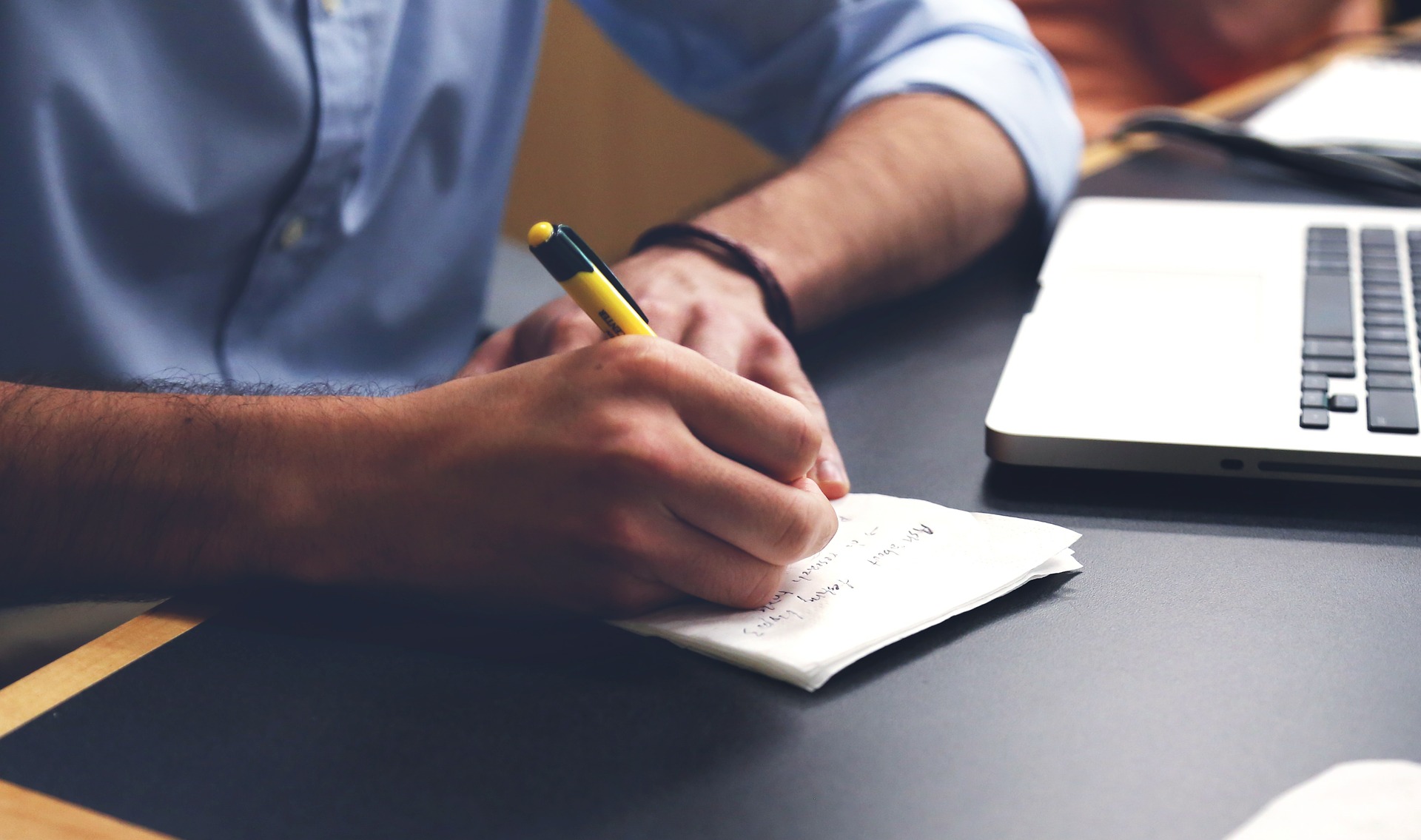 Who?
In 2018, Lumina Intelligence provides insights and reports for the probiotics, sports nutrition and sustainability markets. Our data is particularly valuable to businesses within these markets such as suppliers, manufacturers, investors, NGOs, governments and trade bodies.
How to access our reports
The Lumina Intelligence platform is available on a yearly subscription basis, with several options catering to different company sizes and industries.
Timeline:
See all our science studies in a concise timeline. Filter by market, health benefit and more to understand how the science behind a particular topic has evolved over time.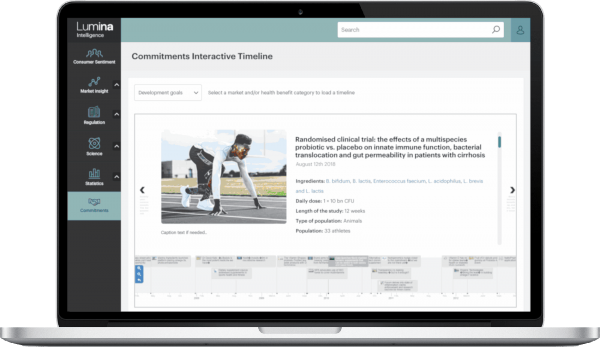 Report:
Our unique reports are easy-to-digest and available to download or read on-screen. Save your favourite reports to read later by adding them to the myLumina project book.
Search:
Lumina's search tool allows you to filter reports by report type, ingredients, health benefits, markets and publication date so you can find exactly what you're looking for quickly and easily.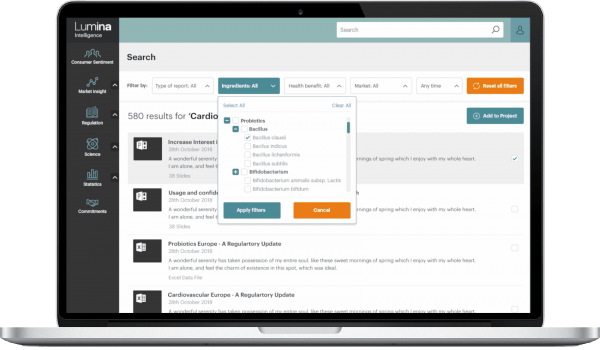 Mobile Optimised:
Search and read reports on the go – Lumina Intelligence is optimised to run on a range of devices including smartphone and tablets.
How to request a demo
To find out more about Lumina Intelligence or request a demo contact us on +44 (0) 1293 846699, on info@lumina-intelligence.com or by filling out a contact form.