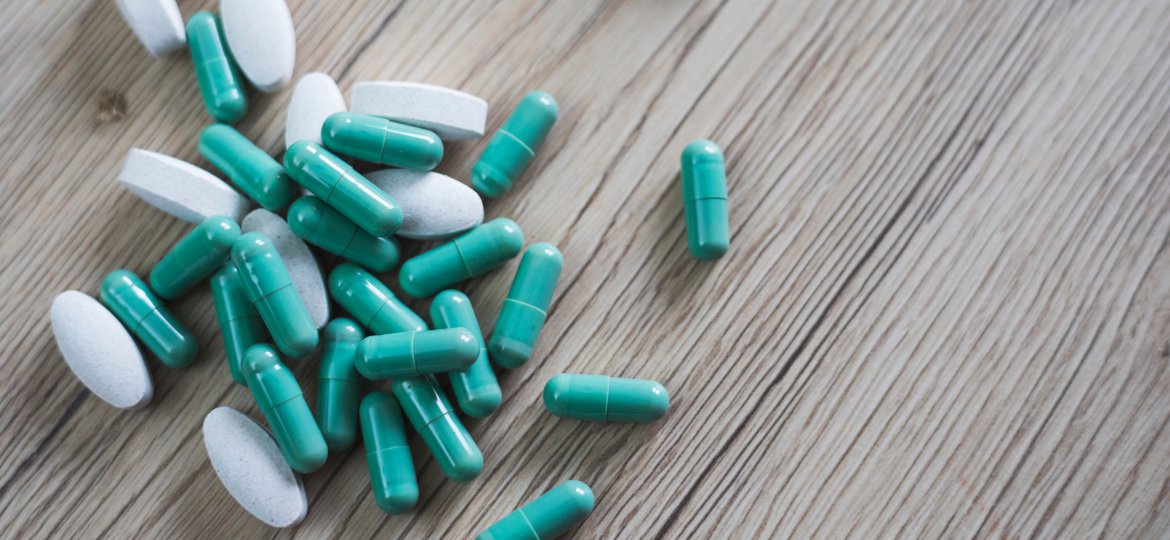 Probiotics form a large and much-discussed segment of the nutraceuticals space. In this guide, we take a look at the global probiotics market, its key players and what consumer sentiment can tell us about trends and opportunities for growth. Growing consumer awareness of probiotics and their functional health benefits for conditions including IBS, leaky gut and autoimmune deficiency has led to considerable expansion in the global probiotics market.
The Global Probiotics Market
In Q4 of 2017, Lumina Intelligence captured customer review data for over 1600 brand variants globally, totaling a staggering 643k customer reviews online. Overall the global probiotics market was thought to be worth $35.5 billion in 2016 (Grand View Research), with predictions its value will exceed $65 billion by 2024 (Global Market Insights). The data collected by Lumina recorded 40 different probiotic species and 25 different delivery technologies – these very niche sectors within the probiotics space provide unique opportunities for suppliers and manufacturers looking to grow their share of the market.
The range of applications for probiotics has gone far beyond supplements alone – with the market now including categories such as kombucha, derma products (probiotic skin care) and probiotic juice. In fact, 79% of consumers taking part in a November 2017 survey by ingredients supplier Ganeden said they would prefer to consume probiotics in food and beverage products rather than in supplement format. Consumer sentiment is an essential currency for measuring product success as well as predicting upcoming trends, and should be monitored carefully by any player looking to succeed in the market.
What can consumer sentiment tell us about the global probiotics market?
Consumer feedback, particularly in the form of product reviews, can provide a quantitative way to collect data on consumer sentiment. Additionally, if captured in detail, this data can provide a picture of the market at every stage of the supply chain, be it for particular brand variants or proprietary ingredients' manufacturers. The chart below shows the average review scores for probiotic supplements by supplier across 19 countries.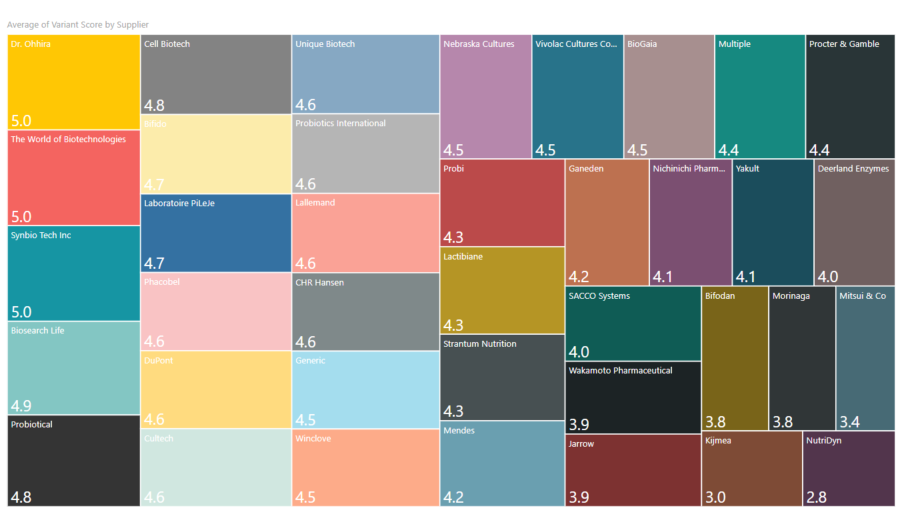 As can be seen above, probiotic supplements in general seem to generate high scores; which suggests that they resonate with consumers. Performing particularly well were Dr. Ohhira (8 reviews), Biosearch Life (16 reviews), The World of Biotechnologies (1 review) and Synbio Tech Inc (2 reviews) – all with an average review score of 5.0 (although the low number of reviews for these suppliers should be considered). Other big players also ranked favourably – Cell Biotech (8124 reviews) and DuPont Danisco (95k reviews) achieved an average ranking of 4.8 and 4.6 respectively. Lower average scores included Morinaga (6549 reviews) and Mitsui & Co (9254 reviews) with average rankings of 3.8 and 3.4 respectively.
Segmenting this data into elements such as probiotic strain, format, flavour and delivery system can help businesses see what particular drivers underpin successful products, both their own and of competitors. Multi-strain products are becoming increasingly common and there is often an assumption that the more strains a product has the better.
But does this actually measure up?
The chart below compares the number of strains per brand with average review scores.
From the above, it would appear "The more strains the better" is not entirely true. There is in fact very little difference in average review scores for products with 1-10 strains (average review score 4.56) and those with 10-20 strains (average review score 4.58). Probiotic products, no matter how many strains, generally seem to be well-received by consumers.
With personalisation becoming an increasingly more important way to appeal to consumers; manufacturers and suppliers can identify opportunities within specific populations. If you're a manufacturer looking to target the children's market with your next probiotic product, it's worth knowing which formats are most popular so you can consider this during product development.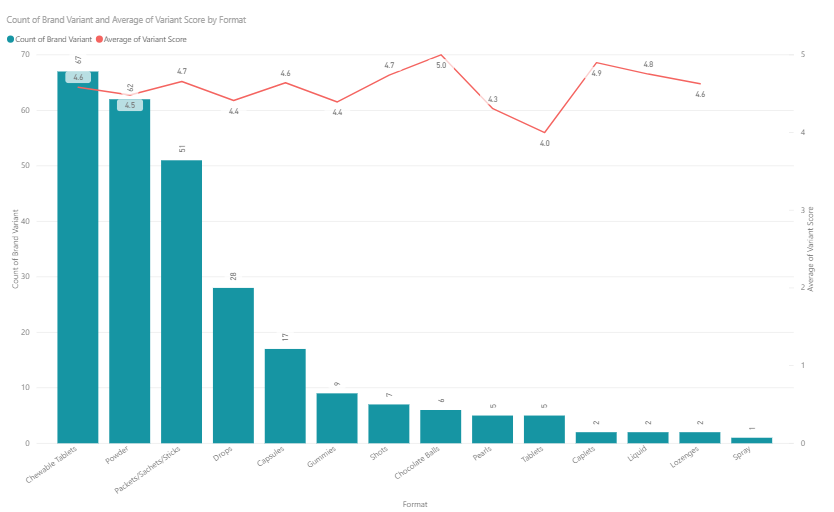 From above it's clear that the most common format (i.e. format with the most brand variants) for products targeted at children is chewable tablets, but other formats like packets, sachets, sticks and chocolate balls are reviewed more favourably by consumers.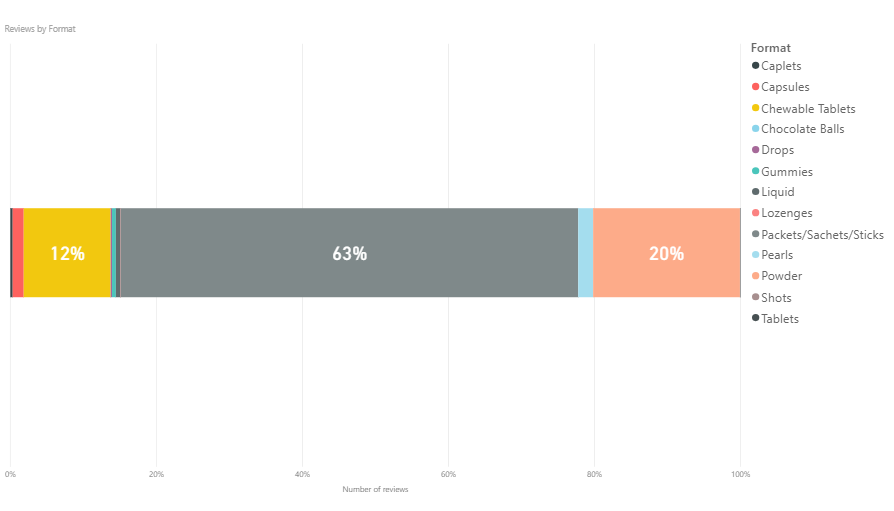 When the number of reviews for children's probiotics are split by format it's packet, sachets and sticks that come out on top with nearly 91k reviews. Next was powder with just over 29k reviews and the format with most brand variants, chewable tablets, received 17.2k reviews.
Reading all of this you might ask what effect positive reviews can possibly have on sales. Won't consumers just opt for the most widely available products?
The way consumers shop for probiotic products is changing. Online sales are booming and how products are ranked, both by Google and retailers like Amazon, rely at least partially on the number and average score of their reviews. Consumer sentiment can both help businesses predict upcoming trends, and can actually directly affect their products' visibility and consequently online sales and revenue.
This is even more the case with labels such as "Amazon's Choice" being rolled out in 2018. According to GeekWire, the formula that determines the product selected as "Amazon's Choice" in a category "gives heavy weight to average customer ratings of at least 4 stars, low return rates compared to similar products, popularity in Amazon search results, and eligibility for Amazon Prime delivery". These items not only appear top of the search results, but are the only items in their categories that can be ordered through the online retailer's home assistant Alexa (which, until recently, could only re-order previously purchased items).
As you can see from the above images, product ranking and availability varies between regions. Additional Lumina data indicates the probiotics market as a whole, despite the international appeal of probiotics, consists mostly of domestic markets.
Key Players in the Global Probiotics Market
Lumina Intelligence collected data on over 851 brands globally in Q4 of 2017, including 41 unique and generic suppliers. Different from metrics like market share and turnover, looking at review numbers can provide a picture of the market from the consumers point of view. The brands customers are talking about most are likely to be the key players in the industry overall, but what's interesting is how much this data varies between different regions and countries. Based on number of reviews, the following brands came top:
North, Central and Latin America
Hyperbiotics, Inc = 14k
i-Health, Inc = 11k
Procter & Gamble = 8k
Nature's Way Products, Inc = 8k
Jarrow Formulas, Inc = 7k
EMEA (Europe)
Nature's Way Products, Inc = 7k
Nu U Nutrition Limited = 5k
i-Health = 3k
California Gold Nutrition = 2k
Hyperbiotics, Inc = 1k
Asia Pacific (China, South Korea, Taiwan and Australia)
Evolution Health PTY LTD = 57k
Dayeonsu Weight Loss (Shanghai) Co, Ltd = 53k
Chong Kun Dang = 30k
Xiuzheng Pharmaceutical Group = 29k
Swanson Health Products = 23k
Regional Analysis
In addition to differences in most popular brands between regions, the data itself provides interesting insights about the consumers themselves. For example, one might expect the West to lead in terms of review quantity but in fact China absolutely dominates the review numbers, with over 404k reviews coming from the country.
Specific trends also seem to vary by region and country, especially when it comes to clean label and free-from in the probiotics supplements, kombucha, juice and derma markets. For example, in the US 47% of products are soy free, but this figure is just 10% in Italy.

Identifying differences in consumer sentiment based on granular and segmented data can greatly aid the development of new products by allowing companies to hone in on particular trends in a target region.
Global probiotics market trends and opportunities
As mentioned, consumer sentiment can be a critical tracker for emerging trends, be it clean label, health claims or specific populations. In the case of these examples, businesses can identify a particular population responding strongly to products created with them in mind and enter this niche market whilst it is still relatively untapped by competitors.
In the data collected by Lumina, Women's Health is the 3rd key area, behind digestion and immunity. When one excludes these latter two benefits, women's health products take up a massive 53.6% of the remaining global market. In EU countries, the picture is similar (see chart on right).
Deep-dive analysis can also tell us a lot about scientific drivers, such as specific strains or delivery systems – and how these differ between regions and countries. China's most popular probiotic strain, Lactobacillus rhamnosus, appears in 17% of probiotics products surveyed in the country. The US's most popular, Lactobacillus acidophilus, appears in 12.7% of products on the US market. This again reiterates the importance of closely looking at the countries new products will target and examining the key drivers of successful products in these markets.
The presence of particular delivery technologies also varies from country to country. For example, 100% of reviews on products with Dual Coating delivery technology were from South Korea whereas 88% of reviews on products with BIO-tract delivery technology were from the US.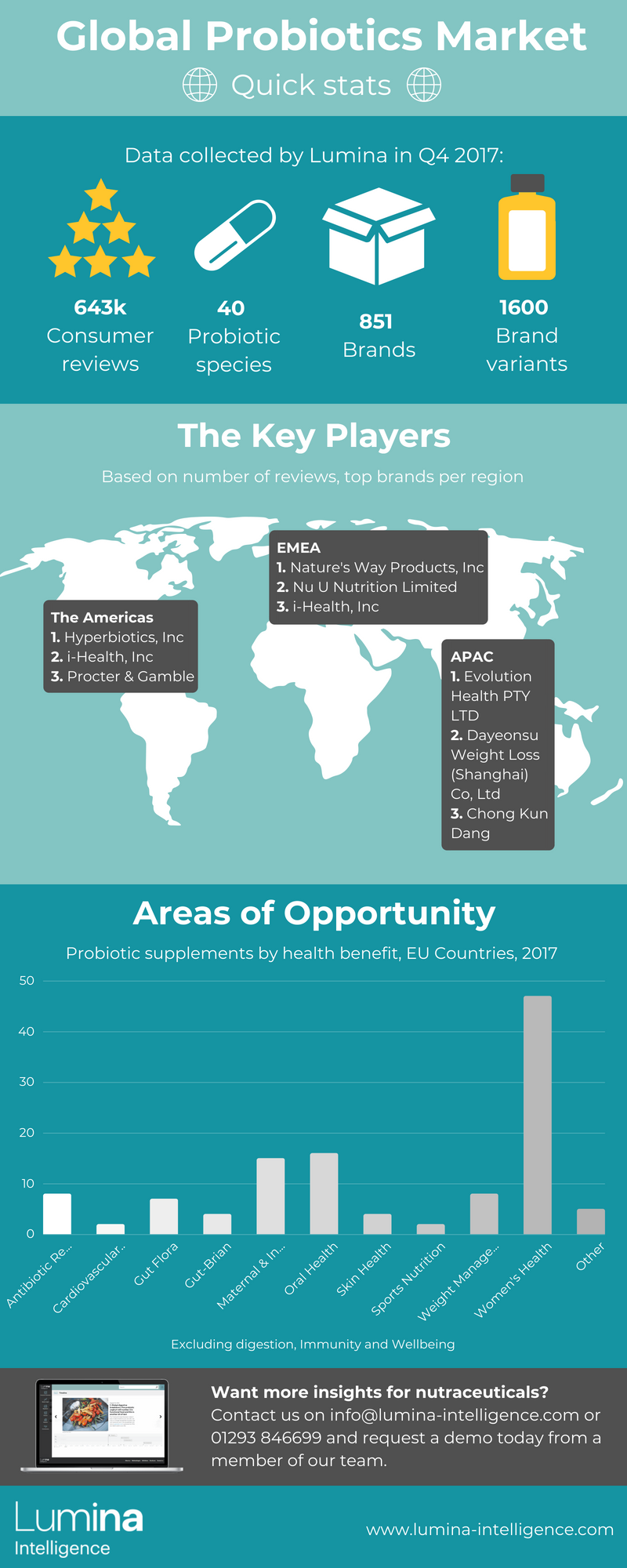 Introducing Lumina Intelligence
Lumina Intelligence is an insights service for the nutraceuticals market based on the new currency of quantitative consumer sentiment – online reviews. Through linking insights to science and regulation, Lumina gives businesses the whole picture of the market at every stage of the supply chain. Standing out from other market insight providers is the granularity of the data and the deep-dive analysis used to provide meaningful insights for manufacturers and suppliers.
Lumina Intelligence will launch in July 2018 offering insights firstly to those in the probiotics market, with sports nutrition and sustainability insights coming later in 2018. At Food Ex 2018 in April, Lumina's Head of Market Insights, Ewa Hudson, spoke to NutraIngredient's editor Nathan Gray about the service and what makes it so unique.
Deep-dive analysis
Lumina Intelligence segments it's data in the following ways.
Probiotics market by:
Application: Supplements, Kombucha, Probiotic Cosmetics, Probiotic Juice
Brand Name
Brand Variant
National Brand Owner
Target Audience: Adults, Children 12+, Women etc.
Health benefit: Digestion, Immunity, Women's Health etc.
Format: Capsule, Softgel, Chewable tablet etc.
Flavour
Delivery technology: BIO-tract, HPMC Capsule, DRcaps capsules etc.
Origin: Canada, US, Australia etc.
Dosage per unit
Proprietary Probiotic Strain
Prebiotics
Clean label claims: No artificial colours, no GMOs, no preservatives etc.
Free from claims: Dairy-free, gluten-free, vegan etc.
Online retailer: Amazon, Walgreens, Walmart etc.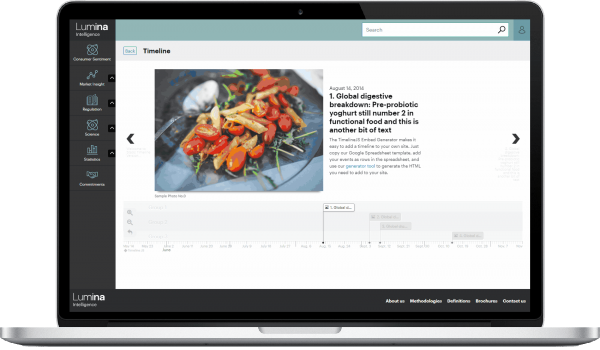 Subscribers to Lumina Intelligence benefit from PowerPoint reports and data sets, providing in-depth market insights to help businesses identify key areas of innovation and opportunity.
It's clear from the data used above what can be gained by examining consumer sentiment closely, whether it's to get a snapshot of domestic markets or the global probiotics market as a whole.
To hear more about Lumina Intelligence Probiotic, and for subscription enquiries, please contact our team on +44(0)1293 846 699 or by email at info@lumina-intelligence.com. To request a demonstration of Lumina Intelligence Probiotics, please fill out a request a demo form.