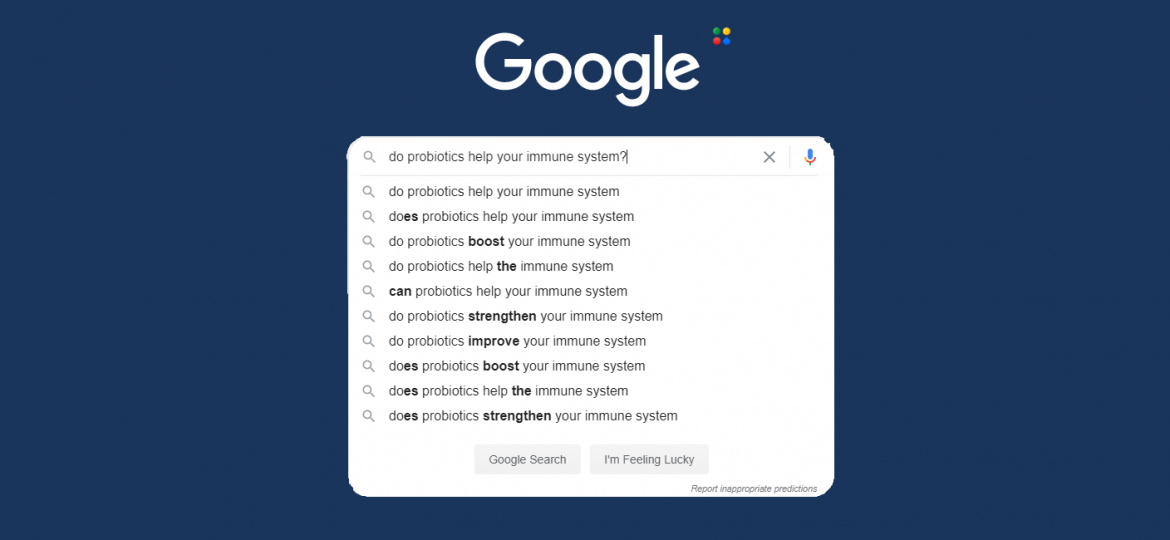 How are consumers' online searching habits changing in relation to probiotics as the COVID-19 crisis unfolds across the globe?
How did they feel about immunity-positioned probiotics pre-coronavirus?
This article provides an overview of search trends and makes suggestions for how B2C and B2B companies in the probiotics space can create or enhance content pages (whether a product page, a blog post, press releases or case studies) to maximise their visibility during this period of enhanced search volume for immunity-related searches.
Consumer sentiment around immunity-positioned probiotics captured in Lumina's January 2020 data update is also explored, with key facts from our recent report on immunity, inflammation, respiratory and oral health presented.
Consumer search: Probiotics + Immunity
The fact that searches focused on probiotics and how they might aid immune function have increased in the past two months will come as no surprise to most. However, if you are a probiotics business attempting to prioritise website tasks based on possible ROI, it's crucial to at least have a rough idea of the extent of this uptick.
Take a look at the chart below from Google Trends, which tracks how the popularity of certain searches has changed over time. To put the results in context, searches containing "probiotics immune system" have been plotted alongside two other key health claims in the space, wellbeing and digestion.
Note that the chart is a live feed, but at the time of writing (mid-April 2020) we can see strong growth in immunity-related searches between early January and late February, with a very dramatic spike in mid-March, which then settles again, albeit at a higher level of interest than pre-crisis. Immunity searches go from receiving around the same level of interest as their digestion-based counterparts to quickly outpacing them.
The critical questions are:
How long will this inflated level of interest continue?
Does it translate to an increased commercial interest in probiotics?
What will interest be post-coronavirus?
Ultimately it is difficult to be certain of anything, but in March GlobalData suggested coronavirus will drive sales of probiotics, based on consumer behaviour in Asia, which as we know experienced the pandemic ahead of Europe and the USA. If this trend of consumers making investments in their wellbeing goes long-term, immunity is likely to be an even greater key concern than pre COVID-19 (immunity was already one of the top 3 health claims on probiotic products in 25 countries worldwide, pre-pandemic).
Key point:
If you are a probiotic business offering (or developing) ingredients or products designed to bring the end-user immunity benefits, there has never been a better time to execute keyword research and optimise relevent content on your website (or a third-party seller such as Amazon). The inflated search volume at present means your digital teams have more data than ever to work with – increasing their chances of delivering a well-considered, tailored SEO-strategy that will heighten your products/services visibility to the correct audience.
Search volumes: What exactly are consumers searching for?
A period of increased interest in a particular health benefit can be an excellent time to do some keyword research whilst there's a lot more data to work with. In the context of consumer search habits the term "data" does not necessarily just pertain to the number of searches. It might additionally include "people also ask" queries (PAA), related searches, longer-form and more niche queries (longtail-keywords) – all of these can provide keyword ideas for a refined optimisation strategy. The increased level of search volume in a particular area means you'll be more likely to spot these in tools like Google Keyword Planner, or even through using Google's predictive search and "Searches related to…" section (more on this later).
A note on Google Keyword Planner data: Although Keyword Planner is a fantastic tool for identifying specific keywords with search, the actual figures it provides for monthly search have been bought into question.  It's far more useful to use it as a comparison tool – by comparing data both to previous monthly searches and in context with other similar keywords – to identify trends and specific information your target audience are searching for.
With that in mind, here's the search volume trends for a selection of keywords relating to probiotics and immune health:
Keyword historical metrics April 2018 – March 2020, selection of 35 "probiotics + immunity" keywords

This top-line view demonstrates again the dramatic spike in March 2020 for these kinds of searches (the monthly average for the 11 months pre-coronavirus was 3,940 searches vs 21,370 in March 2020), but the 24-month view also tells us that searches related to probiotics and immunity are seasonal; with more search volume typically in November – March.
Which country makes up most of this search volume? The answer is fairly unsurprising given it's developed probiotics market and large population.
Keyword historical metrics March 2020 search volume by country, selection of 35 "probiotics + immunity" keywords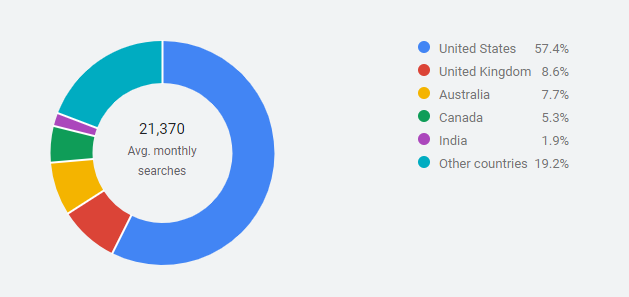 Taking a closer look at the trends for specific keywords:
Keywords with Avg. Monthly searches April 2019 – March 2020, selection of 35 "probiotics + immunity" keywords
A large spike can be seen for all of these keywords in the graphs next to the average monthly searches. These high-volume keywords might all look very similar but particular language can reveal a massive difference in the searcher's intent. For example, a user searching with "do probiotics help immune system" is probably looking for content that briefly summarises evidence, studies etc pertaining to probiotics' effect on immunity. Conversely, someone searching with "best probiotic for immune system" is more likely to be looking for specific product recommendations.
Speaking of products, those that explicitly state their positioning for immune health are also experiencing an increased level of search during the COVID-19 crisis – with some brands enjoying a 500% boost.
Keywords with Avg. Monthly searches April 2019 – March 2020, selection of 35 "probiotics + immunity" keywords
The above is very surface-level example of what keyword research can tell you about search trends. When you find a broad keyword that has search volume and fits in with the product or service you offer you can seek out other keyword ideas using a variety of tools – see below results for "probiotics + immunity" in Answer The Public and Google's "searches related to" section at the bottom of the search results page.

Repeating this process of finding keyword ideas, uncovering search/trend data and looking at common questions and related searches means you will be able to prioritise your strategy based on factors like search volume,  competition levels and relevance to your product/service.
View all our reports
See the range of reports we offer for the probiotics market including market overviews, deeper examinations of niche markets, country insights and more.
Quick recommendations for search engine optimisation (SEO)
Did you know that organic makes up 42% of traffic to e-commerce sites in retail and 35% of revenue vs 18% and 20% respectively from paid search? (Wolfgang Digital Study, 2019)
Paid channels like Google Shopping Ads or Search Ads can work really well for e-commerce and B2B businesses alike. However, this sort of advertising can be very expensive and after you stop paying for your campaign you will cease to see a return on it. Many businesses in the probiotics space are missing a huge opportunity by not optimising their content to rank organically. Product pages and other content that successfully ranks well for relevant search terms will continue to drive traffic to your website long after you have stopped investing in it.
What can businesses in the probiotics space do right now to make the most of the increased interest in probiotics and their effect on the immune system? How does this differ between B2B and B2C companies?
B2B (e.g. probiotic ingredient suppliers)
If you supply a specific strain or ingredient with ties to immunity ensure your press releases, published studies or blog posts are optimised to capitalise on these key searches.

Investigate longer-tail immunity keywords pertaining to the product or service you offer, as these are likely to also be seeing rising interest and ranking for these terms is slightly easier than highly-competitive broad terms.

Take a look at the long-tail keywords your site already gets organic traffic from via Google Search Console, or a paid tool like SEM Rush if you prefer. Content sitting in positions 4 – 11 for relevant keywords can make quick gains if you optimise it for those types of searches.
If you supply a probiotics ingredient involved in multiple immunity studies and trials, consider writing a longer piece of content summarising these with target keywords in mind. This content on COVID-19 facts and information from Biogaia also addresses probiotics and immunity generally, summarising findings from studies involving their strains – with references and links to them where possible.
B2C (e.g. manufacturers, brands etc.)
Consumers are more interested than ever in the efficacy of immunity-positioned probiotics and many want to understand the science behind this. There is a unique opportunity for brands to create/optimise product descriptions or blog content to answer the most common questions consumers have. The more niche and long-tail your target keywords the less competition you will have for them.
Get ideas for longer-tail keywords by simply typing a broad immunity keyword in Google and Amazon's search bar – both will make suggestions based on popular searches.
Note the difference between the two sites above. Think about adapting different strategies for any product pages hosted on both your own e-commerce site and Amazon's. This also means your content on each site will be unique, which can help your own e-commerce product page rank better in Google. 

Set up a system that will invite your existing customers to leave online reviews.

Now more than ever consumers are asking "But does this work?".

Positive online reviews demonstrate efficacy to potential customers, influence decision making and, critically, increase your visibility in search engines like Google or Bing and shopping platforms like Amazon.
The Legal Challenge: Using the term "probiotics" in product descriptions
In many countries digital teams face regulatory obstacles when it comes to marketing probiotic products online in a way that gives them good visibility in search engines. In regions where the term "probiotics" is prohibited on packaging or online product descriptions, finding keyword ideas that also adhere to the law becomes more difficult.
However, there are several other avenues you could explore to ensure your product pages are still optimised for online search:
Focus on other attributes of the products you offer. Although more niche, consumer search focused on format, target population and even strain combined with immunity as a health benefit is also on the up. (top right: search volume trend from Google Keyword Planner for "lactobacillus immune system").

In many countries, alternative names for probiotics are already in use. Re-focus your keyword research to incorporate terms like "good bacteria", "friendly bacteria" and "gut health" – if you are marketing in multiple countries think about researching in several languages.

When your product page is live, push your customers to write reviews. Google's bots crawl reviews (check your product page is set up correctly for this) so, if your customers refer to your product as a probiotic, search engines will pick this up as well – meaning your product could still rank for those higher search volume "probiotic" keywords. Just make sure you do not "like" the review, as this will still fall foul of regulations. (right: sample of reviews containing "probiotic" for Probio 7 Advanced Formula Economy Size 60 Capsules on UK retailer website Holland & Barrett).

Amazon tip: You can still use the term "probiotic" as a backend keyword, which is hidden from consumer view but still aids your product visibility. More on backend keywords here.
A critical task for businesses selling via any e-commerce platform is to ensure customers are leaving online reviews. Not only do positive reviews bring the benefits mentioned above, but review data can be a vital marker for how existing products have been received by their audience on the market.
Lumina Intelligence gathers this data along with other attributes like formulation, labelling and pricing so that probiotics companies can utilise review data to gauge how consumers feel about their products, undertake competitor research and increase the chances of success for new products in development.
Immunity is a leading health benefit in terms of prevalence in probiotic products – coming 2nd only to digestion. How did consumers feel about immunity probiotics before the COVID-19 crisis?
Immunity and consumer sentiment as of January 2020
Lumina Intelligence's recent report "Immunity, inflammation, oral health and respiratory probiotics" provides a top line market overview of probiotic products positioned for these health benefits and corresponding online customer engagement.
Reviews have become a critical data point for understanding post-purchase consumer sentiment and, when combined with formulation and pricing data, can provide powerful insights as to what attributes underpin products that successfully resonate with consumers.
Here are just a couple of facts from the report on immunity-positioned probiotics:
Over 1000 immunity probiotics saw a spectacular 786% growth in online customer reviews in two years (December 2017 – January 2020) to reach 1.8 million across 25 countries.
Immunity positioned probiotics are the lowest priced of the four groups covered in the report (under US$16 per pack), whilst being formulated with the largest daily dose of bacteria (over 20 bn CFU).
For this report, Lumina Intelligence considered probiotics positioned only to support immunity, inflammation, oral health and respiratory. This included 1116 products in 25 countries on five continents across probiotic supplements, juice,  kombucha and cosmetics.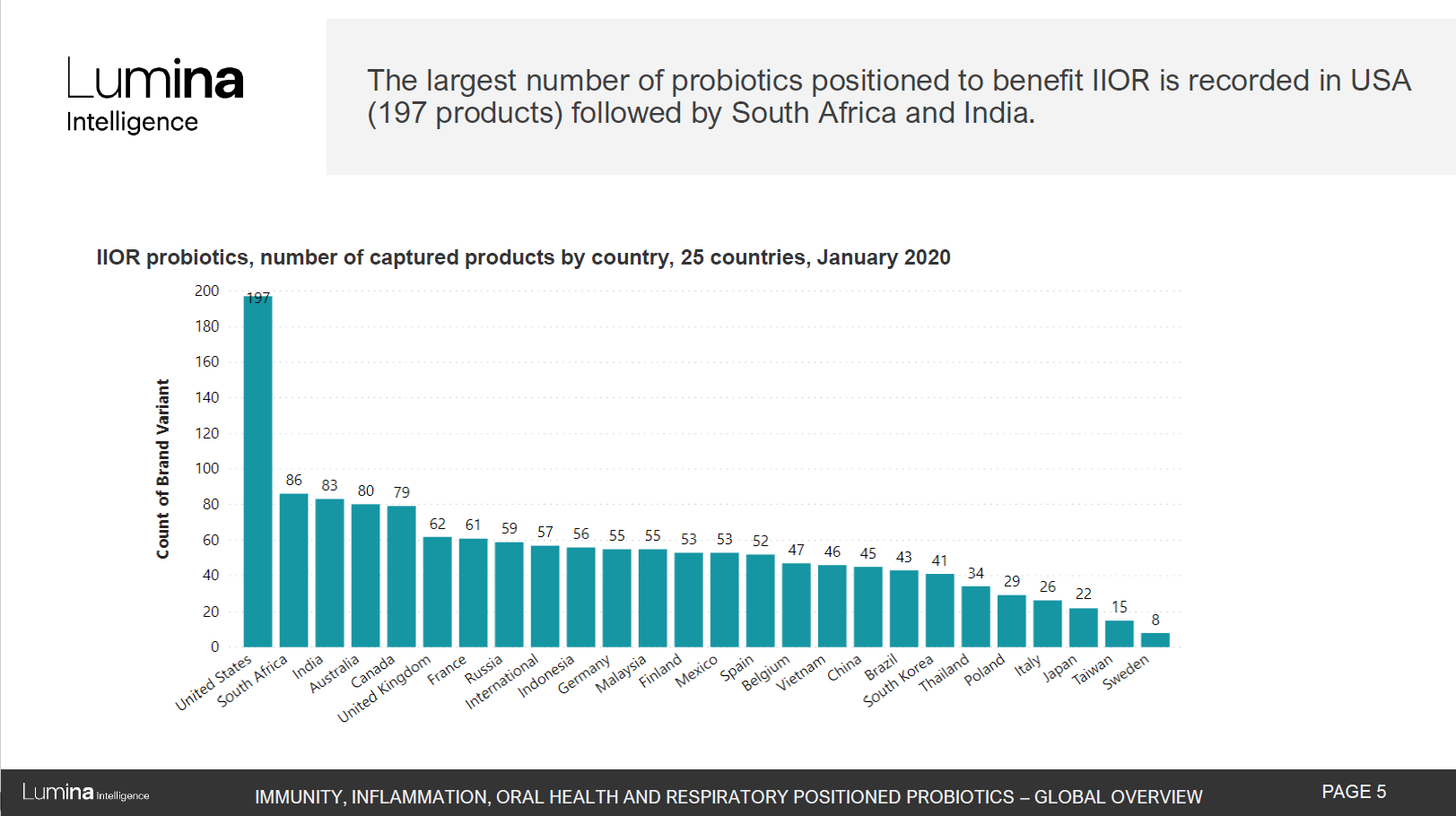 View all our reports
See the range of reports we offer for the probiotics market including market overviews, deeper examinations of niche markets, country insights and more.
Disclaimer: The focus of this post is on the utilisation of the digital marketing tools in response to the current consumer search trends.  It is a company responsibility to ensure compliance of its marketing communication with the relevant regulations.