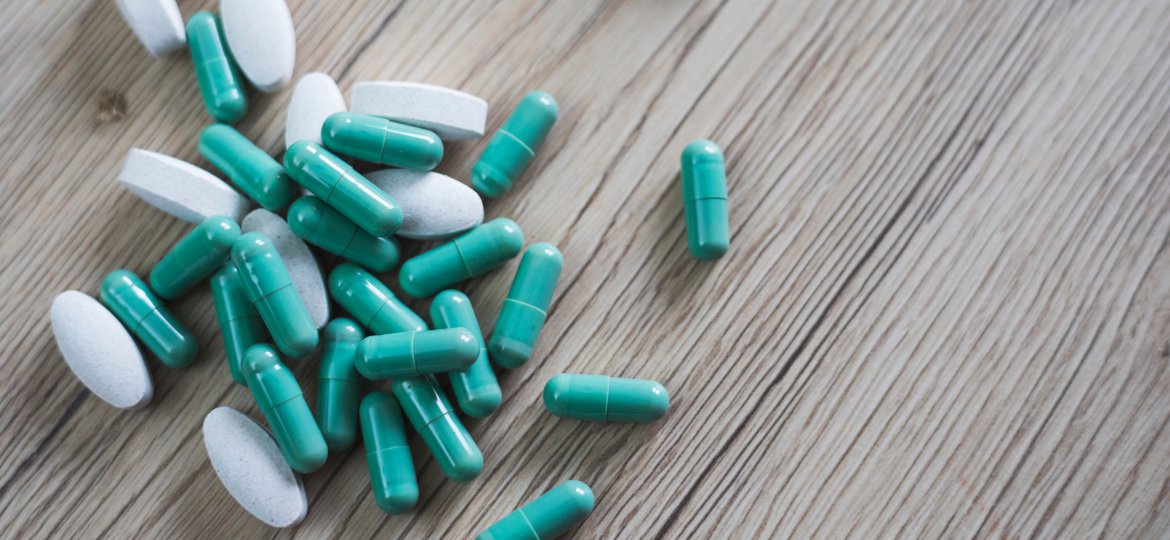 Probiotics and the microbiome form a large and much-discussed segment of the nutraceuticals space. In this guide, we take a look at the global probiotics market, its key players and what consumer sentiment can tell us about trends and opportunities for growth. Growing consumer awareness of probiotics and their functional health benefits for conditions including IBS, leaky gut and autoimmune deficiency has led to considerable expansion in the global probiotics market.
The Global Probiotics Market
In June 2021, Lumina Intelligence captured customer review data for nearly 5024 products globally, totalling a staggering 48 million customer reviews online. The number of reviews online for probiotics grew by 108% in 2020 and 96% in the first half of 2021, with the most dynamically growing areas including enterocolitis, oncology and fertility.
Overall the global probiotic supplements market for e-commerce was thought to be worth $1.5 billion USD in 2020, with estimate growth of 15.5% in 2021. There are also predictions the value of the probiotics market as a whole will exceed $65 billion by 2024 (Global Market Insights). The data collected by Lumina recorded 40 different probiotic species and 42 different delivery technologies – these very niche sectors within the probiotics space provide unique opportunities for suppliers and manufacturers looking to grow their share of the market.
The range of applications for probiotics has gone far beyond supplements alone – with the market now including categories such as kombucha, derma products (probiotic skin care) and probiotic juice. Additionally, and particularly since the COVID-19 pandemic unfolded, probiotics are becoming a form of preventative healthcare, especially during a course of antibiotics or as an attempt to relieve the symptoms of long term health conditions like IBS. Consumer sentiment is an essential currency for measuring product success in the competitive landscape, as well as predicting upcoming trends, and should be monitored carefully by any player looking to succeed in the market.
What can consumer sentiment tell us about the global probiotics market?
Consumer feedback, particularly in the form of product reviews, can provide a quantitative way to collect data on consumer sentiment. Additionally, if captured in detail, this data can provide a picture of the market at every stage of the supply chain, be it for particular brand variants or proprietary ingredients' manufacturers. The chart below shows the average review scores for probiotic supplements by leading suppliers across 25 countries, based on the number of products with proprietary strains in formulations.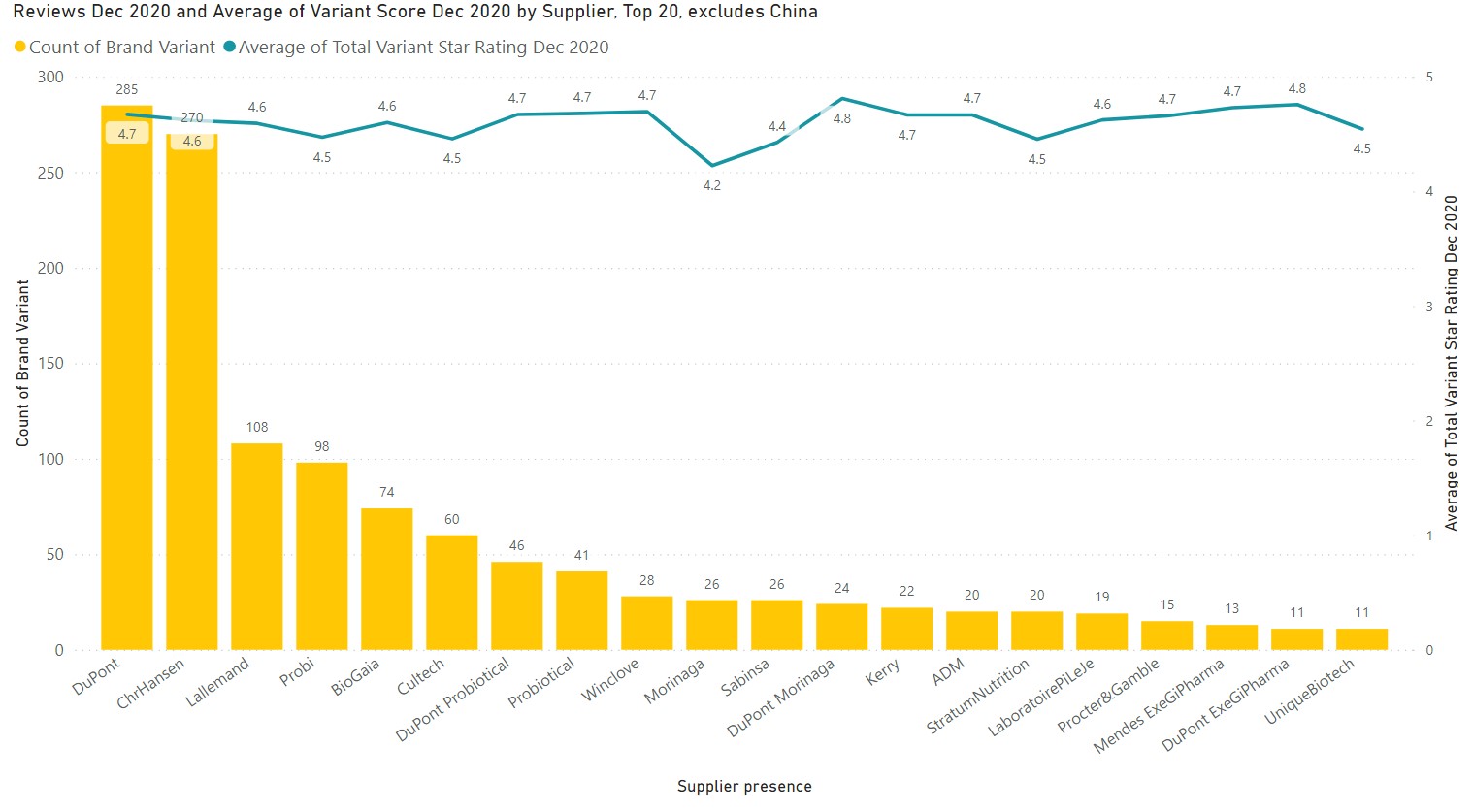 As can be seen above, probiotic supplements in general seem to generate high scores; which suggests that they resonate with consumers. Suppliers performing particularly well on review scores were DuPont ExeGiPharma (11 products) and DuPont Morinaga – with average review scores of 4.80. Other big players also ranked favourably – CHR Hansen (270 products) and DuPont (285 products) achieved an average ranking of 4.6 and 4.7 respectively.
Segmenting this data into elements such as probiotic strain, format, flavour and delivery system can help businesses see what particular drivers underpin successful products, both their own and of competitors. Multi-strain products are becoming increasingly common and there is often an assumption that the more strains a product has the better.
But does this actually measure up?
The chart below compares the number of strains per brand with average review scores (excludes China).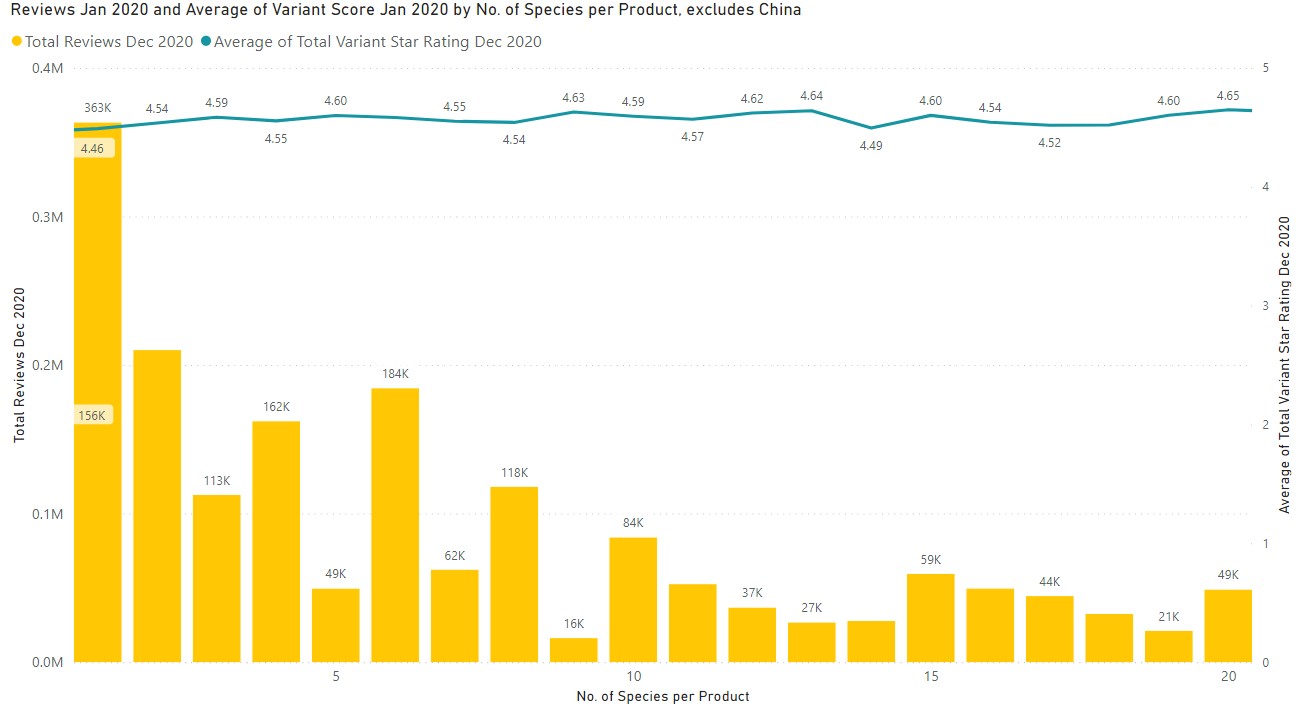 From the above, it would appear "The more strains the better" is not entirely true. There is in fact very little difference in average review scores for products with 1-10 strains (average review score 4.56) and those with 11-20 strains (average review score 4.57). Probiotic products, no matter how many strains, generally seem to be well-received by consumers.
With personalisation becoming an increasingly more important way to appeal to consumers; manufacturers and suppliers can identify opportunities within specific populations. For example, in 24 countries (China excluded) probiotics for children are one of the leading life stage probiotics for consumer engagement.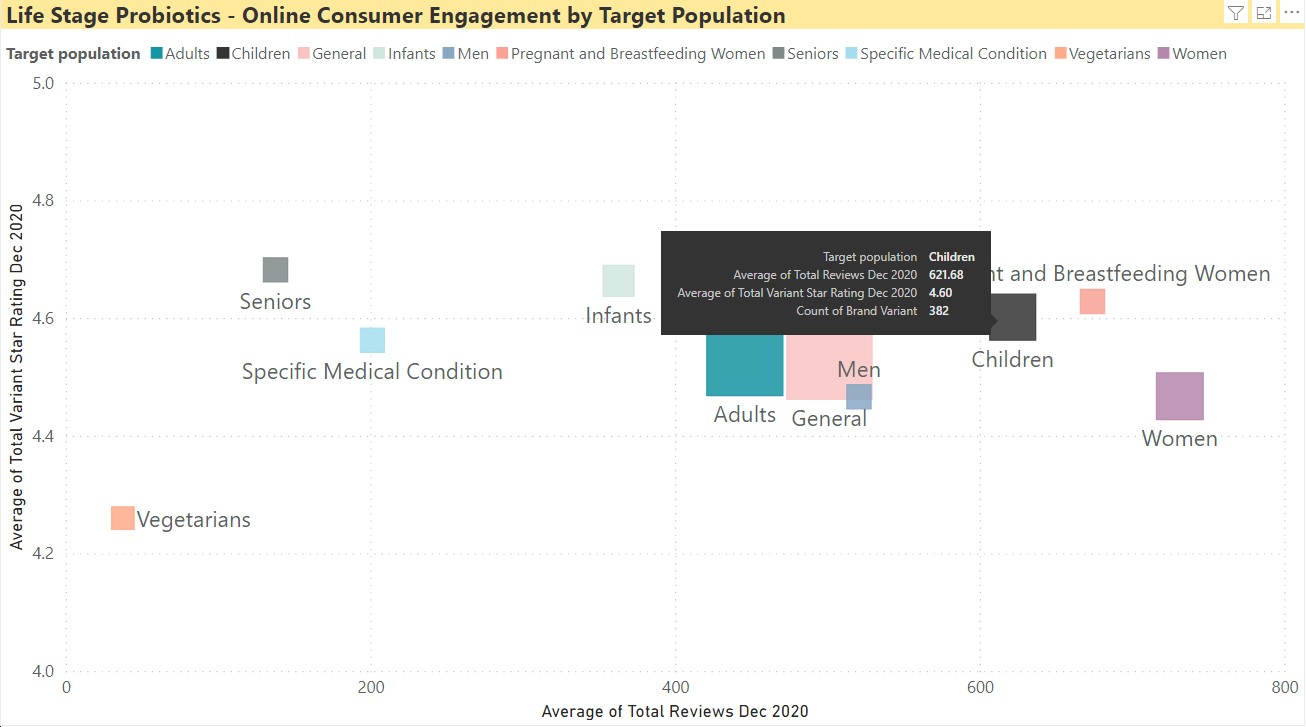 If you're a manufacturer looking to target the children's market with your next probiotic product, it's worth knowing which formats are most popular so you can consider this during product development.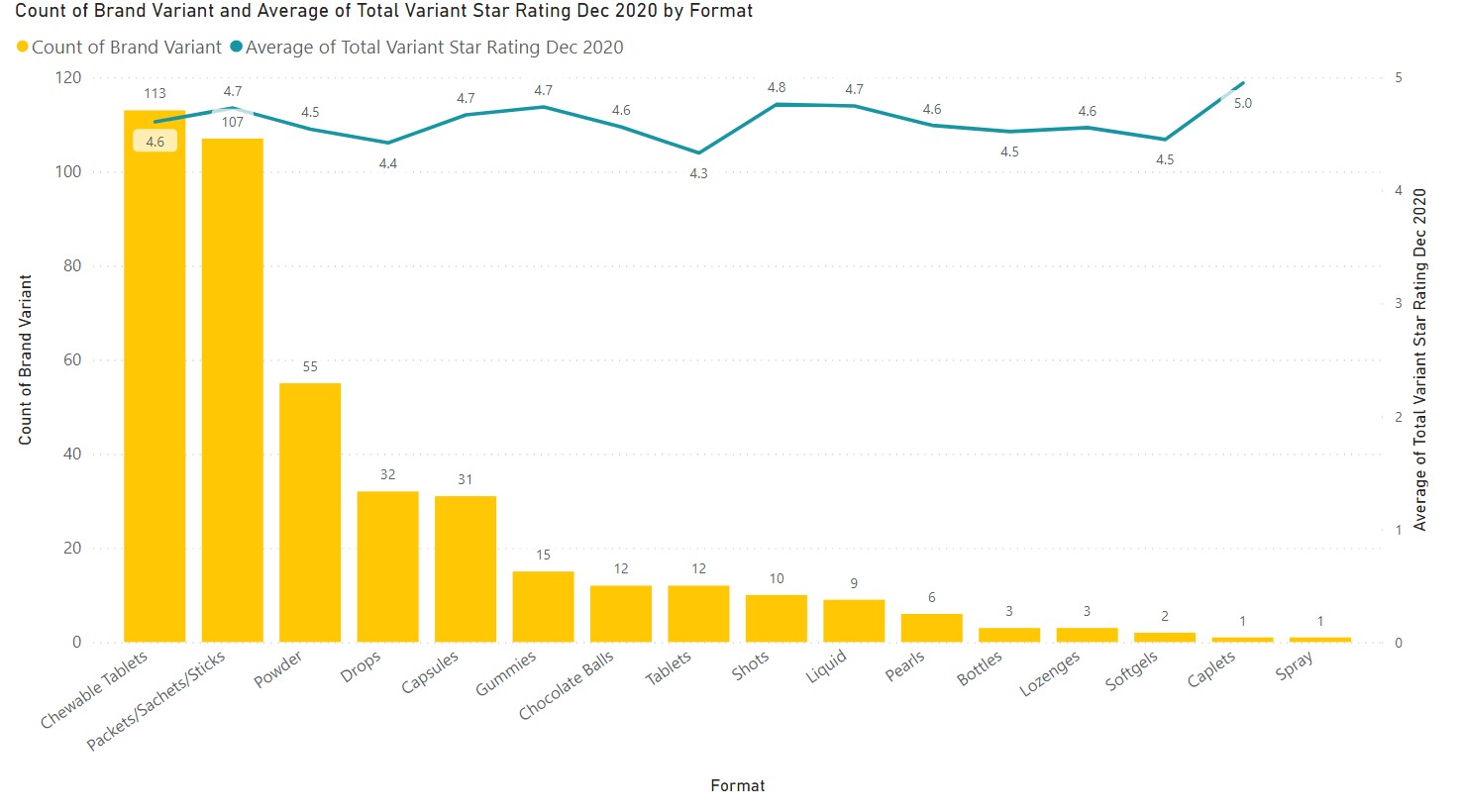 From above it's clear that the most common format (i.e. format with the most brand variants) for products targeted at children is chewable tablets, but other formats like packets, sachets, sticks and liquids are reviewed more favourably by consumers.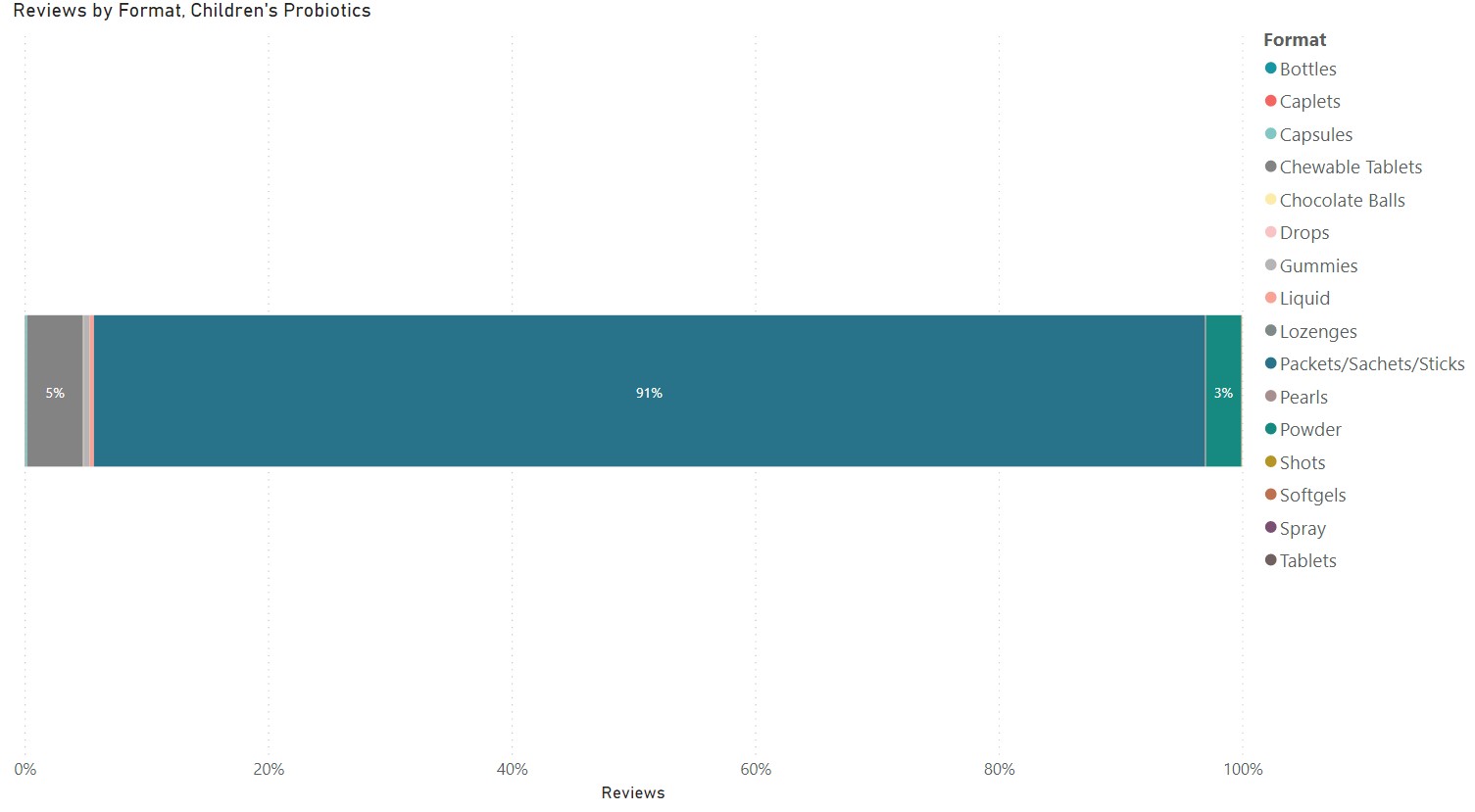 When the number of reviews for children's probiotics are split by format it's packet, sachets and sticks that come out on top with over 2271k reviews. The format with most brand variants, chewable tablets, received 114k reviews.
Reading all of this you might ask what effect positive reviews can possibly have on sales. Won't consumers just opt for the most widely available products?
The way consumers shop for probiotic products is changing. Online sales are booming and how products are ranked, both by Google and retailers like Amazon, rely at least partially on the number and average score of their reviews. Consumer sentiment can both help businesses predict upcoming trends, and can actually directly affect their products' visibility and consequently online sales and revenue.
This is even more the case with labels such as "Amazon's Choice" being rolled out in 2018. According to GeekWire, the formula that determines the product selected as "Amazon's Choice" in a category "gives heavy weight to average customer ratings of at least 4 stars, low return rates compared to similar products, popularity in Amazon search results, and eligibility for Amazon Prime delivery". These items not only appear top of the search results, but are the only items in their categories that can be ordered through the online retailer's home assistant Alexa (which, until recently, could only re-order previously purchased items).
As you can see from the above images, product ranking and availability varies between regions. Additional Lumina data indicates the probiotics market as a whole, despite the international appeal of probiotics, consists mostly of domestic markets.
FREE WHITEPAPER DOWNLOAD
Microbiome through the life stages
Key Players in the Global Probiotics Market
Lumina Intelligence collected data on over 1430 brands globally in December 2020, including 120 unique and generic suppliers. Different from metrics like market share and turnover, looking at review numbers can provide a picture of the market from the consumers point of view. The brands customers are talking about most are likely to be the key players in the industry overall, but what's interesting is how much this data varies between different regions and countries. Based on number of reviews, the following brand owners came top:
North, Central and Latin America
i-Health Inc = 81.6k
Mimi's Rock Inc = 54.2k
Church & Dwight Inc = 52.8k
The Clorox Company = 50.3k
Nestle SA = 48.0k
EMEA (Europe, UK)
Nestle SA = 16,7k
Wren Laboratories LLC = 10.8k
Hyperbiotics Inc = 10.2k
Nutrizing Ltd = 9.3k
Church & Dwight Inc = 9.0k
Asia Pacific (China, South Korea, Taiwan, Thailand, Vietnam, Malaysia and Australia)
H&H Group = 1.7 million
Jiangsu Qingyuankang Biology technology Co Ltd = 683k
BY-Health Co Ltd = 587k
Sichuan Baixin Kangpin Trading Co Ltd = 526k
i-Health Inc = 342k
India
The top 5 most reviewed probiotic brand owners in the Indian market are:
American Health Inc = 15.5k
Ramini Bionutrition Pvt Ltd = 15.4k
Nestle SA = 14.6k
Hyperbiotics Inc = 10.1k
Lake Consumer Products = 8.7k
Regional Analysis
In addition to differences in most popular brands between regions, the data itself provides interesting insights about the consumers themselves. For example, one might expect the West to lead in terms of review quantity but in fact China absolutely dominates the review numbers, with just shy of 3.4 million reviews coming from the country. This is followed by South Korea with 337k reviews, then the US with 230k.
Specific trends also seem to vary by region and country, especially when it comes to clean label and free-from in the probiotics supplements, kombucha, juice and derma markets. For example, in the US 18% of products are sugar free, but in countries such as Russia, Italy and Poland no sugar-free products were captured at all.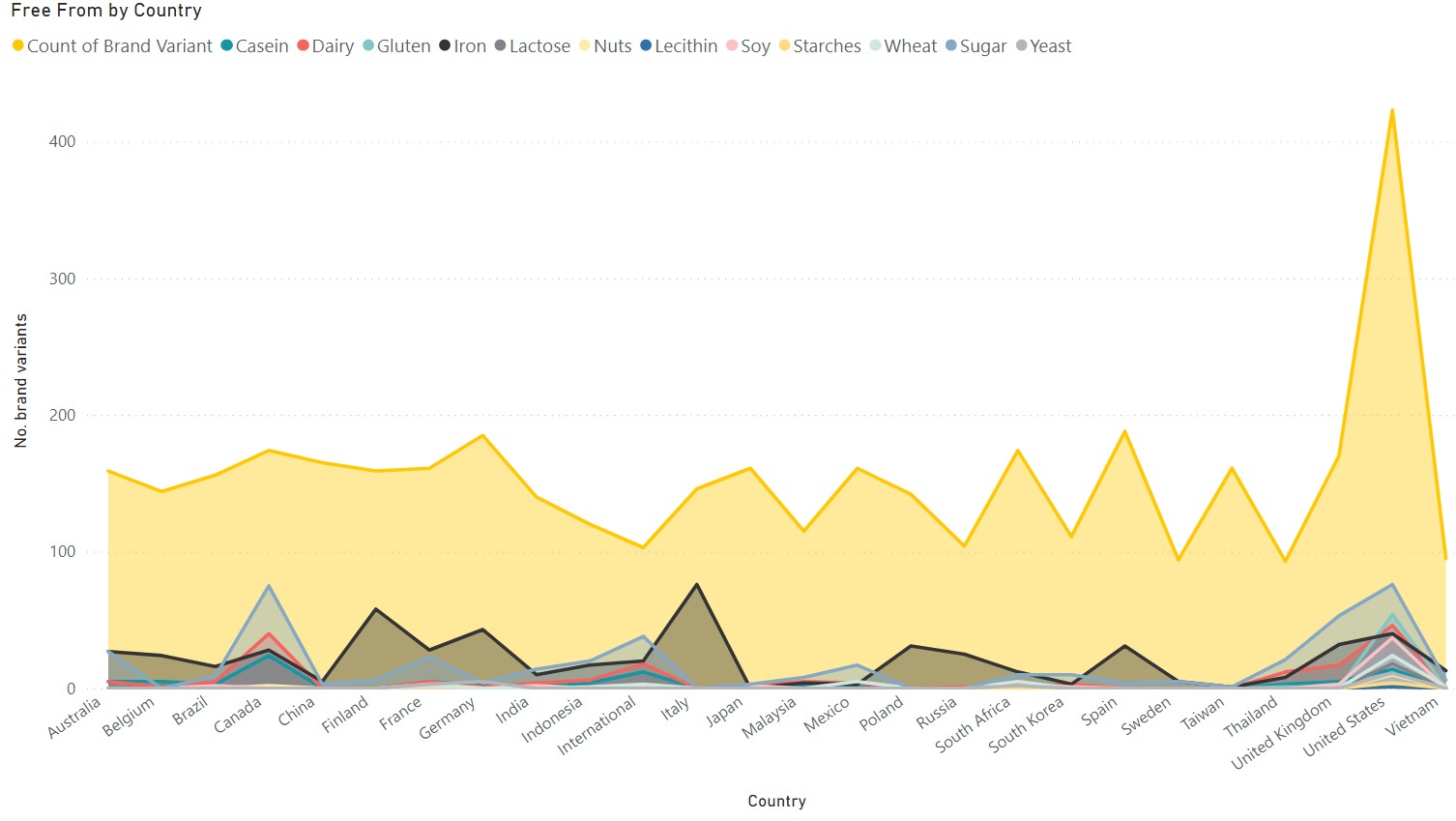 Identifying differences in consumer sentiment based on granular and segmented data can greatly aid the development of new products by allowing companies to hone in on particular trends in a target region.
PROBIOTIC E-COMMERCE REPORT
Market size, market share for top brands, breakdown of major e-retailers and analysis of brand-by-brand marketing strategies.
India Probiotics Market, 2021
In September 2019, Lumina Intelligence added formulation, labelling and consumer sentiment data from India's probiotics market to their research.
The subsequent research in December 2020 captured the following from the probiotic market in India:
140 brand variants in total – 130 probiotic supplements, 7 kombucha products, 2 probiotic cosmetics and 1 probiotic juice.
106 distinct brands.
A total of 90.8k online reviews for probiotic products.
An average star rating of 4.16 out of 5 for probiotic products.
QUICK FACT
In India, probiotic products for women had the highest average number of reviews per product (with 2716 reviews).
Global probiotics market trends and opportunities
As mentioned, consumer sentiment can be a critical tracker for emerging trends, be it clean label, health claims or specific populations. In the case of these examples, businesses can identify a particular population responding strongly to products created with them in mind and enter this niche market whilst it is still relatively untapped by competitors.
In the data collected by Lumina, Skin Health and Women's Health are two leading health benefits – behind digestion, gut-flora, wellness and immunity. (see chart, right, for leading health benefits in EU countries)
Deep-dive analysis can also tell us a lot about scientific drivers, such as specific strains or delivery systems – and how these differ between regions and countries. Austrailia's most popular probiotic strain, Bifobacterium animalis inc lactis, appears in 17% of probiotics products surveyed in the country. Japans most popular, Enterococcus faecium, appears in 11% of products on the market. This again reiterates the importance of closely looking at the countries new products will target and examining the key drivers of successful products in these markets.
The presence of particular delivery technologies also varies from country to country. For example, almost 25% of reviews on products with BIO-tract delivery technology were from the UK, despite this country only accounting for 5% of brand variants with that technology.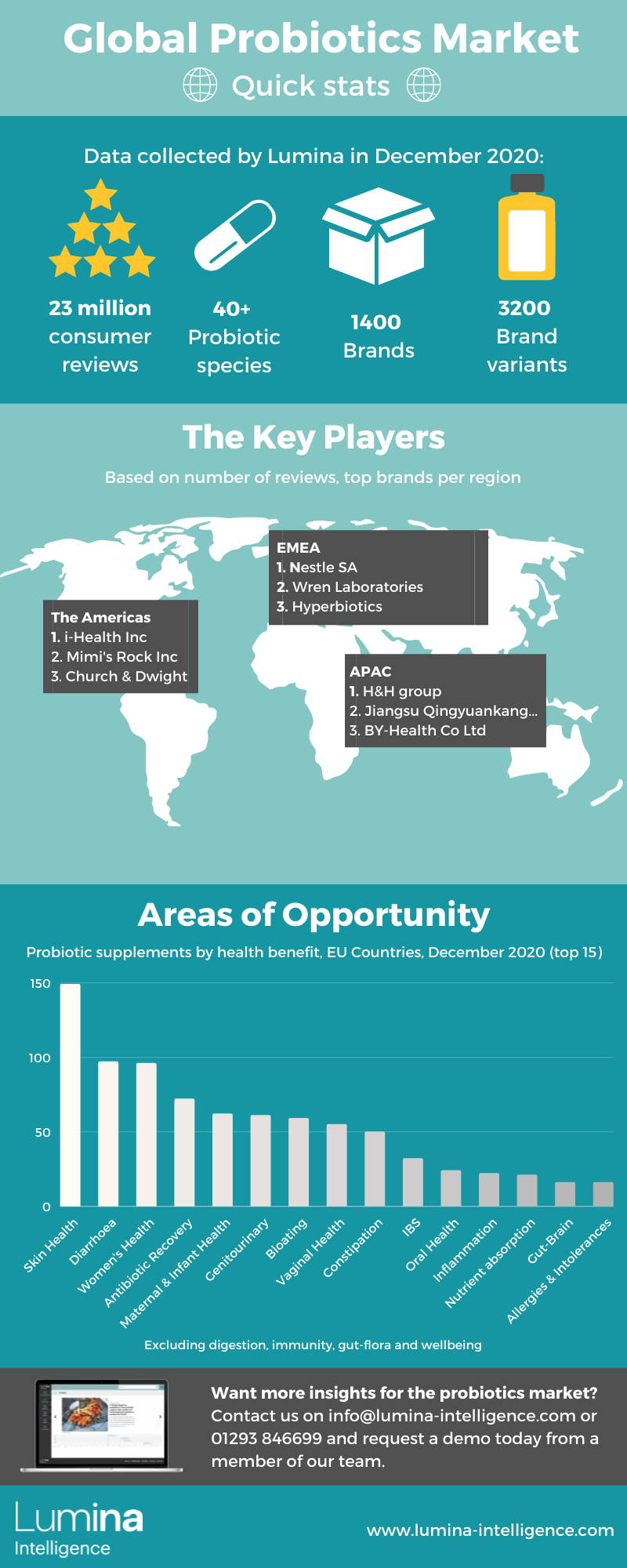 Introducing Lumina Intelligence
Lumina Intelligence is a data and insights service for the probiotics market. We provide reports and data visualizations, based primarily on consumer engagement data like customer reviews and star rating. Our data focuses exclusively on the online channel, providing must-have support for your product development by:
Identifying where the emerging market opportunities are.
Pin pointing what health benefits consumers are searching for.
Benchmarking key formulation detail which is successful with consumers.
Providing detail for competitor analysis.
Our data includes probiotic supplements, juice, cosmetics and kombucha – capturing over 3,100 brand variants from 25 countries.
Deep-dive analysis
Lumina Intelligence segments it's data in the following ways.
Probiotics market by:
Application: Supplements, Kombucha, Probiotic Cosmetics, Probiotic Juice
Brand Name
Brand Variant
National Brand Owner
Target Audience: Adults, Children 12+, Women etc.
Health benefit: Digestion, Immunity, Women's Health etc.
Format: Capsule, Softgel, Chewable tablet etc.
Flavour
Delivery technology: BIO-tract, HPMC Capsule, DRcaps capsules etc.
Origin: Canada, US, Australia etc.
Dosage per unit
Proprietary Probiotic Strain
Prebiotics
Clean label claims: No artificial colours, no GMOs, no preservatives etc.
Free from claims: Dairy-free, gluten-free, vegan etc.
Online retailer: Amazon, Walgreens, Walmart etc.
Subscribers to Lumina Intelligence benefit from PowerPoint reports and data sets, providing in-depth market insights to help businesses identify key areas of innovation and opportunity.
It's clear from the data used above what can be gained by examining consumer sentiment closely, whether it's to get a snapshot of domestic markets or the global probiotics market as a whole.
View all our reports
See the range of reports we offer for the probiotics market including market overviews, deeper examinations of niche markets, country insights and more.