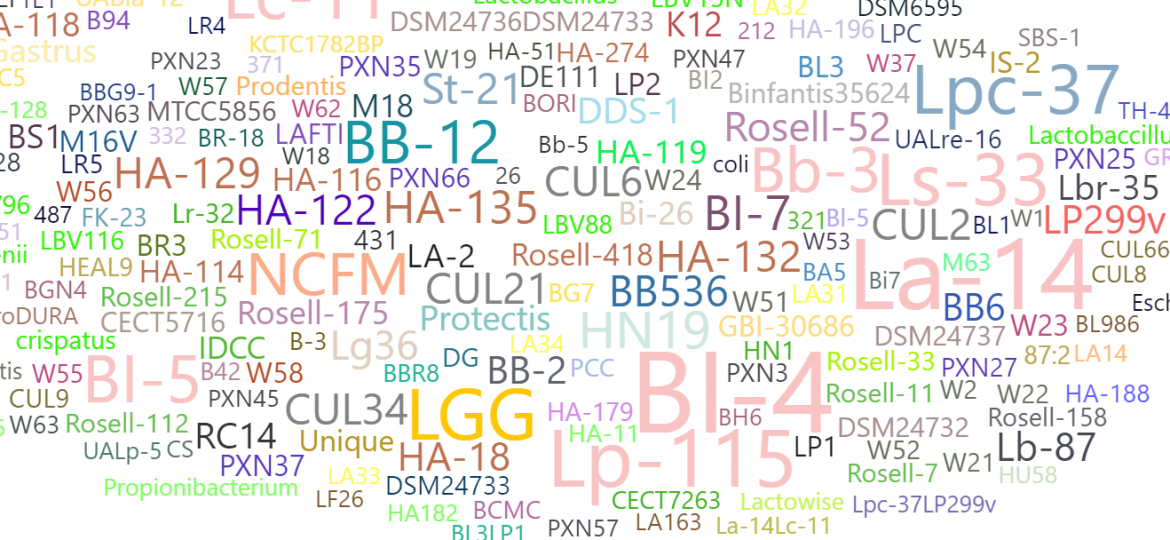 Lumina Intelligence has recently updated its probiotics offering with data from January 2020, as well as a range of enhancements. That means more countries, more attributes and more tracked products.
Over one thousand new products added
In the latest January 2020 edition of out data, 34% of products captured were brand new products, added since our last capture in July 2019. In absolute terms, 1,325 out of 3,899 products are newly added. At the same time 362 products were recorded as withdrawn from the market. They still contribute to the product data, yet have caused some losses of the reviews.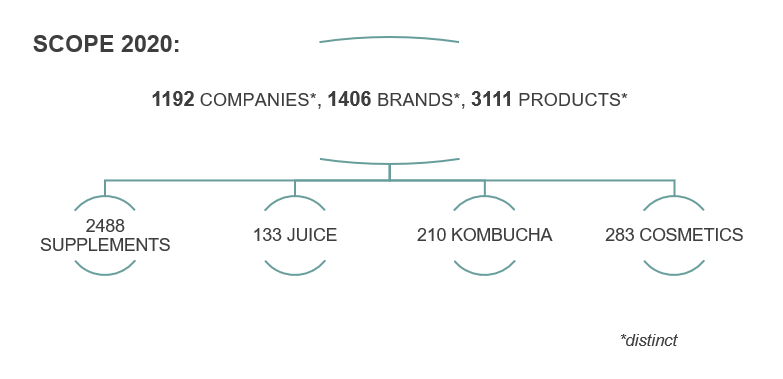 One product may appear on the market in more than one country.  If we exclude this duplication, 1,147 distinct (unique) new products were added.
Expansion into South East Asia: 4 new countries
Since publication in 2017, Lumina has added five new South East Asian countries. India coverage was added in July 2019 edition.
The four added in January 2020 are:
Thailand
Vietnam
Indonesia
Malaysia
11.5k
reviews collected from newly added countries in Asia
New product attributes
Our January 2020 update provided us with the opportunity to enhance our data even more, by capturing new characteristics.
Proprietary strains
As of the January 2020 edition of Probiotics, over 200 proprietary strains are now published and attributed to 73 suppliers. In our raw data (pictured below) – the column BD provides the type of strain used (Generic vs Proprietary) and the column BE lists suppliers of the strains, which is followed by the list of proprietary strains in BF.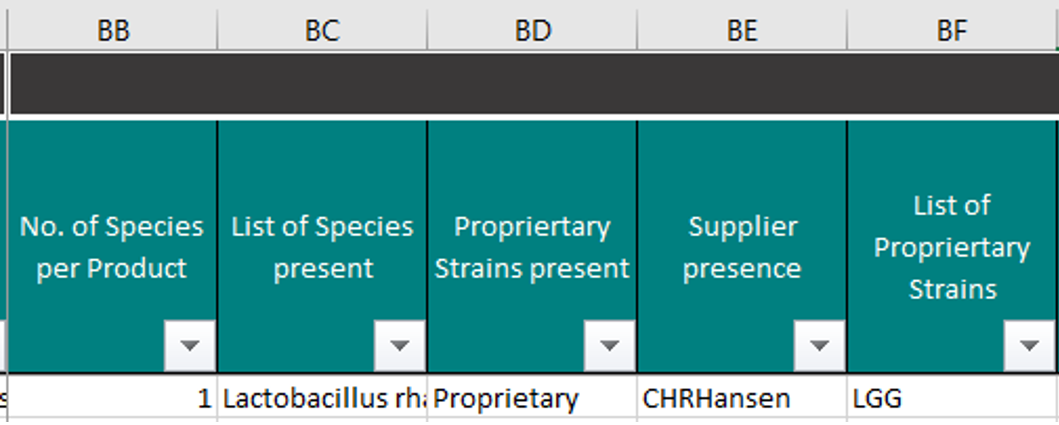 Further detail on prebiotics
Lumina has also added more granular information about prebiotics present in product formulations.
Our new prebiotics coverage comprises of:
Prebiotic Presence (No of Prebiotics)
Breakdown of type of prebiotic (aligned with that of the Global Prebiotic Association):

FOS
GOS
IMO
XOS
Other Oligosaccharides
Inulin
Fibre
Resistant Starch
Lactulose
Other Prebiotics
Of the probiotics captured by Lumina 41% of them contain prebiotics in their formulations.

Further detail on health claims
We now differentiate between health claims present on pack versus these stated on manufacturer/retail websites, as well as inform if the claim is attributed to probiotics or other ingredient types present in the product formulation.
Other ingredient types include:
Prebiotics
Enzymes
Vitamins and/or minerals
Botanicals
Other
44%
of captured products carry a health claim on-pack.
Health claim by ingredient type
Lumina now maps health claims to specific ingredient types when they are associated with the claims.
Below are some key facts pertaining to this new enhancement:
Across 25 countries, 99% of products that carry a health claim associate it with the probiotic present in the product.
5% of products associate a health claim with a vitamin/mineral present in a product.
4% link it to the prebiotic.
New dashboards
Lumina Intelligence launched interactive dashboards in 2019 to enable a visual interaction with the data. We have published 3 new dashboards pertaining to the new data, with an additional dashboard examining social listening for probiotics in 2019. More dashboards are to be published soon.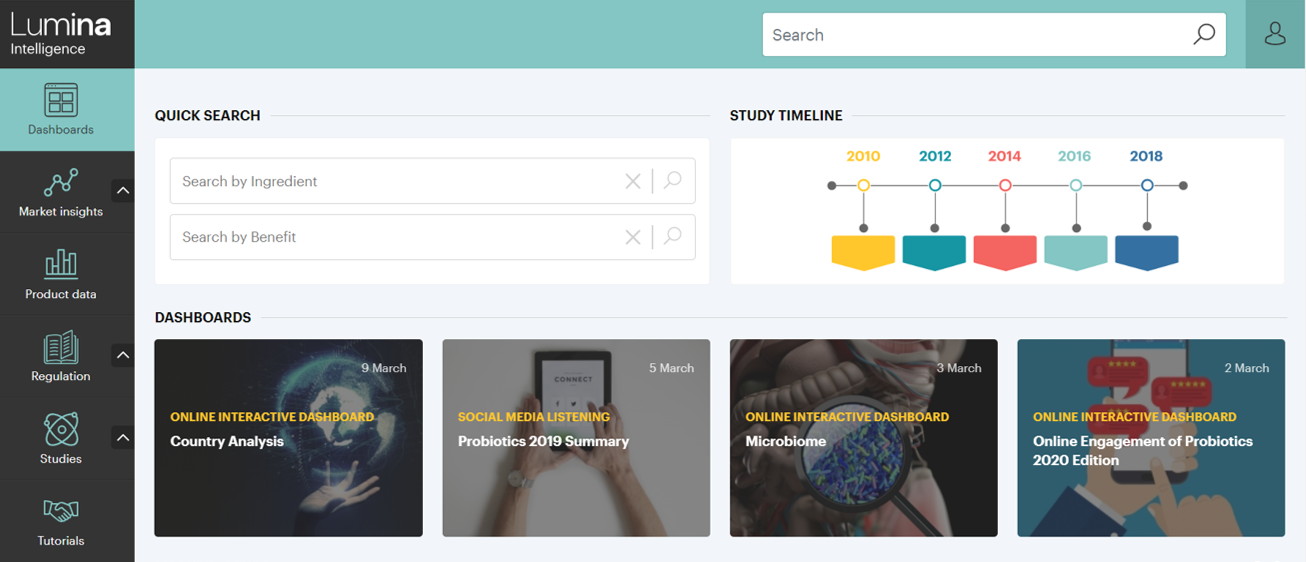 What else?
The latest update included all data, including customer reviews, star rating, questions answered and price. It also includes ingredients, dosages, health benefits, clean label and free from claims.
If you are already a subscriber to Lumina Intelligence Probiotics, you can start exploring this exciting data here.
View all our reports
See the range of reports we offer for the probiotics market including market overviews, deeper examinations of niche markets, country insights and more.