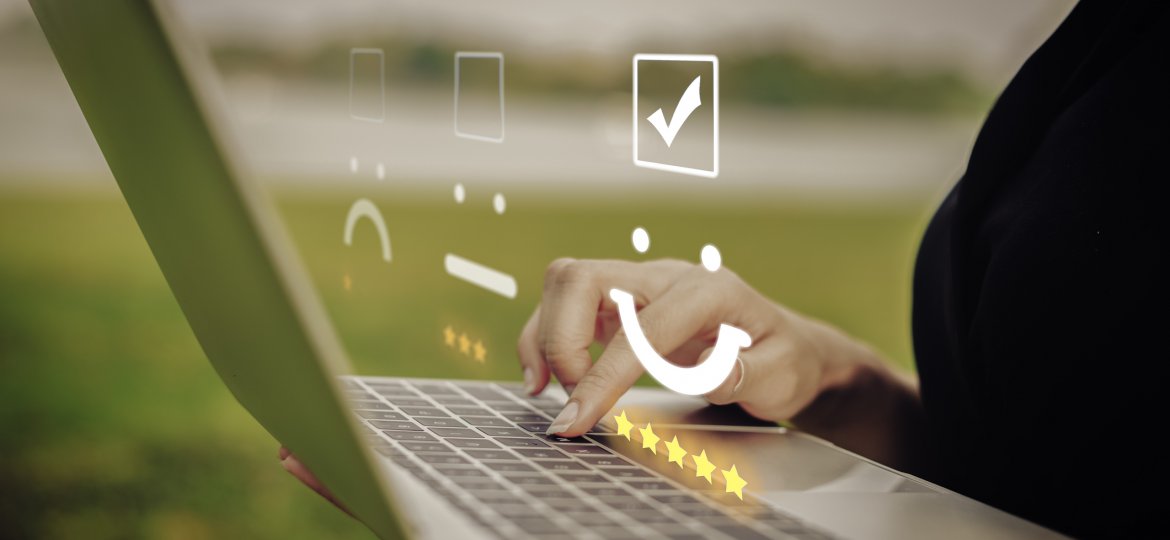 Online post-purchase reviews increasingly influence purchase decisions and allow consumers to research the efficacy of products and whether they bring the health benefits the products claim to other users. Acting as a digitised word-of-mouth, reviews are the new digital currency for measuring consumer engagement and sentiment. This guide examines why consumer reviews are so vital, addresses headlines regarding the prominence of fake reviews and provides actionable recommendations on how to get customers to leave reviews, both on own-company eCommerce websites and leading retailer Amazon.
Influencing consumer decisions
It's no secret that online reviews play an important role in customers' decision making, not only in the food and nutrition markets, but across all industries. According to Spiegel Research Centre, products with reviews are 270% more likely to be bought than products without (2017). Additionally, Testimonial Engine found that 72% of consumers will wait until they've read reviews before taking action on a purchase.
This is not hugely surprising in the domains of probiotics and sports nutrition, where key customer questions are not centred around the look or spec of a product but "Does it work?".
72%
of consumers will wait until they've read reviews before taking action on a purchase
Who better to answer this than other consumers who have purchased the product themselves? With Clavis Insights finding in 2019 that reviews can boost conversion rates by 50%, making sure your existing customers become brand evangelists can reap huge rewards in terms of generating new business.
A key benefit of reviews is the accumulation effect – an investment in reviews acts like digital equity that permanently stays with your product, raises awareness and influences consumers.
In short, positive and genuine online customer reviews:
Are vital to customer decision making.

Can increase the likelihood of customers taking action on a purchase.

Can increase your conversion rate.  
Product visibility
Another, possibly underestimated, benefit of online consumer reviews is the impact these have on your product's visibility and click-through in Google and Amazon's search engines.
Google
Whether you are selling your product on your own company's eCommerce site or a third party retailer, optimising your product page to appear in relevant searches is key for securing sales through this channel.
Keywords
Did you know that Google can crawl reviews on product pages? This improves your chances of ranking for keywords your target audience are actually using, particularly long-tail keywords, which often have a stronger commercial intent and better conversion rates. This is very pertinent to the nutraceuticals market where consumers are likely to be searching based on multiple attributes such as flavour, health benefit, ingredients, format etc.
Search Volumes: Selection of Probiotics and Sports Nutrition Keywords
Review data in rich snippets
Utilising good technical practices for Search Engine Optimisation (known as SEO – more on this later) means review data can be displayed alongside other product information on Google's search results page. These 'rich snippets' are shown to improve click through rate – and it's hardly surprising. Look at the below page of Google UK results for "Vegan protein powder" which has an estimated search volume of 7k in the UK alone (note that as this article addresses the effect of reviews on organic ranking, I've scrolled past the "paid" ads at the very top of the search).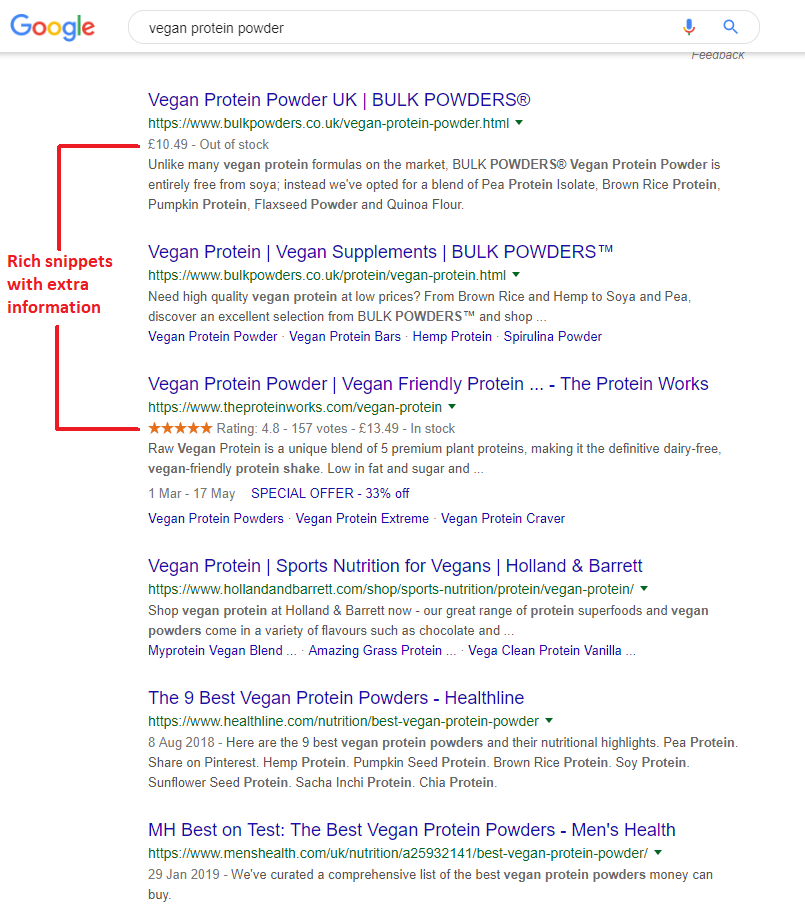 In this example we see that although the top result is a rich snippet it does not include review data (plus this extra information shows the product is out of stock) so the eye is naturally drawn to the third result from The Protein Works. Just from looking at the result I know the average customer star rating, how many reviews it has, the price and that it's in stock. Which result will I be more inclined to click on?
Amazon
When it comes to eCommerce, several consumer surveys have shown that Amazon is starting to seriously rival Google when it comes to search. One survey found that 46.7% of product searches start on Amazon, followed by Google with 34.6% (Adeptmind, 2018). However it's not as simple as just having a product page on Amazon – in 2019 Clavis Insights found that the minimum number of reviews needed for a product to be competitive on Amazon is 21, with an average rating of 4 stars or higher.
"Amazon's Choice" label
In 2018 Amazon rolled out "Amazon's Choice" – this label is applied to a product for particular search terms and is clearly visible in the search results.

Looking at the product page, you can also see the search term that the product receives the "Amazon's Choice" label for.

How do Amazon decide which product to pick? According to an analysis by Geekwire in 2018:
"The criteria vary by product, but based on those we've spotted, the formula gives heavy weight to average customer ratings of at least 4 stars, low return rates compared to similar products, popularity in Amazon search results, and eligibility for Amazon Prime delivery."
This increased visibility for just one product in a category is even more pronounced when you consider voice search. With Amazon's "Alexa" assistants surpassing 100 million sales in January 2019 and predictions that 55% of Americans will own a smart speaker by 2022 (OC&C Strategy Consultants, 2018) – any B2C business wishing to stay ahead of the curve needs to consider voice search in their future marketing strategy.
So what happens if a consumer uses Alexa to purchase probiotic supplements for kids? Alexa will suggest the product with the "Amazon's Choice" label – so long as there is a clear shopping intent in the user's search. We tested this out using the echoism.io's Alexa Simulator (see video below) – to draw comparisons with the above example we asked her to "buy probiotics for children".
1 in 4
online shoppers use voice assistants on their mobile to shop and 8% use devices like Google Home and Alexa (Narvar, 2018).
As you can probably guess, it was Intelligent Labs' product that she recommended and even asked if I wanted to add it to my basket there and then.
TRANSCRIPT OF VIDEO:
User: "Buy probiotics for children."
Alexa: "Amazon's Choice for 'probiotics for children' is '6 Billion CFU Intelligent Labs Kids/Children's Live Cultures and Fibre'. It's £19.99 on Amazon – would you like to add it to your basket?"
User: "Yes."
Alexa: "Sure, I've added a choice for 'probiotics for children' to your Amazon basket. Review and checkout your Amazon basket in the Amazon app."
In short, positive and genuine online customer reviews:
Boost your visibility in both Google and Amazon searches.

Can increase click-through rate to your product page from Google when rich snippets are applied.

Make your product more competitive on Amazon and help to put it in the running for the coveted "Amazon's Choice" label.
Fake reviews
In early 2019 there's been considerable press coverage around fake consumer reviews. Much of this came as a result of an investigation by product testing and reviewing company Which? in late 2018. Although fake reviews certainly are an issue on eCommerce sites, the rise of online shopping in the last few years on top of this recent coverage has created a shift in attitude regarding regulation and prosecution. In 2017 Chinese online retailer Alibaba won a landmark case against a seller fabricating transactions and reviews on their platform – the seller was ordered to pay $41k to Alibaba.
Although fake reviews are thought to be more prominent among gadgets, at least one nutraceuticals company have felt the force of the law for using them. In early 2019, the Federal Trade Commission brought its first case against Cure Encapsulations Inc., who made false claims about a weight loss supplement and paid a third-party website to post fake reviews on Amazon.
The legal consequences are becoming much more serious for those trying to fool consumers with fake reviews. Additionally Amazon's rules, regulations and punishments for abusing their review system have taken a harder line than in previous years. A page on Amazon's seller help centre states (source):
"

If we detect any attempts to manipulate customer reviews, we take immediate actions that include, but are not limited to:

Immediate and permanent withdrawal of the seller's selling privileges on Amazon and withholding of funds.

The removal of all the product's reviews and preventing the product from receiving future reviews or ratings.

Permanent delisting of the product from Amazon.

Legal action against the seller, including lawsuits and referral to civil and criminal enforcement authorities.

Disclosing the seller's name and other related information publicly.

"

– Amazon Seller Help Centre
The most perplexing thing about businesses who believe fake reviews are a fast way to generate more genuine sales is that they're basically wrong. As long ago as 2013, before fake reviews hit the spotlight, a study by Reevoo found that 95% of consumers get suspicious of a product with no bad reviews scores at all. In fact, a more recent survey suggested that 82% of shoppers specifically seek out negative reviews to help them make purchasing decisions (Power Reviews, 2017).
Where there's a problem facing a massive cross-section of consumers, empowering solutions are never far behind (see price comparison websites, Uber, Deliveroo). An increasing amount of free-to-use tools such as Fakespot are empowering consumers by allowing them to check the reviews of products for fakes before making a purchase. In Fakespot's case they will give the product a grade between A – F and even provide an 'adjusted' rating taking into account the amount of deception in the product's review section.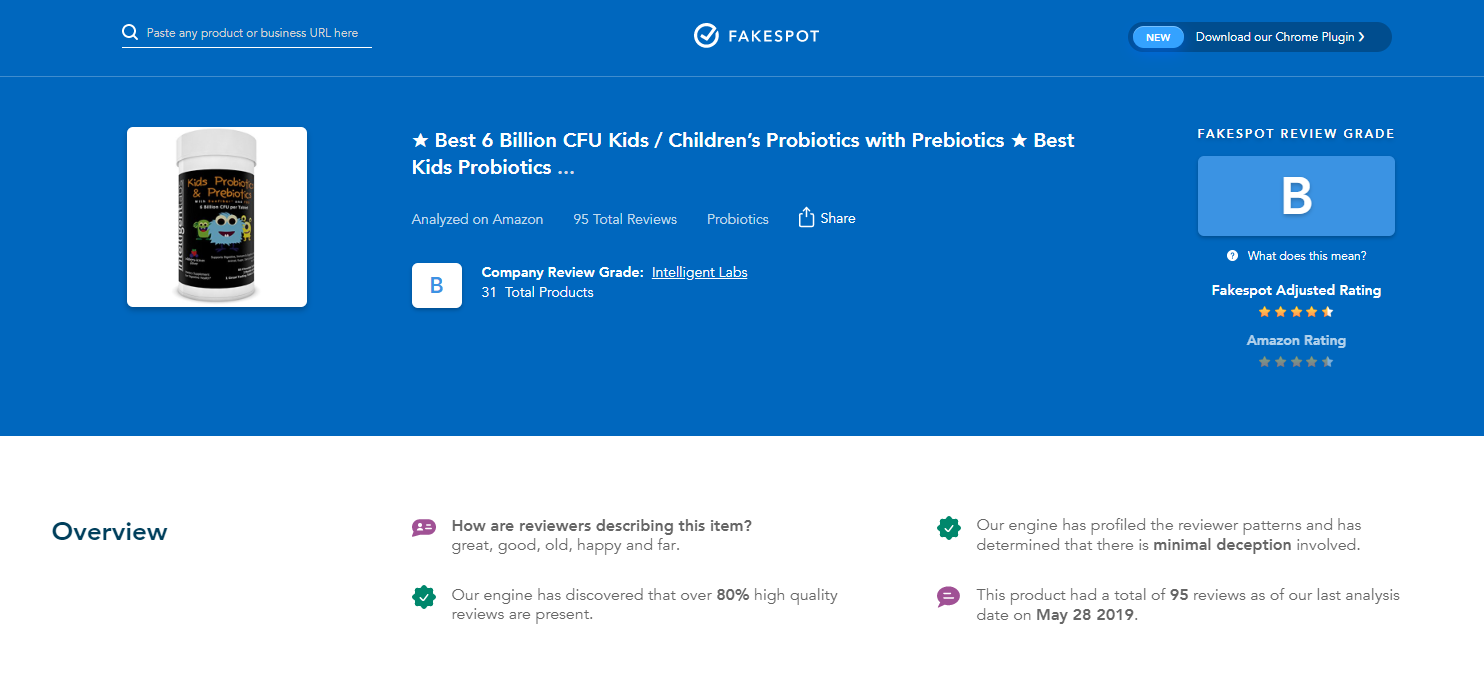 In short, fake reviews do exist, but:
Businesses stand to face more severe commercial and legal consequences for utilising them.

Consumers are generally suspicious of products with no bad reviews, and stand to become even more aware of the signs of fake reviews with increased press coverage.

Tools allowing consumers to check for fake reviews as part of their purchasing decision decrease the return businesses are likely to get from deceiving them.

Guard your brand's credibility by only selling your products through retailers that have strong protections for ensuring legitimate reviews.
Reviews can aid product development, competitive analysis
As well as influencing consumer decision making and increasing visibility of your products, review data can provide valuable insight to aid new product development and competitive analysis. Lumina Intelligence collects review data for the best selling products in Sports Nutrition and Probiotics from the leading 9 online retailers in 20 countries, as well as formulation and labelling data for those products. Below are just a few examples of this.
Consumer engagement data
What ingredients, health benefits, product categories etc are on the rise? If I was a relatively new Sports Nutrition brand in the US and wanted recommendations for which category to launch my next product in, charting the number and average score of reviews would quickly tell me what product types receive the most consumer engagement.
Sports Nutrition – Average number of reviews and average score by product type, US
PROBIOTIC E-COMMERCE REPORT
Market size, market share for top brands, breakdown of major e-retailers and analysis of brand-by-brand marketing strategies.
Brand positioning
How are your competitors using labelling to resonate with consumers? The chart below shows the growth in reviews for probiotics broadly supporting women's health (but not targeted specifically at women), split by health benefit. Although probiotics dealing with constipation got the most reviews overall, we can see that reviews for probiotics dealing with IBS have grown by a whopping 231%*. Despite being very niche this is clearly a high-growth area – were I launching a new product that I wanted to target women with, it would definitely be worth considering formulating it to relieve symptoms of IBS and communicating this on-pack.
Probiotics supporting broader women's health – Consumer engagement by health benefit
Formulation
Which ingredients underpin successful products on the market? Aligning review data with product formulation data means particular ingredients can be plotted against the consumer engagement they received. The below example from Lumina's Sports Nutrition data shows that when it comes to botanicals Alfalfa received the highest average number of reviews per product, although others such as Garlic received a higher average score.
Sports Nutrition – Average number of reviews and average score by botanical
In short, review data – in combination with formulation and labelling data:
Can help businesses identify emerging trends that resonate well with consumers, down to particular health benefits, ingredients or labelling.

Can provide a snapshot of competitors, how they position their products and whether this goes down well with end-users.

Can pinpoint specific rising stars in ingredients and compare the prevalence of these in the market against the reception from consumers.
How to get customers to write online reviews
Before you can use critical insights from review data, your product needs to have reviews in the first place. Understanding the needs and wants of your target audience and making sure that your product page is optimised to appear in Google and/or Amazon's search engines is a great first step to achieving this. You also need to make sure you encourage customers to leave reviews and engage with them through responding to reviews and answering questions.
Although this chapter goes into particular techniques for optimising your product pages, it only scratches the surface of what you can do to guarantee success. There are plenty of in-depth resources out there, especially on the finer points of Search Engine Optimisation (SEO) – we referenced some at the end of the article.
On your own eCommerce platform
If you want customers to find and leave reviews on your own-company product page you must ensure that your on-page and technical SEO is in order. But first you need to understand what your customers are searching for online and the language they are using.
Understanding your audience using SEO
What are your potential customers actually searching for? Are there particular health claims or ingredient information you should put at the forefront of your product description? You don't need to be an SEO whizz with an arsenal of marketing tools at your disposal to find this out. Some valuable insights can be obtained simply from the Google search bar – which will provide "predictions" based on popular searches when you begin typing.

Recommendation: Health benefits are of utmost importance to this target audience. Therefore any company creating a product page for a probiotic targeted at children should clearly state the main health benefit, preferably in the title of the page, as well as throughout the description (subject to regulatory constraints in the country).
Google's related searches (visible at the bottom of the search results page) can also help companies work out particular niches in language to aid writing product descriptions.

Recommendation: More consumers looking for protein powders use the terms "weight loss" or "weight gain" over words like "slimming" or "bulking". Consumers are interested in the benefit of these products but also the type of protein. If a company were also considering selling their protein powder via third-party online retailers, the above also gives an indication of the most popular sites for this.
Related searches can also throw up some surprises in terms of consumer language that may not align with terminology used within the industry.  

Recommendation: In the above example "women's ph balance" appears to be a paraphrasing of the slightly more jarring term "vaginal health", rather than referring to ph in the stomach (which would be the expected meaning in the context of probiotics). Any business creating a product page for a probiotic addressing this health concern should use the term "ph balance" at least a couple of times to maximise the chance of their product appearing in these searches.
Product pages are everything
Once you understand the language your potential customers are using and what keywords to zone in on you need to create a detailed product page that will be received positively by both Google's crawlers (so your product page ranks for your selected keywords) and your audience.
There's a few basic principles that are a must-have if you want to do this.
Layout:

The layout of your product page should be easy to navigate and optimised for desktop and mobile.

Different flavours/weights/capsule number: Preferably these options should all be available to choose from on one page, rather than having multiple pages for exactly the same product in different variations.
Description:

Make your product description lengthy and

unique

. If your site has multiple pages with identical descriptions Google will penalise you. This also stretches to pages for identical products on Amazon or other third party retailers – so make sure your page on each of these different sites has at least some unique content that does not appear on the others.

Images/video:

Your product should have multiple, high-res images available and if possible a product-specific video. For nutraceutical products you should try and include the front of the packaging, the back of the packaging, an image of the nutritional information and, if possible, an image showing the size or dimensions of capsule/tablet (if applicable).

Reviews: The whole point of going to all this effort is to make your product page easily discoverable in Google and generate consumer reviews to further improve this visibility and consequently your sales. Make sure your product page is set up so Google can crawl your reviews easily for extra keywords and information.
Technical Aspects
As well as ensuring all the above on-page practices, you need to make sure your product page, and eCommerce site as a whole, is technically sound. These elements are slightly more complicated, so it's advisable to hire someone with proven success in optimising for eCommerce.
Schema.org:

As pointed out earlier in this guide, search results with rich snippets enabled can benefit from improved rankings and a better click-through rate than those without. Below is an example of how this looks in the product page's source code.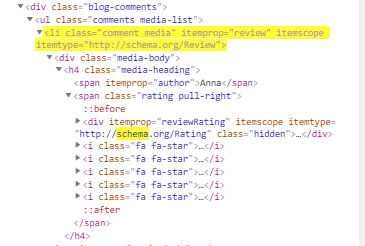 Automated emails:

A study by

Power Reviews

in 2017 found that up to 80% of reviews originate from follow-up emails urging shoppers to review their purchases. Ideally you should try and put an automated system in place to do this for you.

Best practice throughout your website:

It's really important that your whole website has a sound technical layout to maximise the visibility of your product pages. This includes but is not limited to: a clear website structure, clean URLs, internal linking, optimised page title and meta descriptions and use of canonical tags where there are pages with filters or possible duplicate pages.

Protect your reviews:

Once you have reviews on your product page you need to make sure they stay there permanently. Precautions must be taken to do this if product page URLs need to changed or if one develops an error.
In short, for product pages on your own-company eCommerce site:
Use keyword research to understand the search terms your target audience are using most often.

Ensure your product page is unique and informative.

Make sure your technical SEO is up to scratch, both on your product page and across your whole website.
On Amazon
A key benefit of using a third-party retailer like Amazon to host your products is that a lot of the technical aspects are already taken care of. That said, some of the on-page advice from the above still stands. You can still use Google's search predictions to understand your audience, as well as Amazon's:
Search bar predictions when user starts typing "probiotics for children"

This often will provide you with different insights. For example, although the most common searches on Google for probiotics for children related to health benefits, it seems that consumers on Amazon search more for particular formats or brands. You need to consider which search engine you want to optimise most for.
It's also vital that your product description is unique – especially if you have the same product hosted on your own eCommerce website. As with own-company website product pages, lots of images and, if possible, a product-specific video will further enrich your page. There are also some best practices specific to Amazon.
Title
According to Amazon's suggested best practices, your title should look to include things like brand, brand variant, key features, type of product, size, flavour and quantity. You should also seek to include additional keywords that your target audience are using. Going on the above example, if I was creating an Amazon product page for a probiotic targeted at children I would definitely include the format of the probiotic in the title (drops, gummies, powder etc). The order of these different keywords in the title also have an impact on ranking – it's up to you to determine what works but Amazon does suggest leading with your brand name.
It's equally important to not stuff every single product detail into your title. Fortunately Amazon have provided a field for "backend keywords" where you can do this without making your product page look horrendous to your potential customers. This field is available when your create your product page in Amazon Seller Central.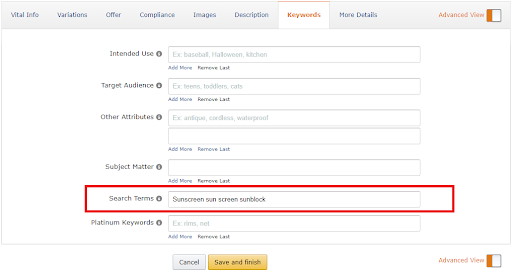 Interact with your customers
Whether on your own-company product page, Amazon or both – responding to reviews and answering questions demonstrates a good level of customer service to those browsing your page. You should seek to address any negative reviews quickly and honestly, and provide additional product details if requested. However, you should beware of endorsing reviews from consumers containing claims that are illegal in the country you are selling in. Make sure whoever is responsible for interacting with customers on these platforms is aware of regulations for using particular claims or terms when marketing nutraceutical products.
In short, for product pages on Amazon:
Use keyword research and Amazon's own search bar to understand what attributes are most important to your target audience.

Make sure your title includes at least the basic data suggested (plus some from your keyword research) and utilise the backend keywords field in Amazon Seller Central.

Demonstrate good customer service to potential customers by interacting frequently with reviews and questions.
Examples of good product pages
An apt way to bring this guide to a close is to look at relevant examples of product pages that meet and sometimes exceed best practice. Unsurprisingly these products have attracted a high number of reviews and average product score.
This product ranks extremely well organically (position #1 or #2) for the search term "probiotics for women" (which receives approximately 1000 searches a month in the UK alone). Why?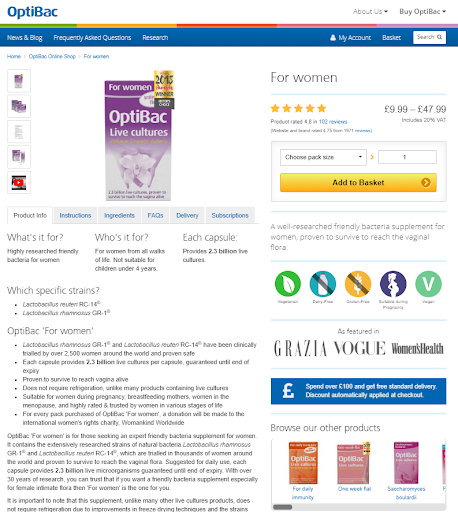 Product page is laid out clearly and optimised for mobile.

Review data for both the product and the company are readily available and displayed at the top of the page.

Reviews are also listed at the bottom of the page (not pictured) and therefore easy for Google to crawl.

Page is marked up with schema.org product data resulting in detail on search engine result (highlighted below).

Clean website structure and URL.

Uses the same language that consumers do when searching e.g. "ph" and "natural".

Multiple images and a product specific video.

Product sold both on own-company platform and Amazon but each page contains unique content that does not appear on the other.
Bulk Powder Pure Whey Protein Powder (Amazon)
This product ranks top for "chocolate protein powder" (approximately 1,300 searches per month in the UK alone) on Google and is "Amazon's Choice" for "protein powder chocolate" (at time of writing).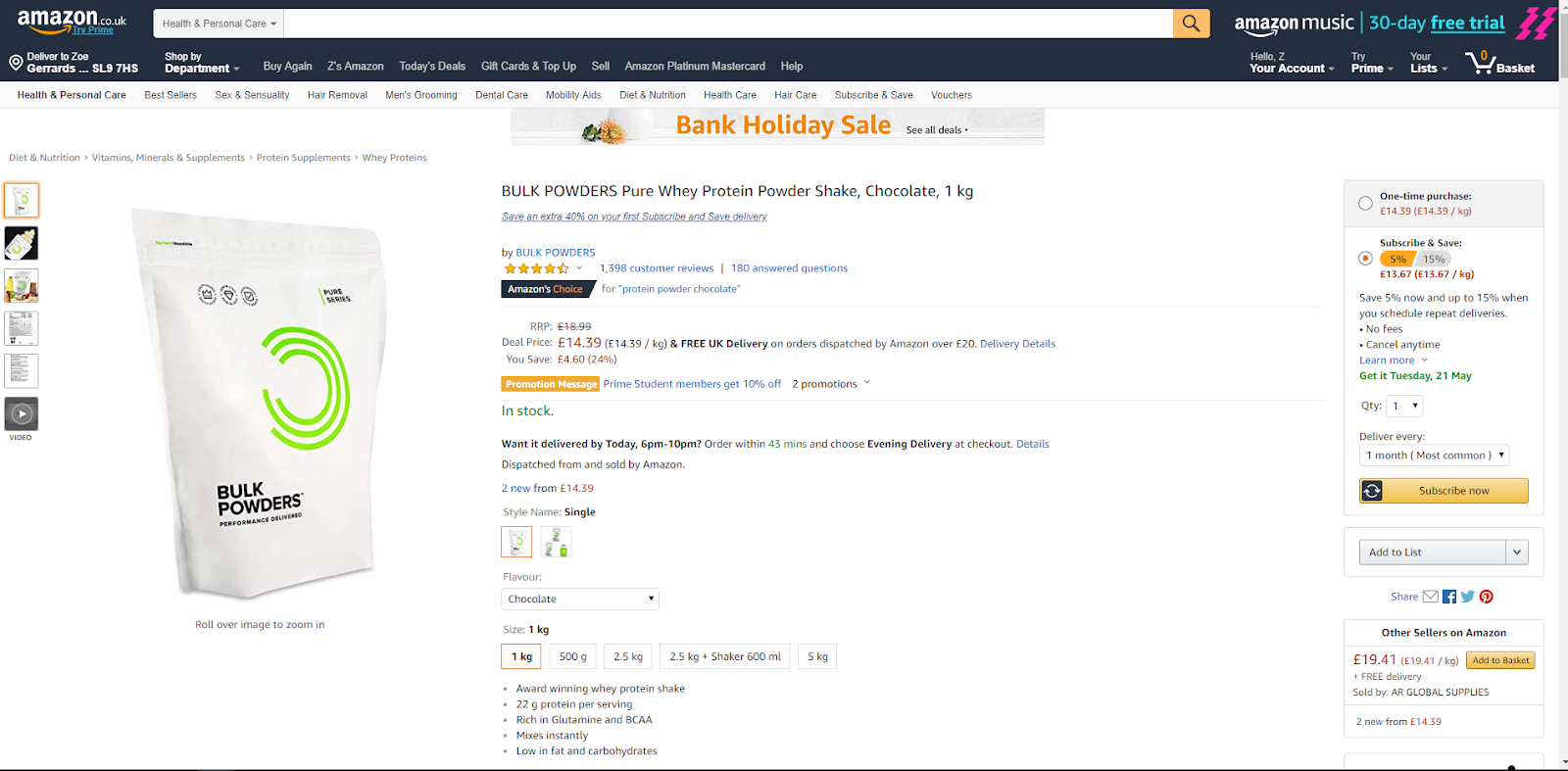 Over 1,300 reviews with average rating of 4.3 starts.

Title includes brand (first), protein type, product type, format, flavour and weight.

A variety of size, flavour and bundle options all hosted on the one page, rather than multiple single pages. As a result ranks as "Amazon's Choice" for other flavours (e.g. banana) as well.

Large, detailed product description covering key things for consumers like benefits, protein source and flavours.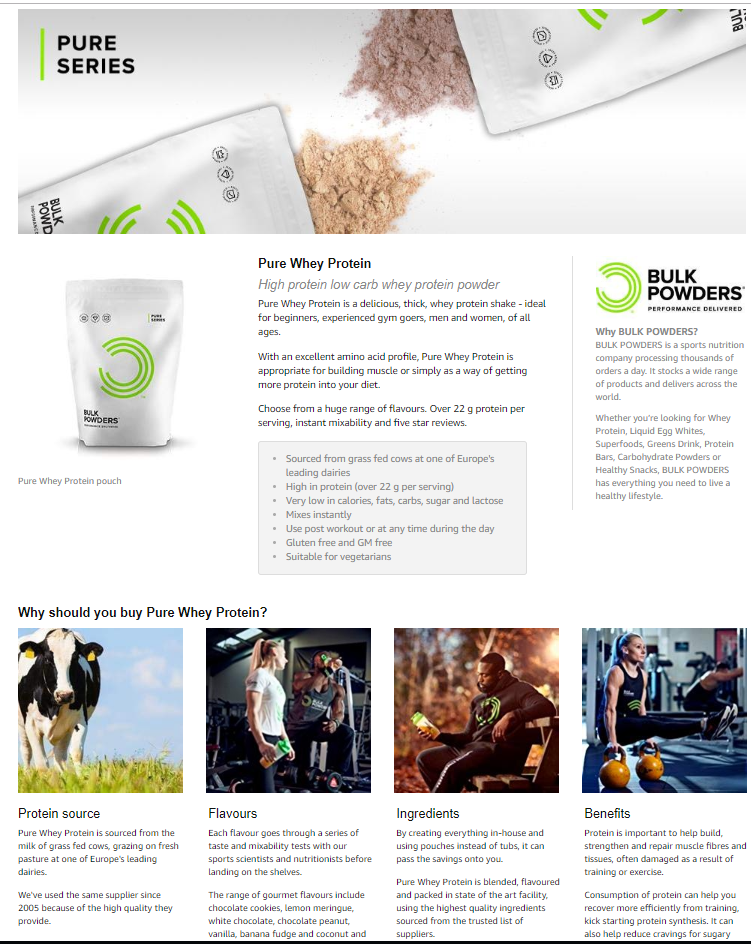 Although not any sort of ranking factor, it's interesting to note that the product receives an "A" grade (minimal deception) on Fakespot.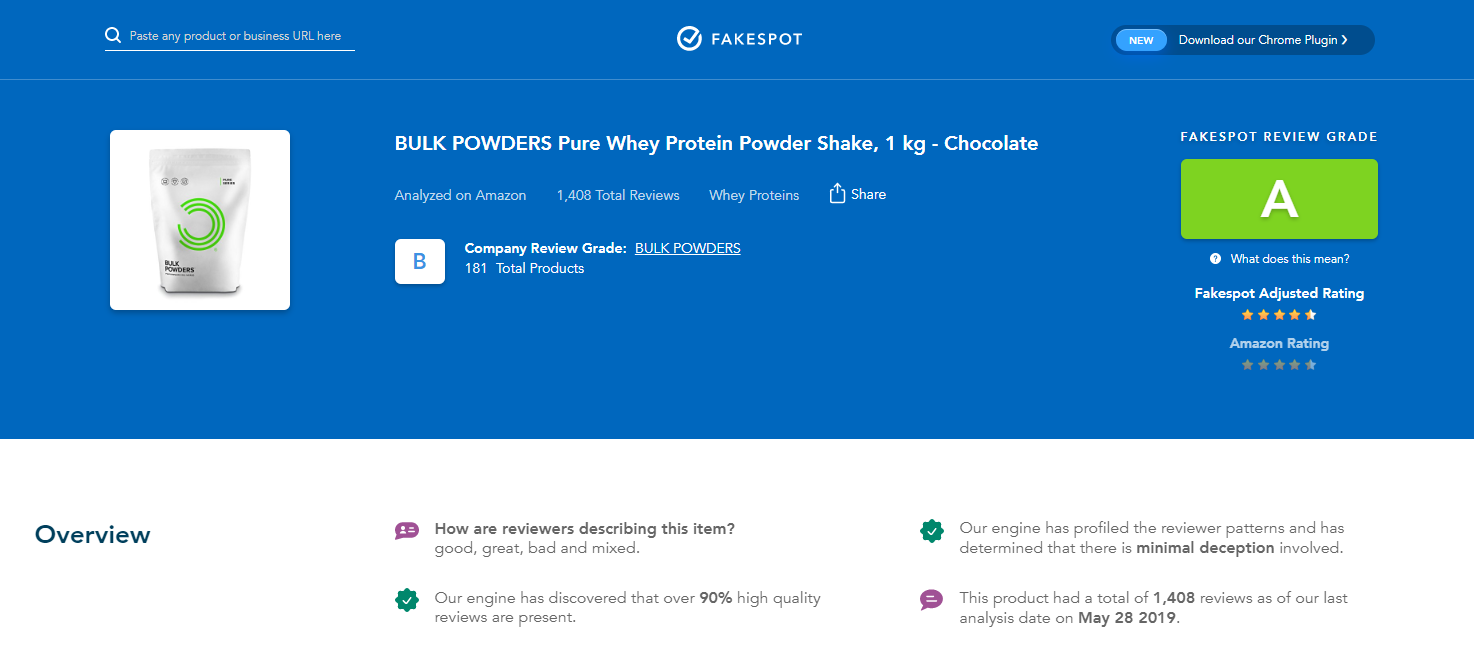 Conclusion
Although fake reviews receive media attention on occasion, it would appear the benefits of genuine and positive online reviews from customers heavily outweigh this. This guide has attempted to demonstrate the importance of reviews for influencing consumer purchasing decisions and product visibility.
Ultimately, ensuring your product pages follow suggested best practices is an essential first step for kick-starting the sales and feedback loop that will generate reviews and sales. Investing the time and money to create product pages that go above and beyond could provide an extremely healthy return on investment in the long term.
*Data taken from 19 countries: Australia, Belgium, Brazil, Canada, Finland, France, Germany, Italy, Japan, Mexico, Poland, Russia, South Africa, South Korea, Spain, Sweden, Taiwan, United Kingdom, United States.
View all our reports
See the range of reports we offer for the probiotics market including market overviews, deeper examinations of niche markets, country insights and more.