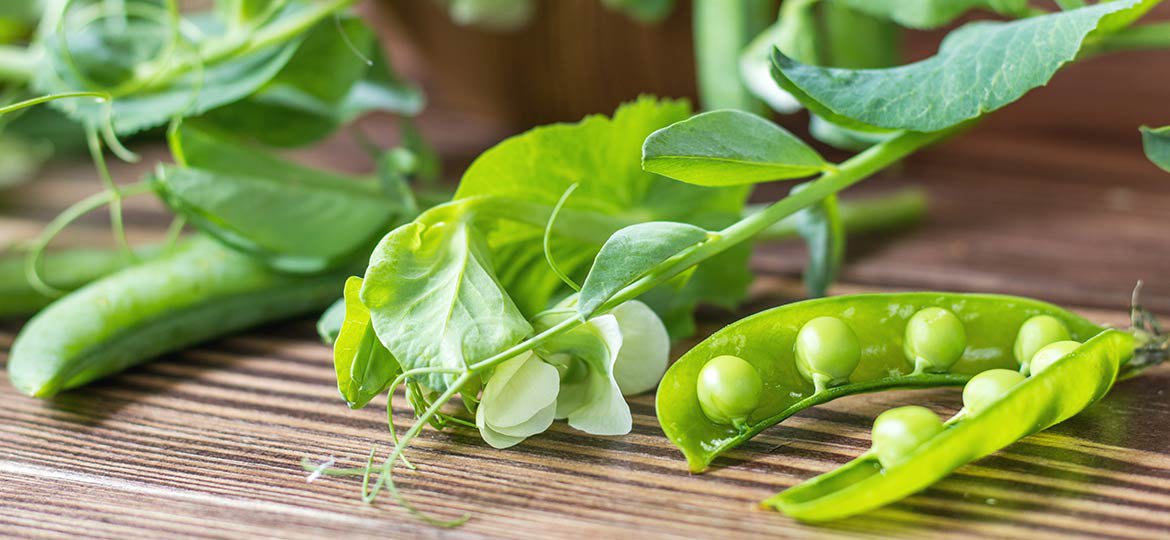 Protein powders once had two clearly defined target groups: convalescent people, who were prescribed or recommended these products by their doctors, and serious athletes – especially body builders – whose core objective it was to pile on muscle. In recent years, a major shift has taken place and protein powder products have conquered the mainstream, where they continue to assert their relevance to new target groups by addressing a much wider range of health benefits and consumer preferences than ever before.
Lumina Market Intelligence's sports nutrition data captures over 2,600 unique brand variants and 750 distinct brands across 20 countries, and provides valuable strategic insights based on the systematic mining of online product reviews. In this article we take a look at the evolution of the protein powder market, including the rise of plant proteins, and identify a number of fledgling trends revealed by our research.
Leading protein powder brands, ranked by online consumer reviews
The world's leading protein powder brands, ranked by online consumer reviews are led by MuscleTech (Iovate Health Sciences International Inc) with over 236 thousand reviews, followed by CPT (Beijing Competitor Sports Science&TechCoLtd), Optimum Nutrition (Optimum Nutrition Inc), GymMax (By-Health) and MusclePharm (MusclePharm Corporation).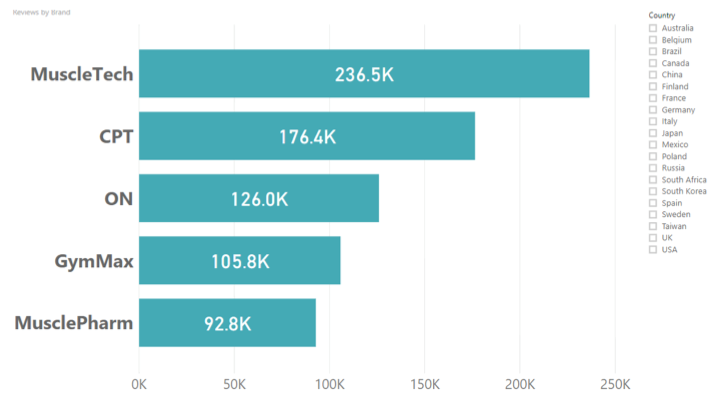 Regional Analysis
Zooming in on the regions, Europe is led by Myprotein (The Hut Group Ltd) with 73 thousand reviews, Optimum Nutrition is the absolute leader in Americas, and Asia and Australia are led by Iovate Health sciences' Muscle Tech.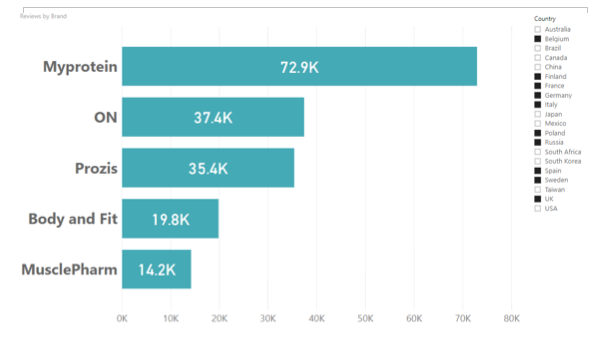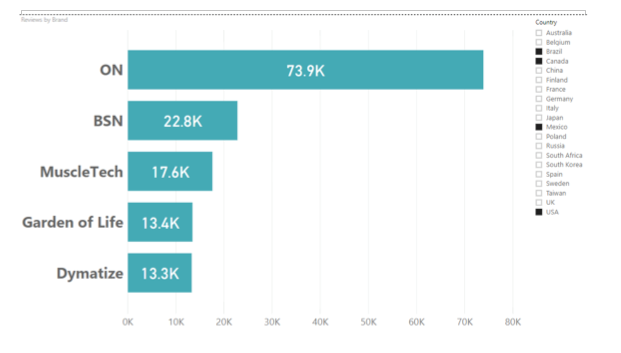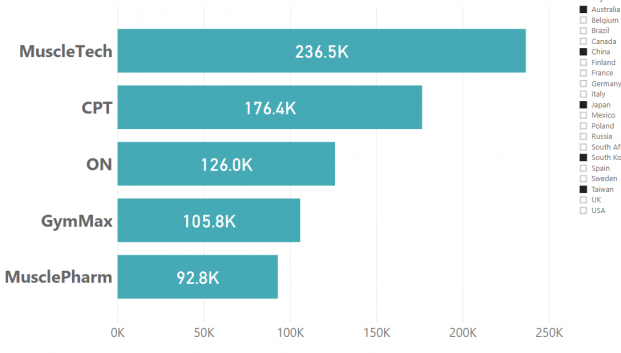 Whey Protein Statistics and Market
At present, animal-based protein powders still dominate the market, accounting for three quarters of protein powder products analysed by us. It is worth emphasising that there is a marked (though not absolute) dichotomy between animal-based products, which tend to be aimed at the traditional target audience of predominantly male athletes on the one hand, and plant-based products, which have a much broader, more mass-market appeal, on the other.
As illustrated in the pie chart below, three quarters of the protein powders reviewed by us are based on animal-derived proteins, compared to a share of just 15% that are plant-based. Mixed products, which combine plant and animal proteins, make up a smidgen less than 10%. The bar chart on the right shows that of the top performing protein powder brands, only the two coloured in turquoise have plant variants in their ranges.
View all our reports
See the range of reports we offer for the sports nutrition market including market overviews, deeper examinations of niche markets, country insights and more.
What's so great about animal proteins?
For those focused on boosting their muscle mass, animal proteins exert unrivalled attraction. Whey, a by-product from cheese making, is the premier source of protein ingredients destined for the sports nutrition market, followed by casein, another dairy protein (see chart below).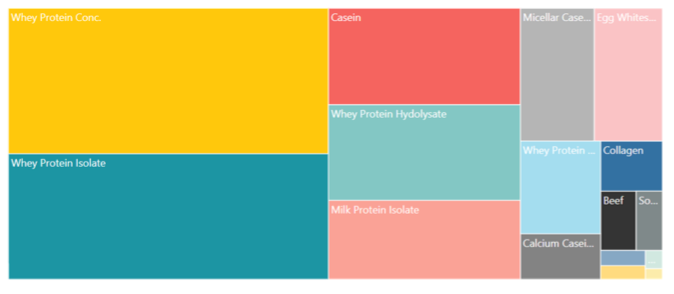 Whey is still very much a growth market: According to Statista, the whey protein market was worth U$9.4 billion in 2017, and this is projected to rise to US$14.5 billion by 2023. Rising demand for sports nutrition products and its value as a clean label ingredient are two important factors driving this growth.
Whey has several key advantages over soy, historically its number one plant-based rival. For starters, whey protein is absorbed much faster. It is also a rich source of cysteine, an amino acid thought to prevent post-exercise muscle fatigue. Furthermore, whey protein has a much higher content of branched-chain amino acids (BCAAs), which help reduce protein degradation during heavy exercise as well as boosting muscle synthesis. BCAAs are also required for making glutamine within the muscle, which is its primary fuel.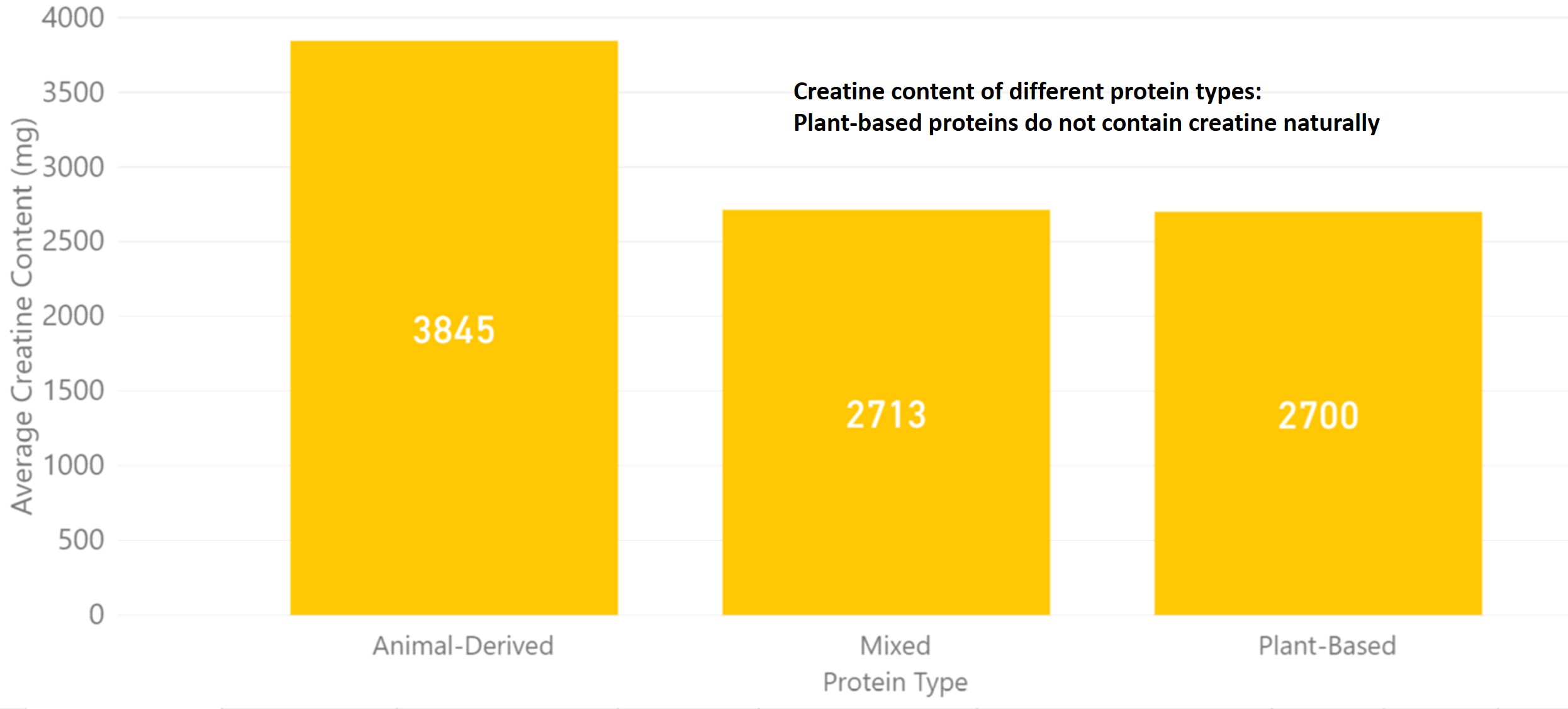 The bottom line is that animal-protein-based powder products will always play an important role in the sports nutrition market. Although not strictly necessary from a purely nutritional point of view, animal proteins are closer – if not identical – to the proteins found in the human body, which means that, after having been absorbed from the digestive tract, they require fewer intermediate conversion steps before they can be put to work. This makes them more "efficient," particularly for muscle building.
But it's no longer all about packing on muscle!
Despite animal proteins' merits in the muscling-up arena, when it comes to overall health, it is plant proteins, which appear to have the edge. There is a huge body of research showing that a largely plant-based diet is the best way to prevent chronic disease, including diabetes, cardiovascular disease and also certain cancers.
The main reason why protein powders have moved into the mainstream in the first place is that it's no longer just about growing a bulging pair of biceps. Instead, today's consumers are looking for a much more diverse range of benefits. Following a plant-based diet – or at least reducing the intake of animal-derived foods – is a new aspirational ideal in the pursuit of health & wellbeing as well as ethical and sustainable consumption. And with the high protein trend still in full swing, plant-based protein powders are the perfect solution for many.
These two charts illustrate that plant-based protein powders offer a distinctly broader spectrum of health benefits than protein powders overall, a category still largely dominated by animal-protein-based products.
Plant Protein Market: Pea vs Soy
As already pointed out, soy protein used to be the chief plant-based protein used in the sports nutrition market. This is because, besides being very cheap to source, it is one of the few plant proteins considered "complete," meaning that it contains all of the nine essential amino acids which the body cannot synthesise and which have to be taken in through the diet.
However, soy has been suffering from a loss in popularity owing to three main reasons:
It may cause hormonal imbalances:

Soy is naturally rich in phytoestrogens (plant-based compounds that can behave like the hormone oestrogen). A few studies have suggested that a high intake of soy could cause a drop of testosterone in males and increase body fat at the expense of muscles. Although many studies contradict this, male body builders, in particular, remain wary of soy.

Allergenicity:

Soy counts among the eight most allergenic foods

Poor reputation in terms of sustainability:

Soy is widely considered a "GM crop that is destroying the rainforest"
As soy is falling out of favour with both serious athletes and mainstream consumers, other plant proteins are taking its place. Pea protein is the number one contender, as illustrated in the chart below. In fact, our research shows that in the US, where 22% of protein powders are plant-based, pea protein is present in 80% of them, compared to just 12% for soy.
A recent PR Newswire report attests to pea protein's buoyant growth trajectory, projecting a CAGR of 17.4% – more than triple that of soy protein – to reach a value of U$313.5 billion in 2025.3 Not having been tarred with negative associations, neither in terms of health nor sustainability, is clearly pushing pea protein ingredients' dynamism.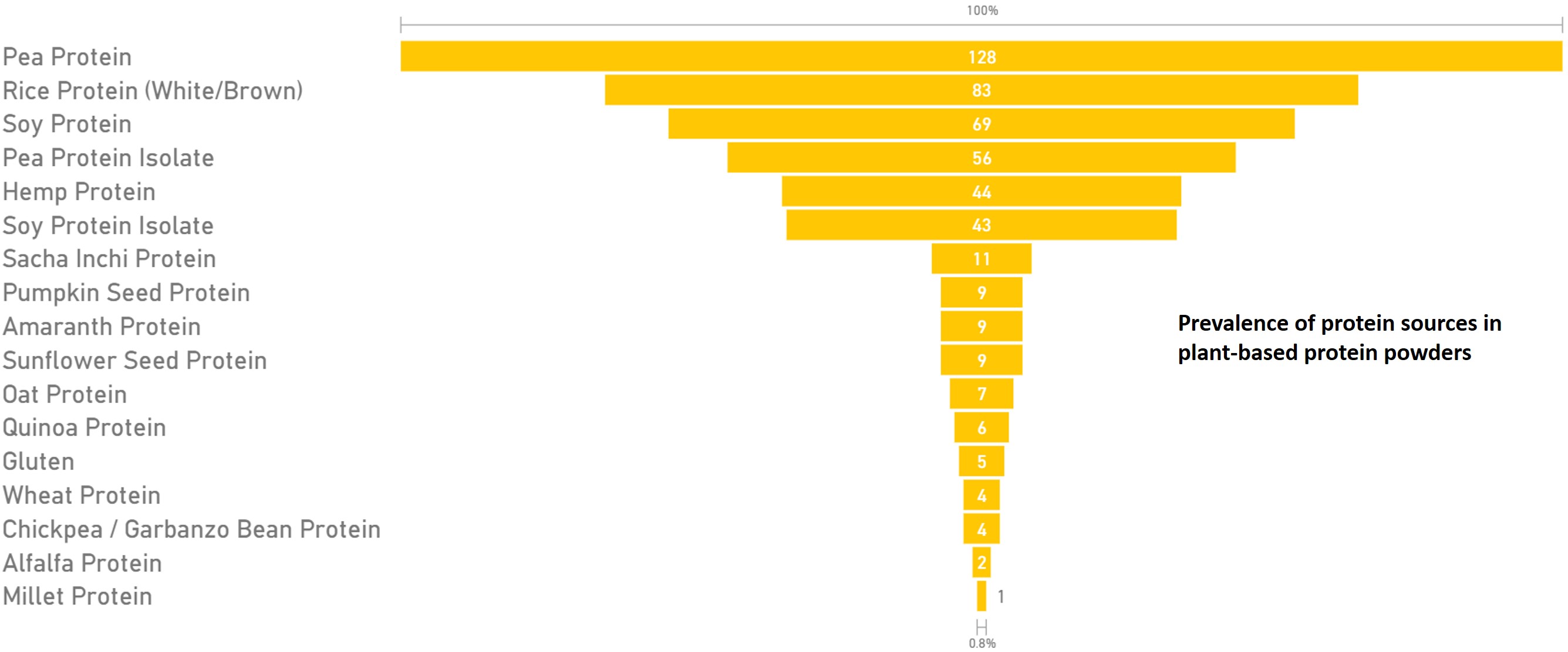 Plant Protein: Achieving the Perfect Amino Acid Profile
Like most plant proteins, pea protein is not a complete protein, and even those few that are, like soy, hemp and quinoa, have amino acid profiles that do not match those of animal proteins. This seriously is their popularity with those nutrition-savvy consumers who take their sporting pursuits very seriously.  
The industry, inventive as ever, has found a solution to this problem, namely the blending together of different types of plant proteins. From our research, analysing the back-of-pack information of more than 1,600 protein powders and logging the average amounts of advertised amino acids, we found that manufacturers had managed to almost equalise the amino acid profiles of their plant-based products with those of animal origin, as evident in the following chart.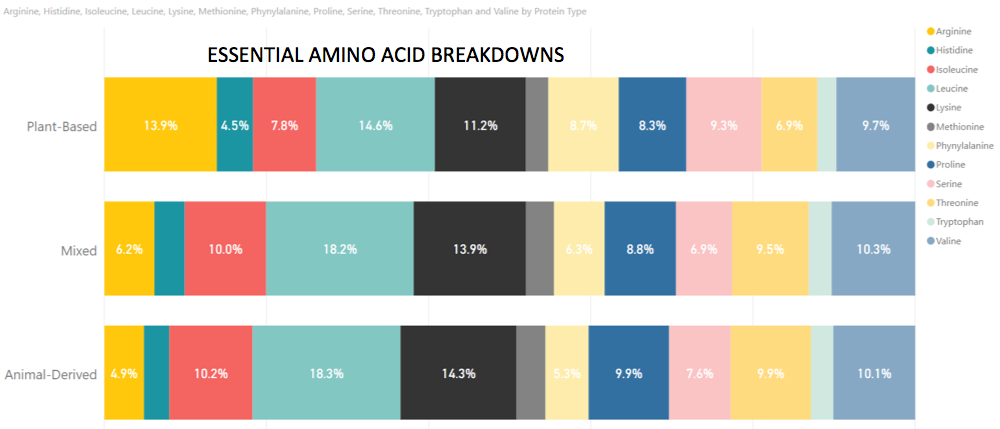 Online review data shows: consumers less happy with plant protein powders
As promising and appealing as plant proteins may appear in today's mass market environment, our research reveals that consumers are less enthralled with them than manufacturers might have hoped.  
Lumina Intelligence captured customer review data from the top nine online retailers across the most important sports nutrition markets. The chart below illustrates that, despite manufacturers' efforts to perfect the nutritional and functional profiles of these products, plant protein powders are still performing worse than those derived from animal proteins, both in the number of online reviews and the scores achieved.
It would appear that, despite continuous improvements in blending and flavour masking technologies, many taste and texture problems remain, resulting in consumer disappointment when switching from animal to plant-based formulas. This indicates that there is still a great need for NPD if plant protein brands want to succeed in fulfilling consumer expectations.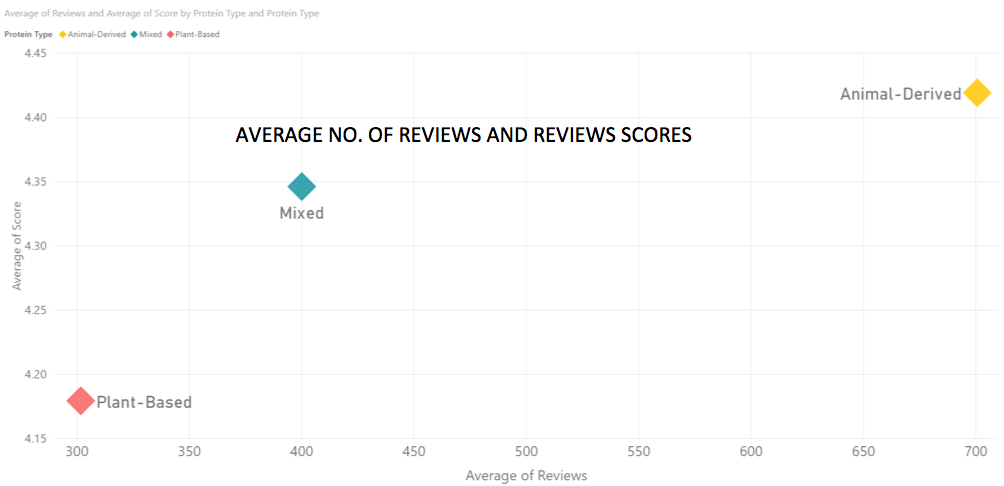 Future Outlook
So, how is the protein powder market going to develop in the future? We have identified the following trends from our research:
Drive towards personalisation: We expect to see a rise of a new generation of customisable protein powders, distributed through the online channel, catering for all manner of individual health concerns, including allergies and intolerances, and other personal preferences in terms of ethics, sustainability, provenance, etc. The facts that protein powders have a long shelf life and that they can be more economically priced when purchased bulk make the category ideal for personalisation.
Hemp predicted to rival pea protein: Although pea protein is currently still very much the rising star, hemp is superior in several respects. First of all, unlike pea protein, hemp yields a complete protein containing all nine essential amino acids. Hemp's bioavailability and digestibility are also excellent and it is unlikely to cause bloating – an issue, which proteins derived from pulses still tend to struggle with. In addition, hemp protein is much more versatile than pea protein owing to its much more subtle, unobtrusive flavour profile.
Addition of botanicals for differentiation: Our research indicates that the use of botanicals (herbs and spices, etc) remains very much underexploited in protein powder products. On the back of the clean label trend, botanicals, many of which offer health benefits that are highly relevant to sports nutrition objectives, have much potential in the areas of product differentiation and adding value. Ashwagandha (Whithania somnifera), golden root (Rhodiola rosea) and turmeric (Curcuma longa) are among the most promising future ingredients.
Growth in child-targeted plant protein powders: Across Europe and North America, cow's milk has traditionally been favoured as promoting healthy growth in kids. However, as milk's reputation as a health food is increasingly being called into question, a situation further compounded by animal welfare concerns. Consequently, a growing number of parents, many of whom are themselves dairy avoiders, feel uncomfortable giving milk to their kids and are looking for alternatives. Our research shows that child-targeted protein powders are now starting to carve out a segment for themselves, answering to this need.
View all our reports
See the range of reports we offer for the sports nutrition market including market overviews, deeper examinations of niche markets, country insights and more.