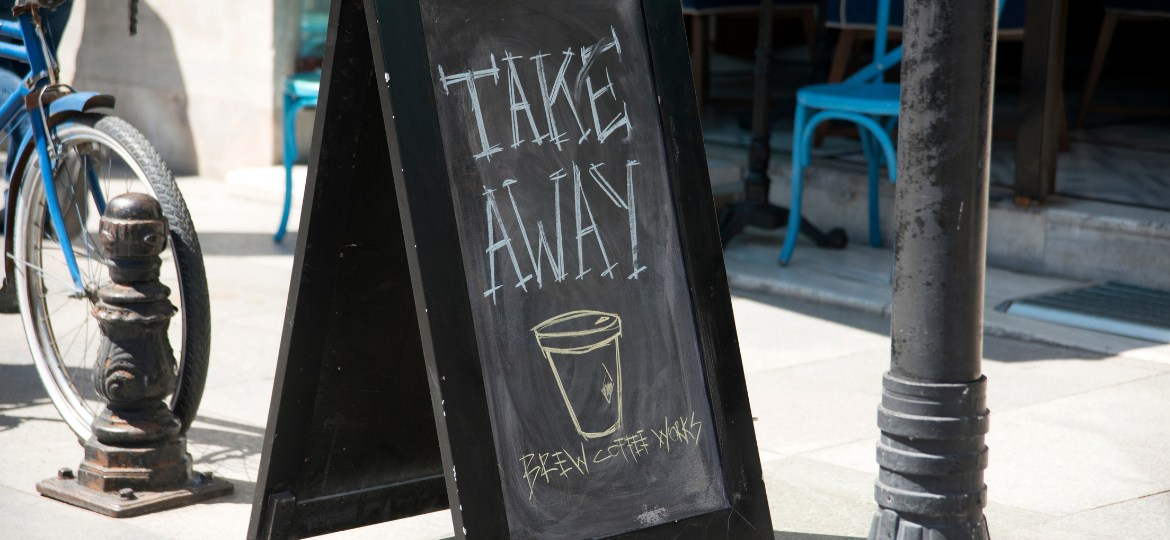 So, déjà vu has struck, and we are now in another nationwide lockdown, with all hospitality and non-essential retail businesses forced to close their doors, except for delivery and takeaway offerings. Albeit a significant blow to our industry, it remains nothing short of inspiring to see innovation and resilience come to the fore, as operators tackle these challenges head on. Below are just a handful of ways that operators have shown creativity to drive sales over the last six months – and will give them an advantage as we head back into lockdown again.
Cook-at-home meal boxes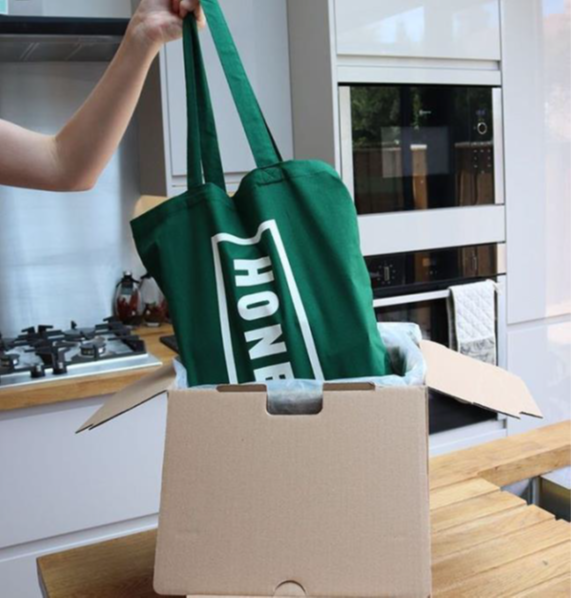 During the first lockdown, the Lumina Intelligence Recovery Report highlighted that 86% of consumers were somewhat missing eating out at restaurants. To tap into these missed experiences, a number of operators have chosen to bring restaurant quality food to the homes of customers through DIY meal kits – which also serve to keep their brand top of mind.
There are so many brilliant examples of this, for example Honest Burger's Honest At-Home Kit, which gives consumers everything they need to make Honest Burgers from their own kitchen. There is even a video tutorial online, so consumers can follow simple steps. In a similar vein, Pizza Pilgrims has launched its Frying Pan Pizza Kit, which makes creating your favourite pizza at home incredibly simple.
Online cooking classes
The natural evolution of cook-at-home boxes would be to offer an online cooking class where customers can learn from the professionals. Pizza Pilgrims, Patty & Bun and Bao have joined virtual event platform Feast It to develop cookalong sessions for teams looking to get interactive in the kitchen, as well as cocktail classes from master mixologists.
Online cooking classes provide a great alternative to staff Christmas parties, which are likely not to occur in a face-to-face format this year, due to lockdown.
Other brands offering online classes are Crosstown, which is doing doughnut making classes, Fever Tree who are running cocktail classes and Small Beer Co, which offers beer tasting sessions.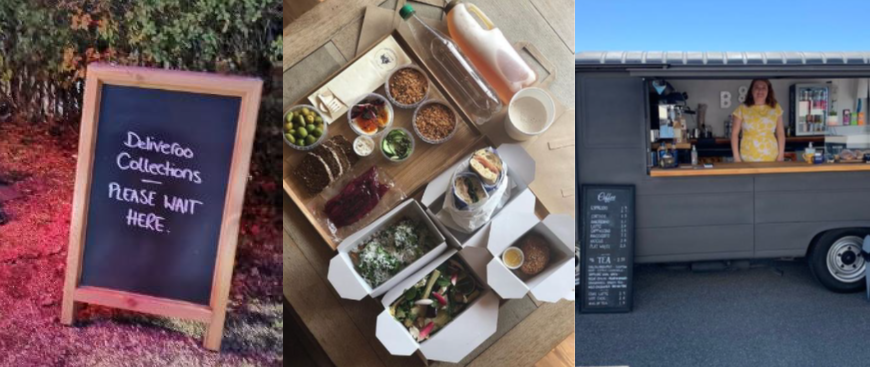 Despite the explosion of foodservice delivery over the last few years to a value of £8.4bn in 2019, the pub sector has mostly resisted the opportunity. However, the coronavirus crisis has made offering takeaway/delivery and collection a necessity in order to maintain a revenue stream through lockdown and pubs have been introducing the service creatively. During the March lockdown, British was the most popular cuisine when ordering delivery, highlighting high demand for pub classics such as fish and chips (Lumina Intelligence UK Pub Market Report 2020).
The King Harry pub in St Albans has swiftly moved onto Deliveroo, so customers can have their pub favourites delivered. Brunswick & Thorn in Worthing has invested in a mobile trailer and has set up service on the sea front to serve coffee and pastries. Finally, The Bull & Last in London has launched a creative grab & go bag that is available for collection. The bags include a variety of ready to eat food along with a choice of 1 litre of beer or 500ml of wine.
Coffee shop subscriptions
Although the social aspect of having a coffee has all but diminished, there is still the opportunity to stretch the legs, get some fresh air and wander down to your local coffee shop for a takeaway drink. There is a big opportunity for businesses to drive loyalty during these challenging times, and two nationwide operators are aiming to do this by introducing a subscription scheme.
Both Pret A Manger and Leon have recently launched coffee subscription schemes, with Pret offering up to five hot drinks a day for £20 a month and Leon up to 75 coffees a month for £15.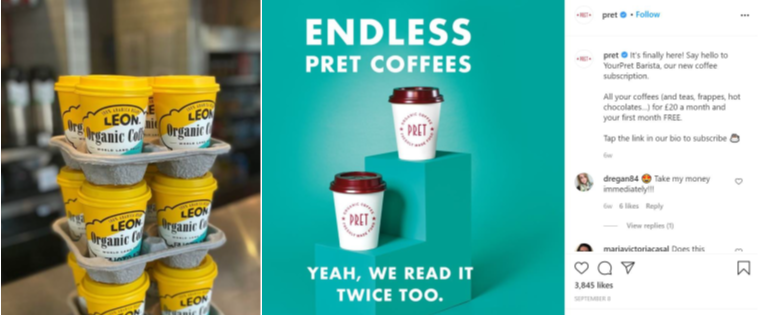 "Subscription based promotions are a new approach in the hospitality market, with the added benefit of a one-off monthly payment boosting value for money and convenience credentials in the eyes of consumers. The schemes are expected to boost consumer loyalty, once a consumer is through the site doors there is more chance of them trading up and buying more items alongside their coffee." ~ Sarah Coleman, Insight & Communications Director
Click & Collect
Click & collect offers customers a more efficient digital alternative to takeaway. This offers a number of relevant benefits – ordering and paying digitally can both save time for consumers but also minimise the need for human contact, reducing fears around virus transmission. Lumina Intelligence Eating & Drinking Out Panel data showed that speed of service was the fastest growing consumer need in Q2 2020 across all main meal occasions as consumers limit their time in outlets.
Operators can benefit from to-go formats due to the increased volumes that can be achieved through digital ordering for takeaway and click and collect.
Greggs are a major operator that has introduced this option, allowing customers to order and pay online, and then book a slot for food collection. Five Guys have taken this further, with the introduction of its Curbside pick-up system. Customers can order online or via the app and then Curbside uses proprietary location technologies, sending customer arrival notifications to Five Guys Crew so orders can be prepared and brought to customers as soon as they arrive close to the restaurant.
Despite the significant challenges that this new lockdown poses to our industry, we have already seen inspirational and innovative operators adapting their operations to maintain revenue streams (or tap into new ones), whilst also keeping customers and staff safe.
We have recently made some exciting changes to the way we collect our data too. Our Eating & Drinking Out Panel – which surveys 1,500 consumers every week to understand their behaviours and attitudes towards UK out of home channels – now tracks all UK food and drink out of home channels, including foodservice delivery, click & collect and drinks only occasions, recognising the multi-channel approach of hospitality operators and the growing importance of emerging channels. Find out more here.